Great Grandma's Peanut Butter Cookies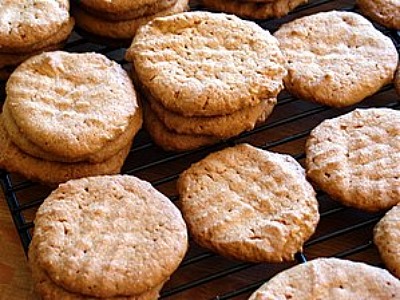 Yield: 5 dozen cookies
Prep Time: 15 min
Cook Time: 14 min
Great Grandma's Peanut Butter Cookies
She made the best peanut butter cookies- slightly crunchy and flaky, and now I'm sharing her recipe with you...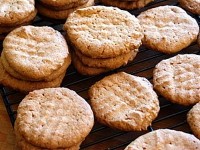 Ingredients:
2 large eggs, beaten
1 cup (2 sticks) butter, at room temperature
1 teaspoon milk
1 cup peanut butter, smooth or chunky
1 cup light brown sugar, packed
1 cup granulated white sugar*
2 cups all-purpose flour
1 teaspoon baking soda
1/2 teaspoon salt
Directions:
1. In large bowl, combine eggs, butter and milk, and beat with electric mixer. Add peanut butter and sugars to egg mixture. Mix well.
2. In a medium bowl, combine flour, soda and salt and sift together. Gradually add to the wet mixture.
3. Drop by small teaspoonfuls onto foiled or lightly greased cookie pans (or use parchment paper). Press down lightly with sugared fork (crisscross to make design).
4. Bake at 350 degrees for 14 minutes, or until cookies are set and no longer gooey. Cool well before storing in a covered container.
Tips:
*Don't use natural peanut butter for this recipe. It just won't turn out the best. Creamy peanut butter vs. crunchy peanut butter is entirely your preference.
*Using a sugared fork will ensure that the fork will not stick to the dough.
One Response to "Great Grandma's Peanut Butter Cookies"
Leave a Comment