This recipe has been featured in a post on The Recipe Girl blog: Pumpkin Chili (and Pumpkin Cornbread, of course!)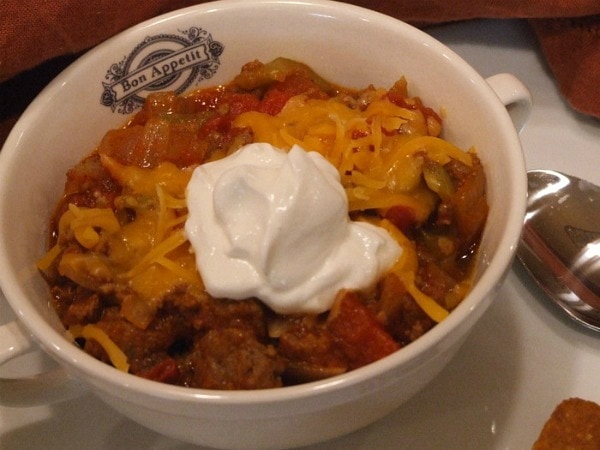 Yield: 4 servings
Prep Time: 20 min
Cook Time: 20 min
Pumpkin Chili
The pumpkin adds a smooth, velvety texture.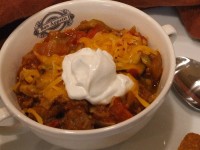 Ingredients:
1 pound ground beef
1 cup chopped onions
1 cup chopped green bell peppers
1 clove garlic, minced
2 (14 1/2 ounce) cans diced tomatoes
1 cup unsweetened pure pumpkin pureé
1 Tablespoon ground chili powder
1 teaspoon ground cumin seed
1/2 teaspoon ground black pepper
dash of salt
1/2 cup grated cheddar cheese
1/2 cup sour cream
Directions:
1. Heat a skillet to medium-high heat. Brown ground beef in large sauté pan with onion, green pepper and garlic. Spoon off grease.
2. Return to heat and add tomatoes, pumpkin, chili powder, cumin, pepper and salt. Mix well. Cover and simmer for 20-30 minutes.
3. Serve topped with cheese and sour cream.
Tips:
*Lighten this up by using lean ground beef, low fat cheddar and light sour cream.
*Serve this chili with pumpkin cornbread!
4 Responses to "Pumpkin Chili"
Leave a Comment