Shallot- Mustard Tomato Salad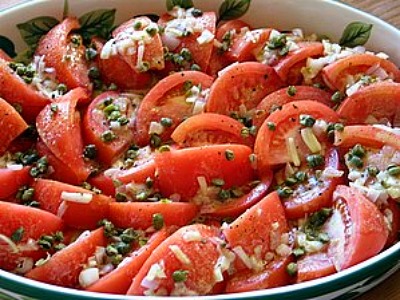 Yield: 4 servings
Prep Time: 15 min + chill time
Shallot- Mustard Tomato Salad
Use nice, ripe tomatoes and this is a great salad!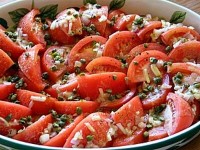 Ingredients:
3 Tablespoons white wine vinegar
3 Tablespoons extra-virgin olive oil
1 teaspoon Dijon mustard
1 shallot, minced
2 teaspoons capers, chopped
3 large beefsteak tomatoes, or 5 vine-ripened (cut into wedges)
coarse salt and ground pepper
Directions:
1. In small bowl, whisk together vinegar, oil, mustard, shallot and capers.
2. Core tomatoes and cut into wedges. Place in a serving bowl. Drizzle with dressing and sprinkle with coarse salt and pepper.
3. Let chill in the refrigerator for up to one hour. Serve chilled.
Nutritional Information per serving:
Serving size: 1/4 of the recipe
Calories per serving: 117
Fat per serving: 10.5g
Saturated Fat per serving: 1.5g
Sugar per serving: 0g
Fiber per serving: 1.25g
Protein per serving: 1g
Cholesterol per serving: 0mg
Carbohydrates per serving: 6.5g
WW POINTS per serving:
Points Plus Program: 3 Old Points Program: 3.5
Leave a Comment