Shrimp and Vegetable Salad
This post has been featured in a menu on the site: Mother's Day Brunch.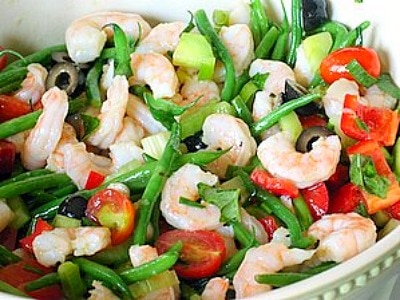 Yield: 6 main dish servings or 8 side dish servings
Prep Time: 30 min
Shrimp & Vegetable Salad
When your veggies are prepped ahead of time, this salad is very simple to put together.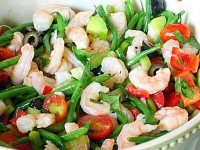 Ingredients:
2 pounds medium shrimp- peeled, deveined & cooked
1/3 cup freshly squeezed lemon juice
1 teaspoon salt
1/2 teaspoon freshly ground black pepper
2 teaspoons Dijon mustard
3/4 cup extra-virgin olive oil
1 pound green beans, cooked & cut into 1-inch pieces
1 bunch of celery, sliced 1/4-inch thick
1 bunch green onions, white part & half the green, thinly sliced
1 medium red or green bell pepper, seeded, quartered & cut into 1/4-inch slices
1 medium hothouse cucumber, peeled, quartered lengthwise & cut into 1/4-inch slices
1 half pint red or yellow pear tomatoes, halved
1 cup pitted black olives, halved
1 bunch chives, thinly sliced
1/2 cup fresh basil leaves, torn into 1/2-inch pieces
Directions:
1. Place shrimp in a shallow bowl and set aside.
2. Combine lemon juice, salt, pepper and mustard in a medium-mixing bowl and whisk to mix. Whisk in oil in a slow stream so that the dressing does not separate.
3. Immediately pour half of the dressing on the shrimp. Fold the shrimp and dressing together with a rubber spatula to make sure they are evenly coated. Cover and refrigerate.
4. Combine all remaining ingredients in a large mixing bowl and fold in the remaining dressing with a large rubber spatula. Cover and refrigerate.
5. About half an hour before serving, add the shrimp to the vegetable salad and fold together with a rubber spatula. Taste for seasoning and add more salt, pepper or lemon juice as needed. Serve immediately.
Tips:
*If preparing this recipe as GLUTEN-FREE, just make sure you're using a brand of Dijon that is designated as GF.
Leave a Comment