Yield: 3 cups
Prep Time: 20 min
Apple Spice Hummus
This is quite a unique hummus recipe. The apple taste is evident, as is the peanut butter. I do suggest adding the optional cayenne pepper for a slight bit of spice. The guests at our happy hour enjoyed it most with apples.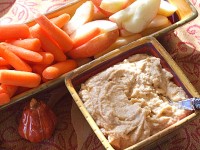 Ingredients:
2 (15-ounce) cans garbanzo beans, rinsed & drained
1 medium Golden Delicious apple, peeled & chopped
1/3 cup freshly squeezed lemon juice
1/4 cup creamy peanut butter or tahini
2 to 3 Tablespoons water
1/2 teaspoon salt
1/2 teaspoon apple pie spice
1/4 teaspoon cayenne pepper, optional
additional cayenne pepper, optional
apple slices, carrot slices, and/or whole wheat crackers
Directions:
1. In a food processor bowl or blender container, place half of each of the following ingredients: garbanzo beans, chopped apple, lemon juice, peanut butter, water, salt, apple pie spice, and cayenne. Cover and process or blend until smooth; transfer to bowl. Repeat with the remaining half of the above ingredients; combine with the previously blended batch. Cover, and refrigerate up to 3 days.
2. Before serving, sprinkle the dip with cayenne pepper.
3. Serve dip with apple slices, carrot slices, and/or whole wheat crackers.
Tips:
*If you serve this dip with apple slices, be sure to give the slices a quick toss with a little bit of lemon juice before serving. This will prevent the apples from browning
Source RecipeGirl.com (Adapted from Better Homes & Gardens)
Leave a Comment