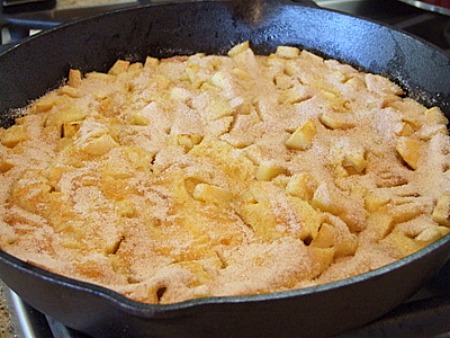 Yield: 1 large skillet-sized pancake
Prep Time: 15 min
Cook Time: 25 min
Apple Puff Pancake
Reminiscent of Bickford's- for those who are East Coasters!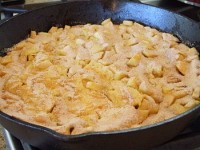 Ingredients:
1/4 cup butter
2 large apples, peeled, cored and sliced
4 large eggs, beaten
1/2 cup milk
1/2 cup all-purpose flour
1/4 teaspoon salt
2 Tablespoons brown sugar
1/4 cup granulated white sugar
1/2 teaspoon ground cinnamon
Directions:
1. Preheat oven to 375 degrees F.
2. Place butter in 10-inch oven-safe skillet and place skillet in the oven until butter is melted. Remove pan from oven and add apples. Return to oven for 5 minutes.
3. In medium bowl, whisk together eggs, milk, flour, salt and brown sugar.
4. Remove pan from oven and pour mixture over apples. Return pan to oven for 15-18 minutes, or until puffy.
5. Mix sugar and cinnamon together and sprinkle over hot pancake. Serve immediately.
Tips:
*You can serve this as one giant pancake for a large meal, or you can cut it into pieces.
4 Responses to "Apple Puff Pancake"
Leave a Comment