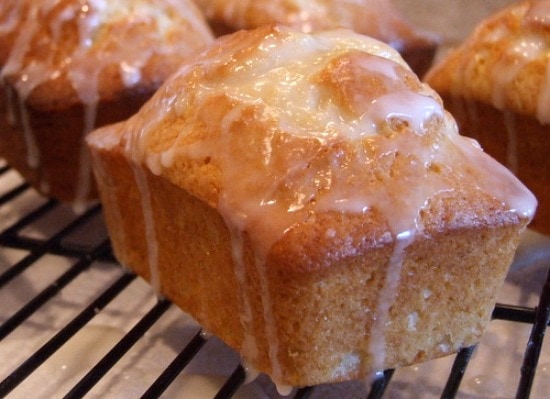 Yield: 12 muffins
Prep Time: 20 min
Cook Time: 15 min
Lemon Pound Cake Muffins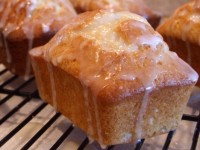 Ingredients:
MUFFINS:
1 3/4 cups all-purpose flour
1/2 teaspoon salt
1/4 teaspoon baking soda
1/2 cup butter, softened
1 cup white granulated sugar
2 large eggs
1 teaspoon vanilla extract
1/2 teaspoon lemon extract
1/2 cup sour cream
GLAZE:
2 cups powdered sugar
3 Tablespoons fresh lemon juice
Directions:
1. Preheat oven to 400°F. Line muffin cups with papers (or grease the cups).
2. In a small bowl, whisk together flour, salt and baking soda; set aside.
3. In a large mixing bowl, use an electric mixer to cream the butter and the sugar together. Add eggs and extracts and beat well. Add in half of the sour cream. Mix and then add in half of the flour mixture. Add remaining sour cream, mix and then add in the rest of the flour. Mix just until incorporated (don't over mix).
4. Fill cupcake papers or greased muffin cups 3/4 full. Bake for 15 to 18 minutes, or until a toothpick inserted in center of muffin comes out clean. Cool for about 10 minutes on a rack, and then remove muffins from pan.
5. Place baking sheet under a cooling rack and place warm muffins on the rack. In a medium bowl, whisk together glaze ingredients; drizzle over muffins. Let glaze set up and serve warm (also good when cooled).
Tips:
*A mini pound cake pan (as pictured) will also work for this recipe.
*If you don't have lemon extract, try substituting 1 teaspoon lemon zest instead.
*Lemon yogurt can be substituted for the sour cream.
7 Responses to "Lemon Pound Cake Muffins"
Leave a Comment