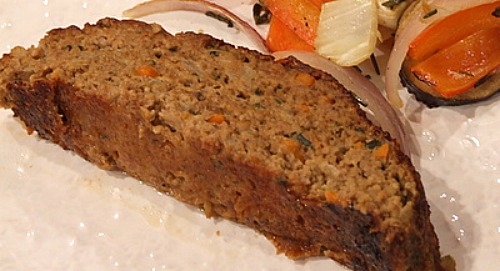 Yield: 6 servings
Prep Time: 35 minutes
Cook Time: 1 hour, 15 minutes
Turkey Meatloaf
This is a very moist and tasty meatloaf recipe. The ground turkey gives it a slightly different taste than beef (in a good way). Suggested side dishes: green peas and baked yams.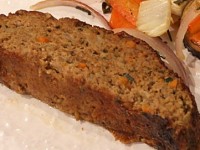 Ingredients:
1 1/2 cups finely chopped onion
1 Tablespoon minced garlic
1 teaspoon olive oil
1 medium carrot, peeled & cut into 1/8-inch dice
3/4 pound cremini mushrooms, trimmed & very finely chopped in food processor
1 teaspoon salt, divided
1/2 teaspoon black pepper, divided
1 1/2 teaspoons worcestershire sauce
1/3 cup finely chopped fresh parsley
1/4 cup + 1 Tablespoon barbecue sauce, divided
1 cup fine fresh bread crumbs (from 2 slices firm white sandwich bread)
1/3 cup 1% milk
1 large egg, lightly beaten
1 large egg white, lightly beaten
1 1/4 pounds ground turkey
Directions:
1. Preheat oven to 400°F.
2. Cook onion and garlic in oil in a 12-inch nonstick skillet over moderate heat, stirring, until onion is softened, about 2 minutes. Add carrot and cook, stirring, until softened, about 3 minutes. Add mushrooms, 1/2 teaspoon salt, and 1/4 teaspoon pepper and cook, stirring occasionally, until liquid mushrooms give off is evaporated and they are very tender, 10-15 minutes. Stir in worcestershire sauce, parsley, and 3 Tablespoons barbecue sauce, then transfer vegetables to a large bowl and cool.
3. Stir together bread crumbs and milk in a small bowl and let stand for 5 minutes. Stir in egg and egg white, then add to vegetables. Add turkey and remaining 1/2 teaspoon salt and 1/4 teaspoon pepper to vegetable mixture and mix well with your hands. (Mixture will be very moist)
4. Form into a 9x5-inch oval loaf in a lightly oiled 13x9-inch by 2-inch metal baking pan and brush meatloaf evenly with remaining 2 Tablespoons barbecue sauce. Bake in middle of oven until thermometer inserted into meatloaf registers 170°F., 50-55 minutes.
5. Let meatloaf stand 5 minutes before serving.
Nutritional Information- Per Serving (meatloaf divided into 6 equal portions):
Calories 246, Calories from Fat 44, Total Fat 5g, Sat Fat 1.25g, Cholesterol 77mg, Sodium 1632g, Potassium 689mg, Carbohydrates 27.25g, Dietary Fiber 3g, Sugar 9.5g, Net Carbs 24g, Protein 23g
WW POINTS per serving:
Points Plus Program: Old Points Program: 6
Leave a Comment