Roasted Garlic Mashed Potatoes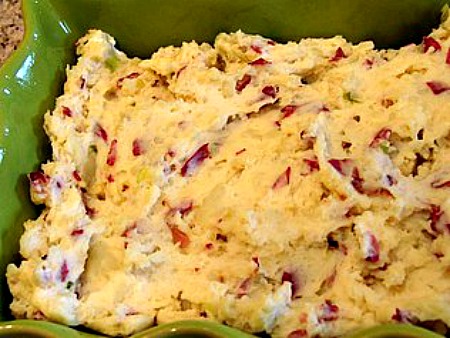 Yield: 6 servings
Prep Time: 25 min
Cook Time: 1 hour 10 min
Roasted Garlic Mashed Potatoes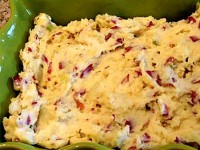 Ingredients:
1 head garlic
1 tablespoon olive oil
1 bunch green onions, chopped
2 tablespoons butter
6 large red potatoes, cut into 1/4-inch pieces
6 ounces cream cheese, softened and cubed
fresh ground pepper
paprika
Directions:
1. Preheat oven to 350 degrees F.
2. Cut 1/8" from the top of the garlic head to expose the cloves. Place in a baking pan and drizzle with olive oil. Bake 45-60 minutes or until brown. Remove from oven. Pop cloves out of skin and mash when cool.
3. Sautè green onions in butter in skillet just until tender. Set aside.
4. Combine potatoes with enough water to cover in a saucepan. Bring to a boil; reduce heat. Cook, uncovered, for 10 minutes or until tender; drain. Mash potatoes with potato masher. Stir in garlic, green onions, cream cheese and pepper. Spoon into a baking dish and sprinkle with paprika.
5. Bake at 300 degrees for 10 minutes, or until light brown.
Tips:
*This dish may be prepared 1 day in advance and stored in the refrigerator. Bring the mashed potatoes to room temperature before reheating.
**You may also roast the garlic 1 day in advance or while cooking the potatoes.
Leave a Comment