These Perfect Mashed Potatoes really do turn out rather perfect, and they're a great make-ahead recipe since they warm up well too.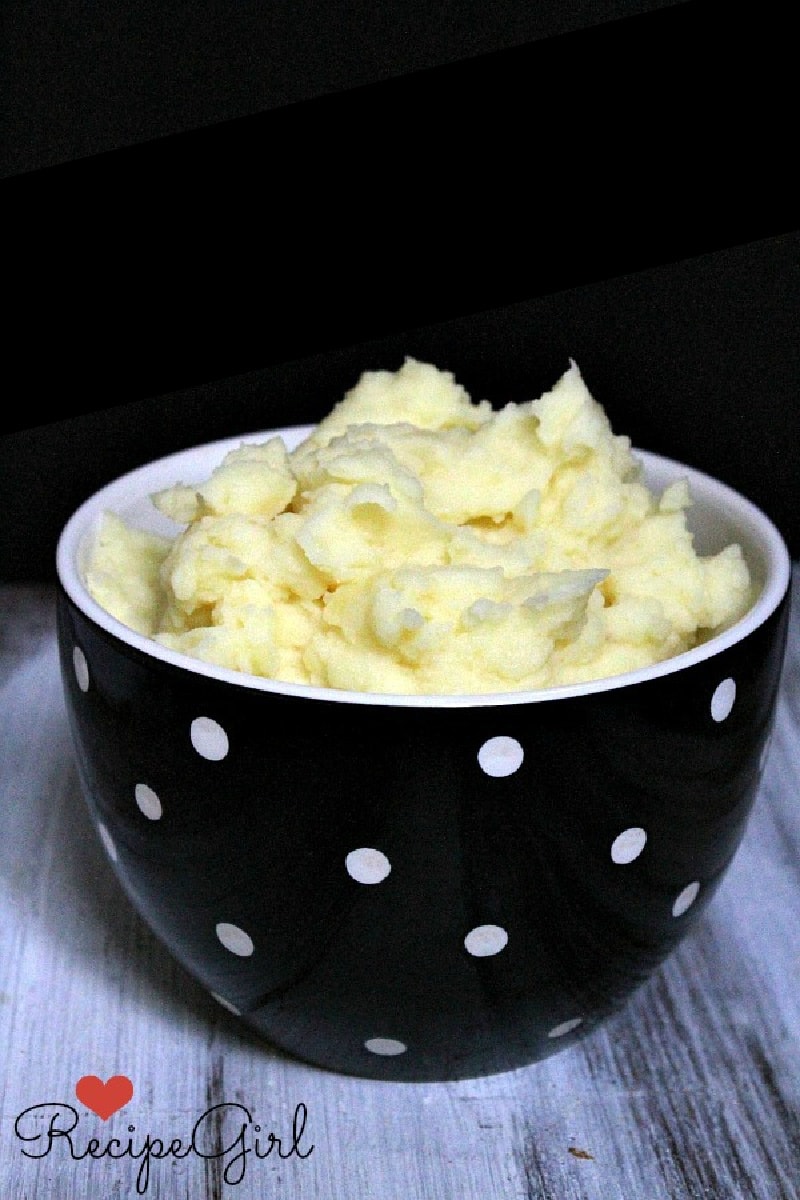 I'm starting to freak out a little bit about Thanksgiving. My in-laws are coming into town, my mother will be visiting too, and I'm hosting! In my new house! I know that doesn't seem like such a big deal, but I don't usually host a big, important, scary meal like Thanksgiving that involves a giant roasted turkey. I can host dinner parties for 20 people, but for some reason that turkey gives me GREAT anxiety! I can make the side dishes- no problem, which means I can make great, perfect mashed potatoes!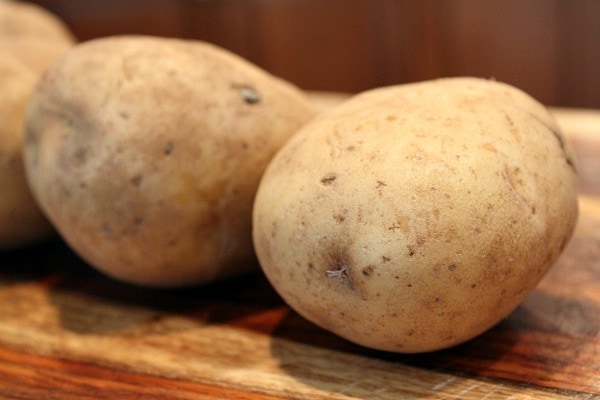 How to make Perfect Mashed Potatoes:
Choose your potatoes. I usually like to use Yukon Gold, but Idaho potatoes or Russets are just fine too.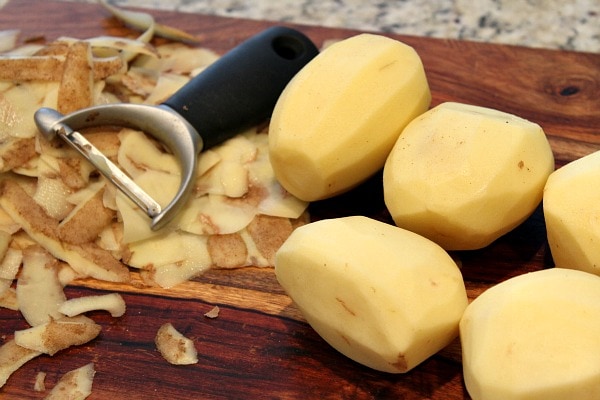 Peel the potatoes.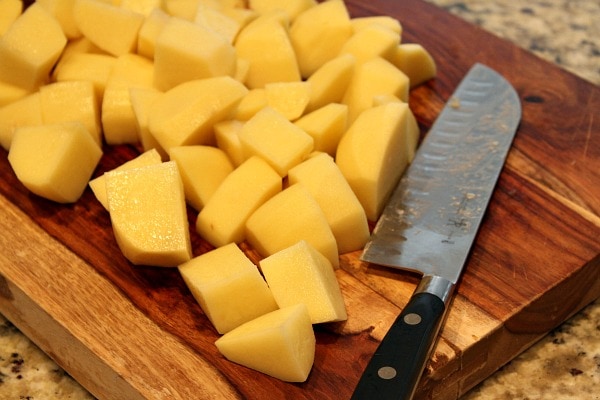 Cut the potatoes into 1-inch pieces.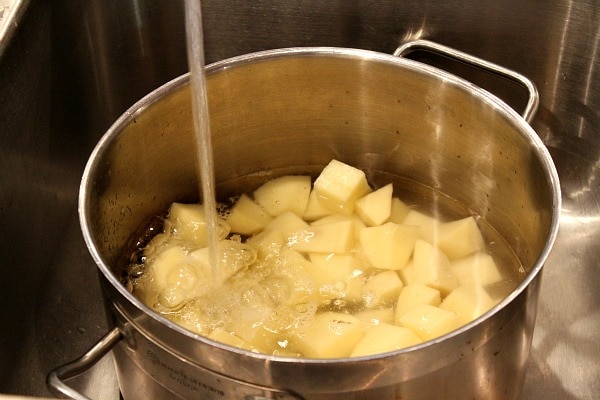 Put the potatoes in a pan, and fill with water to cover the potatoes.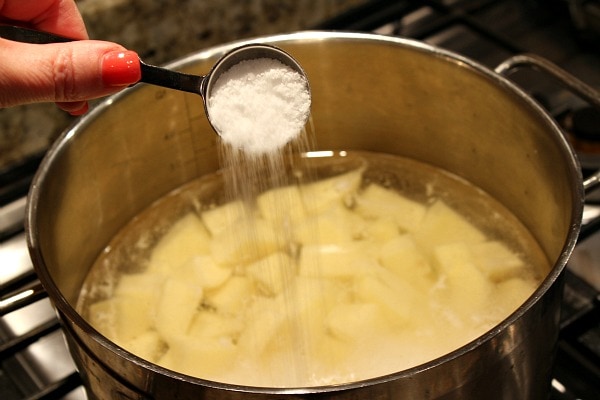 Add three tablespoons of kosher salt to the water, and boil your potatoes until tender. Don't worry, your potatoes won't be salty. But the kosher salt adds great flavor to the potatoes!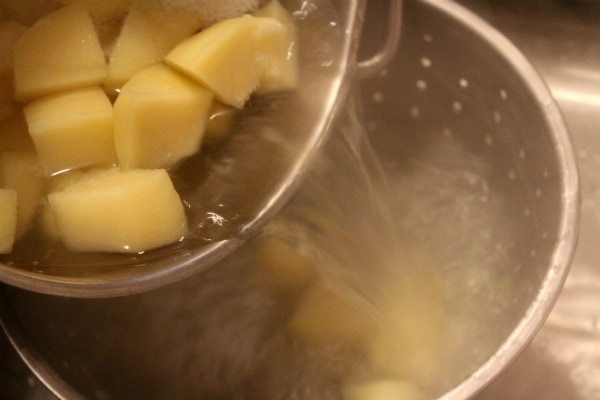 Drain the potatoes.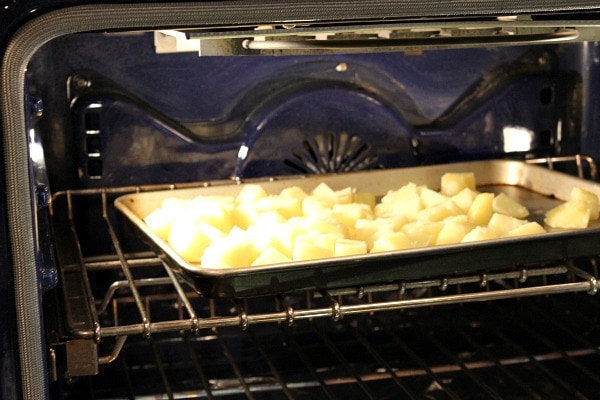 Roast the potatoes briefly to dry them out. You want to use butter and milk to make your mashed potatoes tender- not water!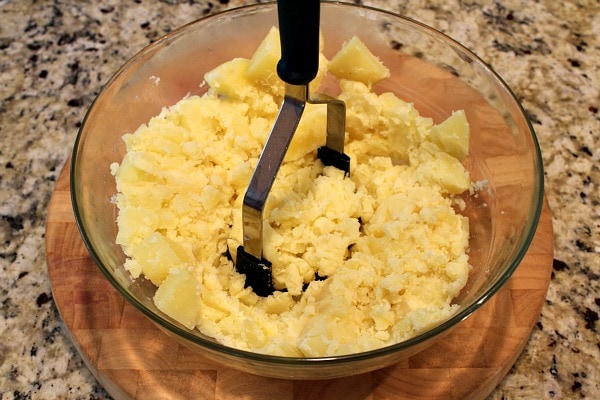 Mash, mash, mash. If you use one of these handheld mashers, your potatoes will likely be somewhat lumpy since it's kinda impossible to get out all of the lumps with a hand masher. I have a Potato Ricer that I like to use when I really want them to come out nice and smooth.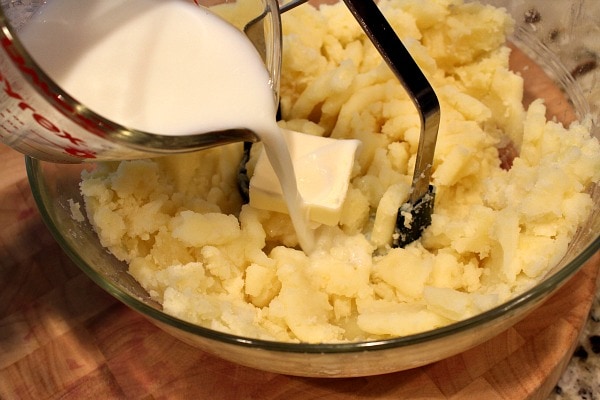 Then add some butter and warm milk and mash all of it together. Add a little salt and pepper to taste, and that's it.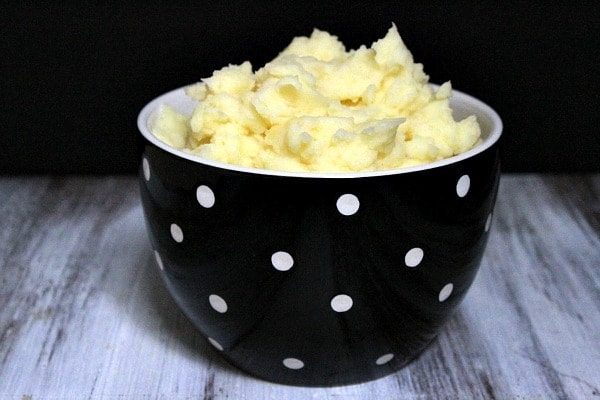 They are perfect! If you want to make these ahead for the big day, just wrap them well with plastic wrap and refrigerate. Warm them in the slow cooker on the day of serving, adding more butter and milk as needed to keep them deliciously fluffy and tender. Be sure to check out my Thanksgiving menu to see all of the favorite recipes that I like to make for Thanksgiving at my house. Enjoy!
How to Make Perfect Mashed Potatoes
Easy recipe for the best mashed potatoes!
Recipe Details
Ingredients
2

pounds

Yukon Gold or Idaho potatoes,

peeled and cut into 1-inch pieces

3

tablespoons

kosher salt

1

cup

warm milk

4

tablespoons

unsalted butter,

cut into small pieces

½

teaspoon

freshly ground black pepper

additional salt,

to taste
Instructions
PREPARE THE POTATOES:
Preheat the oven to 250° F. Place the potatoes in a large pot and fill with enough water to cover. Add the salt and bring to a boil over high heat. Reduce the heat to medium and simmer until the potatoes are tender- (about 12 to 15 minutes). Drain the potatoes, transfer to a rimmed baking sheet, and place in the oven until thoroughly dried out – 7 to 8 minutes.
MASH THE POTATOES:
Mash the potatoes until smooth, taking care not to overwork them. I like to use a potato ricer. Add the butter and milk a little at a time, mashing them into the potatoes. Stir in the pepper. Add additional salt, if desired.
Nutrition
Serving:
1
serving
,
Calories:
209
kcal
,
Carbohydrates:
28
g
,
Protein:
4
g
,
Fat:
9
g
,
Saturated Fat:
6
g
,
Polyunsaturated Fat:
1
g
,
Monounsaturated Fat:
2
g
,
Trans Fat:
1
g
,
Cholesterol:
24
mg
,
Sodium:
1190
mg
,
Potassium:
695
mg
,
Fiber:
3
g
,
Sugar:
3
g
,
Vitamin A:
303
IU
,
Vitamin C:
30
mg
,
Calcium:
68
mg
,
Iron:
1
mg