Pumpkin- Apple Streusel Muffins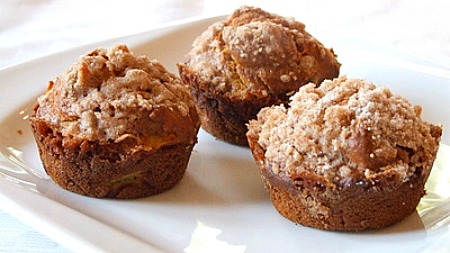 Yield: 18 muffins
Prep Time: 25 min
Cook Time: 30 min
Pumpkin- Apple Streusel Muffins
I usually make pumpkin bread so I thought I might like to try a pumpkin muffin recipe. This one is very good, and I love the addition of apple chunks.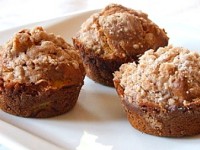 Ingredients:
STREUSEL TOPPING:
1/2 cup granulated white sugar
1/4 cup all-purpose flour
1 teaspoon ground cinnamon
1/4 cup (1/2 stick) salted butter
MUFFINS:
2 1/2 cups all-purpose flour
2 cups granulated white sugar
1 Tablespoon pumpkin pie spice
1 teaspoon baking soda
1/2 teaspoon salt
1 cup canned (unsweetened) pumpkin puree
1/4 cup vegetable or canola oil
1/4 cup applesauce
2 large eggs, lightly beaten
2 cups chopped, peeled Golden Delicious apples
Directions:
1. Prepare streusel: Mix sugar, flour and cinnamon in medium bowl. Cut in butter and blend until crumbly.
2. Prepare muffins: Preheat oven to 350°F. Grease 18 muffin cups or line with paper liners.
3. In a medium bowl, whisk together flour, sugar, pumpkin pie spice, baking soda and salt until blended.
4. In a separate large bowl, use an electric mixer to beat pumpkin, oil, applesauce and eggs until blended.
5. Add flour mixture to pumpkin mixture and mix just until moistened. Stir in apples.
6. Spoon batter into prepared muffin cups and sprinkle with Streusel Topping. Bake 30-40 minutes or until toothpick inserted in middle of muffin comes out clean.
Leave a Comment