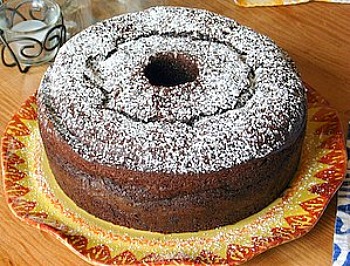 Yield: 10 Servings
Prep Time: 15 min
Cook Time: 55 min
Easy Chocolate Cake
A super moist cake- quick and easy recipe...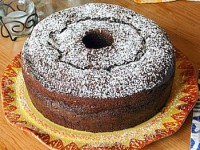 Ingredients:
1 box Devil's food chocolate cake mix
1 small box instant chocolate pudding mix
4 large eggs
1/2 cup water
1/2 cup vegetable or canola oil
12 ounces chocolate chips
16 ounces sour cream
powdered sugar, for dusting
Directions:
1. Preheat oven to 350 degrees F. Lightly grease bundt cake pan.
2. In large bowl, use an electric mixer to mix chocolate cake mix, pudding, eggs, water and oil until smooth. Use a rubber spatula to fold in sour cream and chips. Stir until the sour cream is incorporated.
3. Pour the batter into the prepared bundt pan and bake for 50 to 60 minutes, or until a toothpick inserted in the center of the cake comes out clean.
4. Cool thoroughly before removing from pan. To remove, invert onto serving dish and tap firmly on pan. If necessary, gently run a plastic knife around the inner circle of the pan.
5. Sprinkle with powdered sugar just before serving for a nice presentation.
Leave a Comment