Great, family-friendly meal. Always a big hit with the kids!
Yield: 6 servings
Prep Time: 25 min
Cook Time: 45 min
Easy Taco Casserole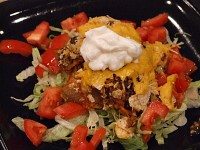 Ingredients:
1 pound ground beef
3/4 cup chopped onions
1 1/4 ounce package taco seasoning mix 
3/4 cup water
One 16-ounce can refried beans
One 8-ounce jar taco sauce
2 1/2 cups crushed tortilla chips
1 3/4 cups shredded cheddar cheese
1 1/2 cups shredded lettuce
1/2 cup chopped tomatoes
Directions:
1. Preheat oven to 400°F.
2. In a medium skillet, cook ground beef and onions over medium-high heat until beef is thoroughly cooked; drain. Stir in taco seasoning mix and water; simmer 10 minutes.
3. In medium bowl, combine refried beans and taco sauce. In ungreased 8-inch square (2 quart) baking dish, layer 1/2 the bean mixture, 1/2 the beef mixture, 2 cups tortilla chips and 1 cup of the cheese. Top with remaining bean mixture and beef mixture.
4. Bake for 25 minutes. Remove from oven. Top with remaining tortilla chips and cheese. Return to oven; bake an additional 3 to 5 minutes or until cheese is melted. Serve with lettuce and tomatoes.
Leave a Comment