Chicken Paillard with Fresh Fig Salad and Blue Cheese
This recipe has been featured in a post on The Recipe Girl blog: Overcoming Fig Phobia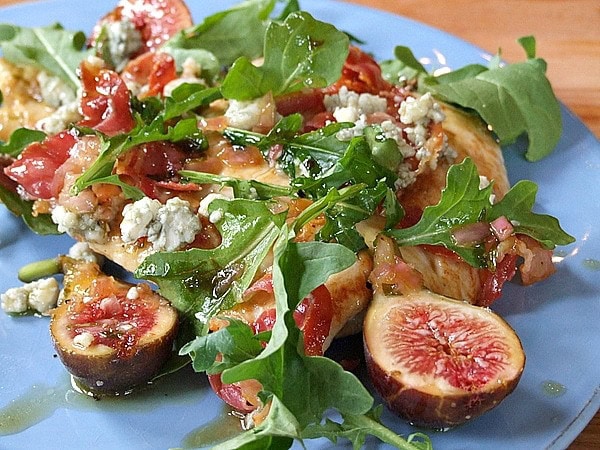 Yield: 4 servings
Prep Time: 35 min
Cook Time: 15 min
Chicken Paillard with Fresh Fig Salad and Blue Cheese
This is a fabulous, easy recipe. It helped me overcome my fear of figs, and now I'm a fan!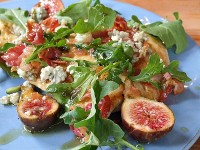 Ingredients:
VINAIGRETTE:
3 Tablespoons honey
1/4 cup extra-virgin olive oil
1 medium shallot, chopped
1 Tablespoon sherry vinegar
1/2 medium lemon, juiced
1 teaspoon chopped fresh tarragon
kosher salt and freshly ground black pepper
CHICKEN:
4 boneless skinless chicken breasts (about 1 1/2 pounds)
kosher salt and freshly ground black pepper
1/2 pound pancetta
extra virgin olive oil
4 ounces blue cheese, broken into hunks
1 bunch arugula, trimmed
1 small basket seasonal figs, halved
tarragon leaves for garnish, if desired
Directions:
1. Prepare vinaigrette: Whisk together all of the ingredients for the vinaigrette in a small bowl and set aside.
2. Prepare chicken: Sandwich chicken breasts between 2 layers of plastic wrap and pound them very thin with the side of a meat cleaver or a rolling pin. Remove chicken from plastic wrap and season well on both sides with salt and pepper.
3. Heat a large sauté pan over medium heat. Unroll the pancetta so it looks like big strips of bacon. Add it to the pan and fry it like a tangle of bacon until the fat is rendered, 3 to 4 minutes. Drain on paper towels.
4. Drizzle a 2-count of olive oil into the pan with the pancetta drippings. Add the chicken and pan-fry for 3 to 4 minutes on each side to brown the breasts and cook them through. Use a spatula to remove the chicken to the paper towels with the pancetta. Add the vinaigrette to the sauté pan and heat for a few minutes, stirring, to deglaze the bits of pancetta and chicken from the bottom of the pan; take the pan off the heat.
5. To serve, arrange the chicken on a platter. Scatter the blue cheese, arugula, figs, and pancetta over. Drizzle the dressing over everything and garnish with the tarragon leaves.
Source: RecipeGirl.com (via Tyler's Ultimate Cookbook)
2 Responses to "Chicken Paillard with Fresh Fig Salad and Blue Cheese"
Leave a Comment