This recipe has been featured in a post on The Recipe Girl blog: Candy Corn Cookie Bark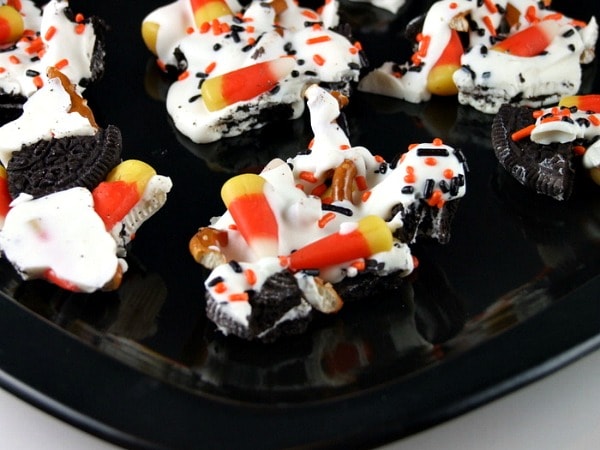 Yield: About 2 dozen pieces
Prep Time: 25 min + chill time
Cook Time: 2 min
Candy Corn Cookie Bark
This is so easy to make and it will be well received by eager dessert eaters. It's very sweet, so the smaller you can get the pieces- the better.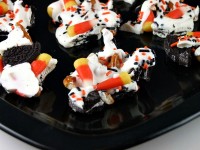 Ingredients:
1 1/2 cups bite-sized chocolate sandwich cookies (Oreos), some sliced in half
1 1/2 to 2 cups broken-up pretzel pieces
1 cup candy corn
1 lb white chocolate (chocolate wafers work best... try Wiltons or Merckens brand)
1 tsp. shortening
brown and orange colored sprinkles
Directions:
1. Place waxed paper on large cookie sheet. Spread 1 cup of cookies, 1 cup of pretzel pieces and about 3/4 cup of the candy corn into a 13×9-inch rectangle on the waxed paper.
2. Place chocolate and shortening in glass measuring cup and heat in microwave for about 1 1/2 minutes. Stir and then microwave for about another 30 seconds until melted and smooth.
3. Drizzle melted chocolate immediately over cookie mixture, spreading with greased spatula (if needed) to coat evenly. Top with reserved cookies, pretzels, candy corn and colored sprinkles. Work quickly before chocolate hardens.
4. Place into refrigerator or freezer until firm. Remove and gently break apart into small pieces for serving. Store in airtight container.
Tips:
*Substitute large chocolate sandwich cookies for bite-sized, if desired (break them into pieces).
*Substitute M&M candies for chocolate sandwich cookies, if desired.
*Substitute Cheerios for pretzels, if desired.
*For easy breaking, use a sharp knife to press into the cookie bark- it will break apart easily.
One Response to "Candy Corn Cookie Bark"
Leave a Comment