Potato- Leek Gratin with Vermont Cheddar
Completely decadent and delicious:  Potato Leek Gratin with Vermont Cheddar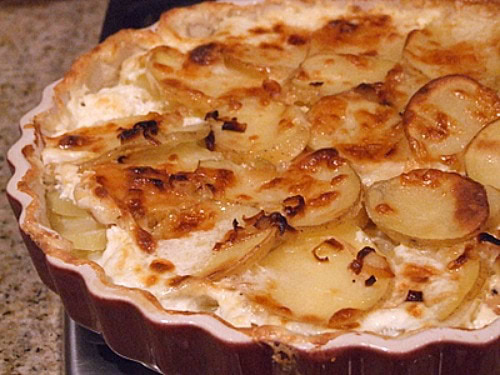 Yield: 8 servings
Prep Time: 40 min
Cook Time: 1 hour 18 min
Potato Leek Gratin with Vermont Cheddar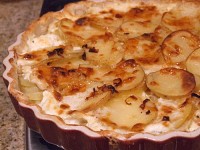 Ingredients:
4 medium leeks, white and pale green part only, halved and very thinly sliced (4 to 5 cups)
2 tablespoons unsalted butter
2 cloves garlic, minced
pinch of freshly grated nutmeg (it makes a difference- use fresh!)
1 1/2 to 1 3/4 pounds Russet or Yukon Gold potatoes
1 cup heavy whipping cream
1 cup whole milk
6 ounces sharp white Vermont cheddar, shredded (about 1 1/2 cups)
Directions:
1. Wash leeks in a large bowl of cold water, swishing them around with your hands to loosen any grit. Lift leeks into a strainer to drain, and discard water. Preheat oven to 350°F., and generously butter a 2 1/2 to 3-quart gratin or baking dish.
2. Melt butter in a large skillet over medium heat. Add leeks and garlic, then season with salt, white pepper, and nutmeg. Cover and cook, stirring occasionally, until very tender but not at all browned, about 15 minutes. Remove lid and cook for another 1 or 2 minutes to evaporate any moisture. While leeks cook, peel potatoes and, using a mandoline or your sharpest knife, slice them into 1/8-inch thick rounds.
3. Spread half of the leeks in a baking dish. Arrange half the potato slices on top in an overlapping layer. Season with salt and pepper, then scatter half the cheese over the potatoes. Repeat with remaining leeks and potatoes. Combine cream and milk in a small saucepan or microwaveable container and heat to just below a boil. Pour over potatoes. Scatter remaining cheese on top, then bake until top is golden brown and potatoes are easily pierced with a paring knife, about 1 hour. Let sit for 10 to 15 minutes before serving.
Leave a Comment