Whole Wheat Healthy Banana Bread
This recipe has been featured in a post on The Recipe Girl blog: Whole Wheat Healthy Banana Bread.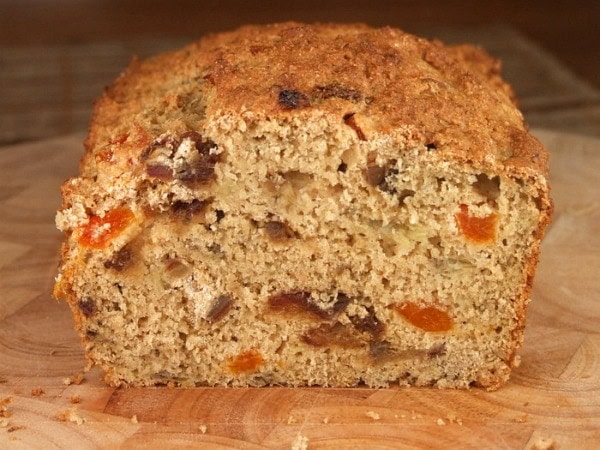 Yield: 12 servings (12 slices)
Prep Time: 20 minutes
Cook Time: 40 to 50 minutes
Whole Wheat Healthy Banana Bread
Wonderful, moist and guilt-free banana bread. I hated dates as a kid, but you really don't detect them. They seem to just add the needed sweetness along with the apricots.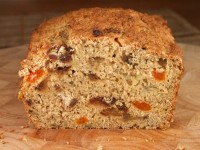 Ingredients:
1 3/4 cups whole-wheat pastry flour
3 Tablespoons (packed) light brown sugar
2 1/4 teaspoons baking powder
1/2 teaspoon salt
1/2 teaspoon ground cinnamon
8 dried dates, chopped
6 dried California apricot halves, chopped
1 large egg
2 medium very ripe bananas
1 teaspoon pure vanilla extract
1/4 cup skim milk
Directions:
1. Preheat oven to 350°F. Spray 8x4-inch loaf pan with nonstick spray.
2. In a medium bowl, combine flour, brown sugar, baking powder, salt and cinnamon. Stir in chopped dates and apricots.
3. In a separate bowl, mash bananas; add egg, vanilla and milk & stir well. Pour onto flour mixture and stir gently just until blended (don't overmix or it might turn out a tough bread).
4. Scrape dough into prepared pan. Bake until a toothpick inserted into the center comes out clean- 40 to 50 minutes. Cool completely before slicing.
Nutrition Facts- Amount Per Serving (1/12th of the bread):
Calories 119, Calories From Fat (6%) 7.5, Total Fat 1g, Sat Fat 0.22g, Cholesterol 17.73mg, Sodium 199.05mg, Potassium 224.54mg, Carbohydrates 26.5g, Dietary Fiber 3.27g, Sugar 10.56g, Net Carbs 23.16g, Protein 3.5g
WW POINTS per serving:
Points Plus Program: 3 Old Points Program: 3
3 Responses to "Whole Wheat Healthy Banana Bread"
Leave a Comment