Chicken and Summer Vegetable Tostadas
Quick, easy and summery fresh. Pull out the corn on the cob and pick a zucchini for this one: Chicken and Summer Vegetable Tostadas.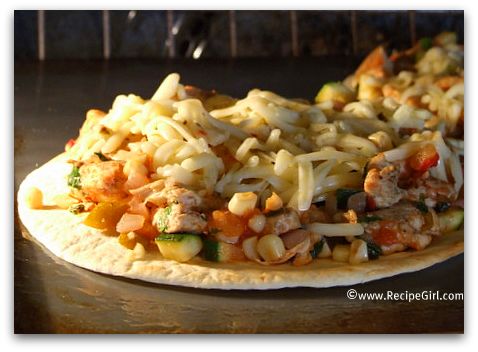 These are fixed in the oven… but the good news is that you don't have to have the oven on for long in this hot summer heat. Just give them a quick broil to melt it all together and then they're finished.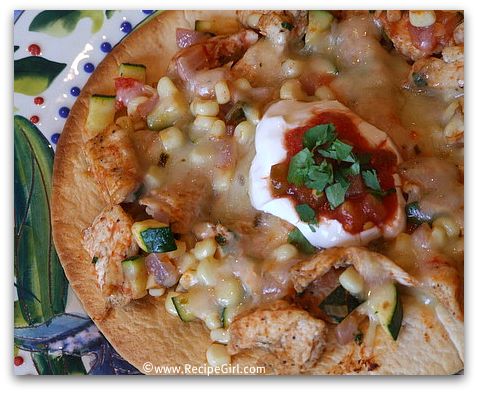 I made these for lunch for my husband and me, but they'd make a delicious and filling dinner as well. My husband thought these were really, really good. He always gives me that 'raised-eyebrows' look… like he's so surprised that I came up with something so delicious. I don't know why he acts so surprised- I mean, I have a food blog here honey… I usually can come up with some pretty good stuff  🙂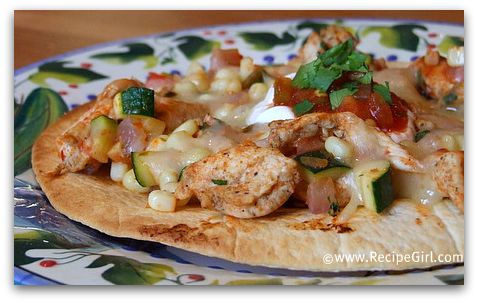 Enjoy an easy night in the kitchen with this recipe, and maybe a little Spanish-style rice on the side.
This recipe can be found here: Chicken and Summer Vegetable Tostadas
———————————————————-
Other great-sounding tostada recipes on the blogs:
Simply Recipes: Chipotle- Bean Tostadas
Don't Forget Delicious: Shrimp Tostadas
For the Love of Cooking: Chicken, Roasted Pasilla and Bell Pepper Tostadas
What's Cooking?: Sweet & Spicy Scallop Tostadas
Culinary in the Country: Crispy Turkey Tostadas
26 Responses to "Chicken and Summer Vegetable Tostadas"
Leave a Comment