Apple Cider Sangria is the perfect way to enjoy sangria on a crisp Fall night!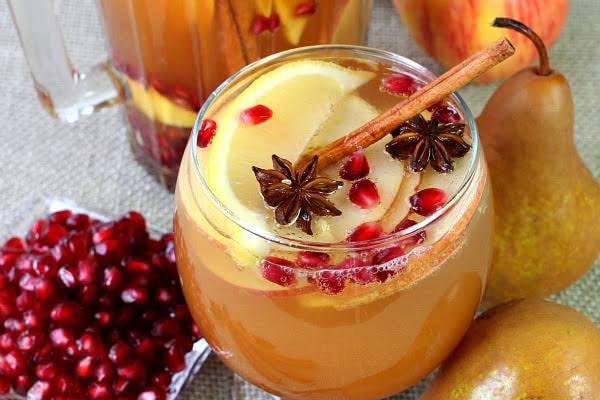 Sangria is one of my favorite cocktails to make (and to drink) because there are so many different ways to make it, using different fruits, juices, wines and liquors, the possibilities are endless. It's also one of my favorite cocktails to serve at a party, setting up a do-it-yourself sangria bar is a fun way to get your friends involved, and also give you a break from the bar!
But when people think about sangria it's usually in the warmer weather, and almost always with wine. So this time we're switching things up and making an Apple Cider Sangria that's going to completely change the way you think about making your next pitcher!
We're starting out with some of my favorite ingredients – fall fruits, brandy, cider and Crown Royal Regal Apple Whisky. Crown Royal Apple is a favorite ingredient of mine to use when mixing up drinks because it adds the whisky flavor without being overpowering at all. Next I grabbed sparkling apple cider to keep up with the cider theme, but you could also get a bottle of prosecco if you want to kick up the boozy level in this sangria – not that it needs it – but it would definitely be tasty.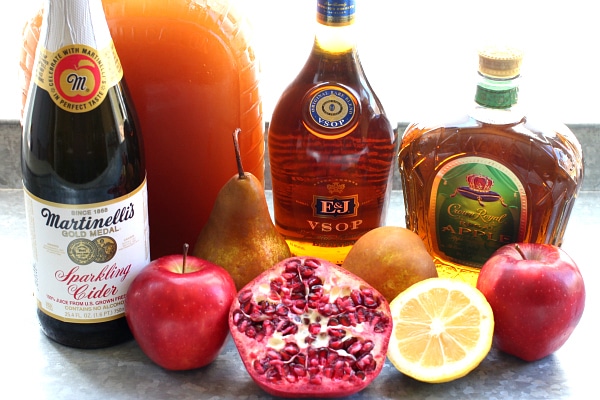 This sangria only takes minutes to put together too…get a pitcher and throw in your sliced fruit, a few cinnamon sticks, a few star anise and pomegranate seeds. Pomegranates can be a messy thing to work with, so get a big of a bowl and seed the pomegranate at the bottom of the bowl so the juice doesn't splatter everywhere. Or you can be really smart and buy the seeds in a jar in your produce section…up to you!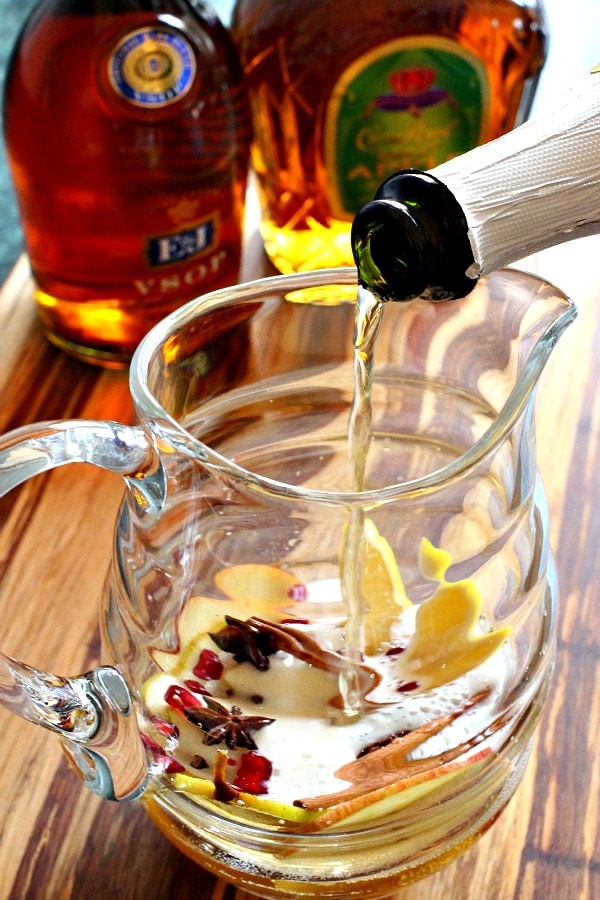 Add the whisky and brandy to the bottom along with the fruit and spices, and then pour in the sparkling cider. Then pour in 2 cups of apple cider and give it a stir.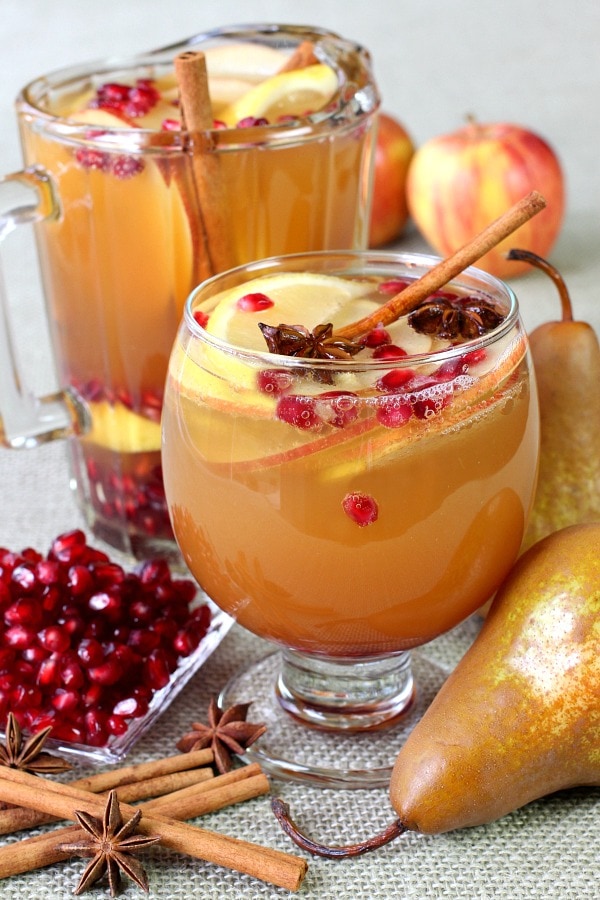 That's it – that's all there is to it. You're not going to believe how amazing this Apple Cider Sangria tastes! Make sure you make a large enough pitcher because this stuff will be gone in a flash!
Yield: 6 to 8 servings
Prep Time: 15 minutes
Apple Cider Sangria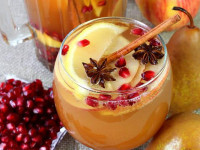 Ingredients:
2 pears, thinly sliced
2 apples, thinly sliced
1 lemon cut into 8 wedges
seeds from one pomegranate
4 cinnamon sticks
6 to 8 star anise
1/2 cup apple whisky
1/4 cup brandy
1  1/2 cups sparkling apple cider or Prosecco
2 cups apple cider
Directions:
Add the sliced fruit, pomegranate seeds, cinnamon sticks and star anise to a large pitcher.
Pour the brandy and whiskey over the fruit.
Next add in the sparkling apple cider (or prosecco).
Last add the apple cider and stir.
If you're making this Apple Cider Sangria ahead of time, leave the sparkling cider out until the last minute and then pour it in right before serving.
SOURCE: RecipeGirl.com
Here are a few more Fall recipes you might enjoy!
Comments