Try as I might, fall isn't arriving yet in San Diego.  Let's be honest here, we don't really see much of any season here in San Diego.  The sun shows up much more often than not, and rain clouds (or any clouds at all) are just a passing fancy.  I'm strangely happy on dreary, cool days, desperate for a change… any change in the weather.  The last couple of days we've had a few clouds (yay!) with a spritz of rain or two spitting out the humidity in the air.  Fall weather calls for apples and baking.  I haven't been apple-picking yet this year, so I opted for a mass-purchase of Gala apples at Costco instead.  Whipping up a super simple recipe for Apple Crisp was the right thing to do.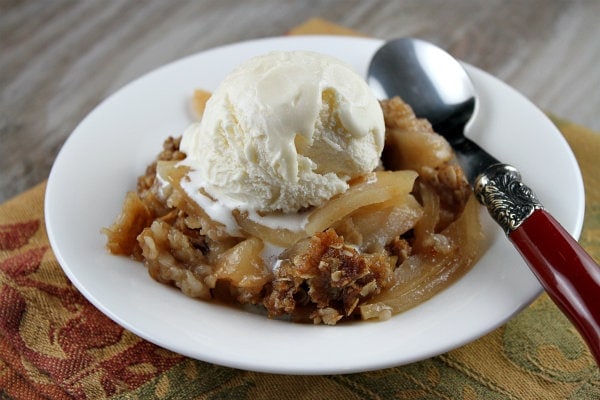 There isn't anything quite like warm apple crisp, fresh out of the oven with a large scoop of ice cream served on top and melting.  It's just about the easiest dessert to make with fresh apples.  Here's how to make it: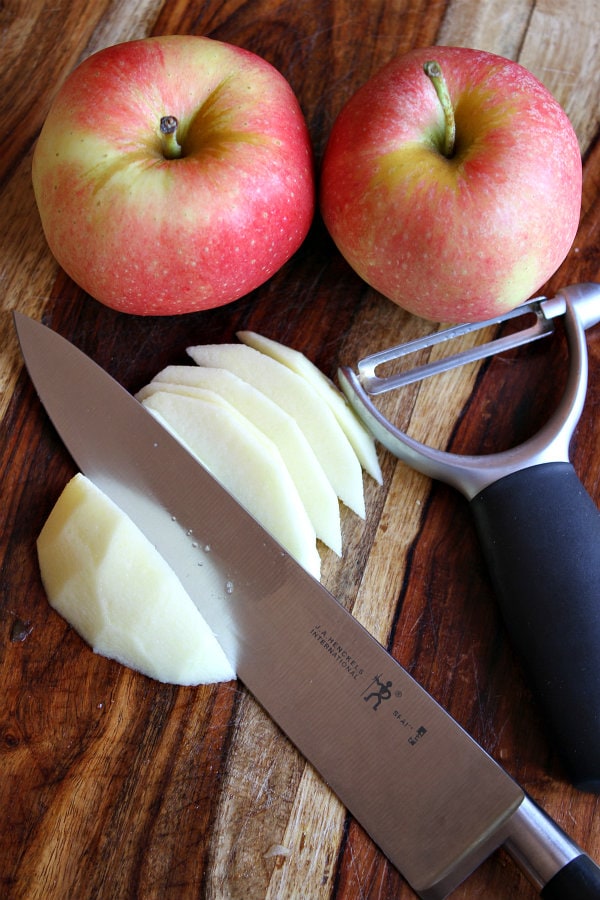 Peel and slice 4 to 5 medium-large apples (I used Gala, but Braeburn, Cox's Orange Pippin, Granny Smith, Jonathon, or Golden Russet work well too).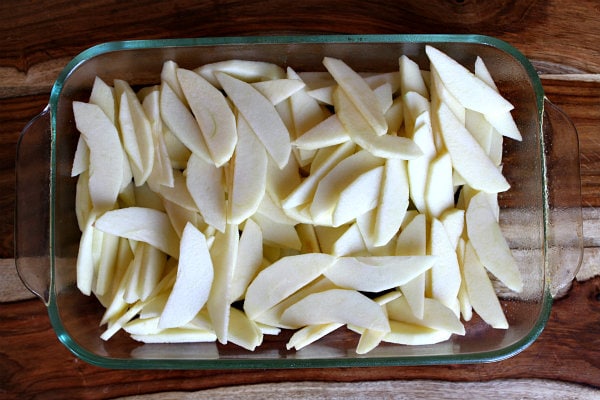 Spread them out in a 8×10-inch dish.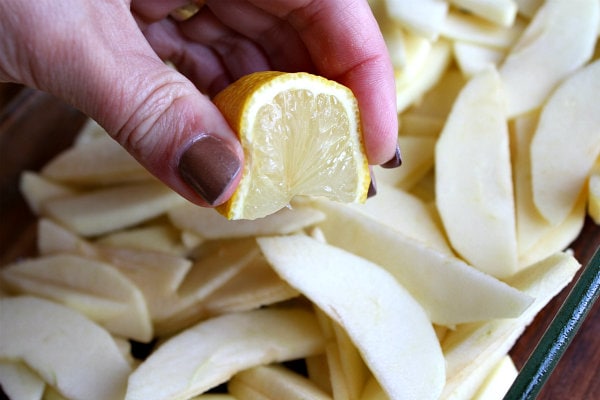 Squeeze fresh lemon juice on top and toss the apples in the juice.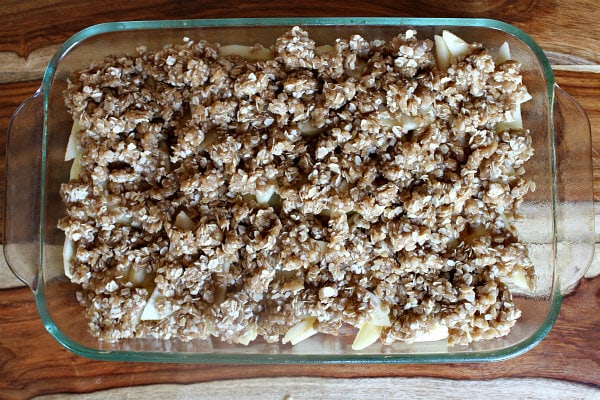 Sprinkle a "crumb" mixture on top (butter + brown sugar + oats + cinnamon + flour + salt).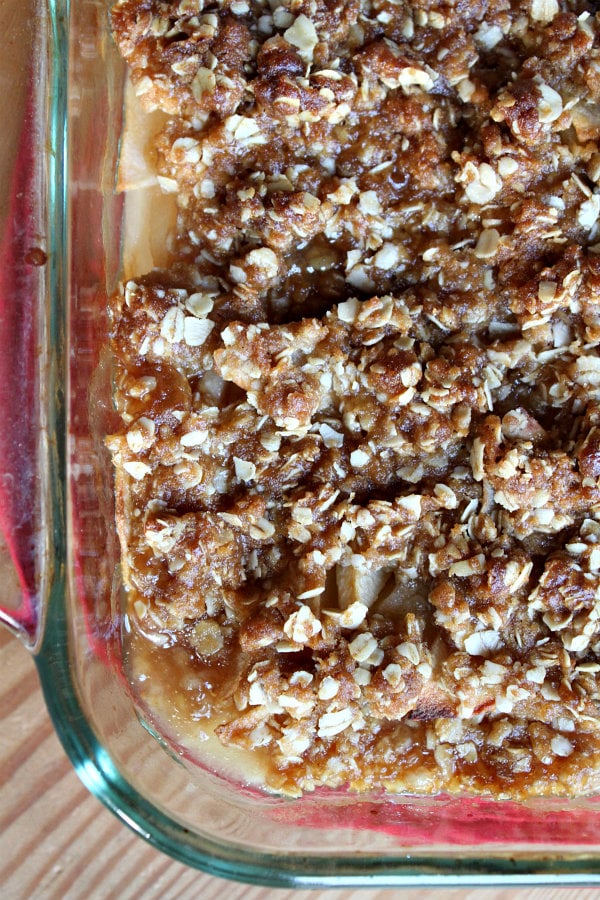 Bake until everything is nice and gooey and the crumb is a bit crispy on top.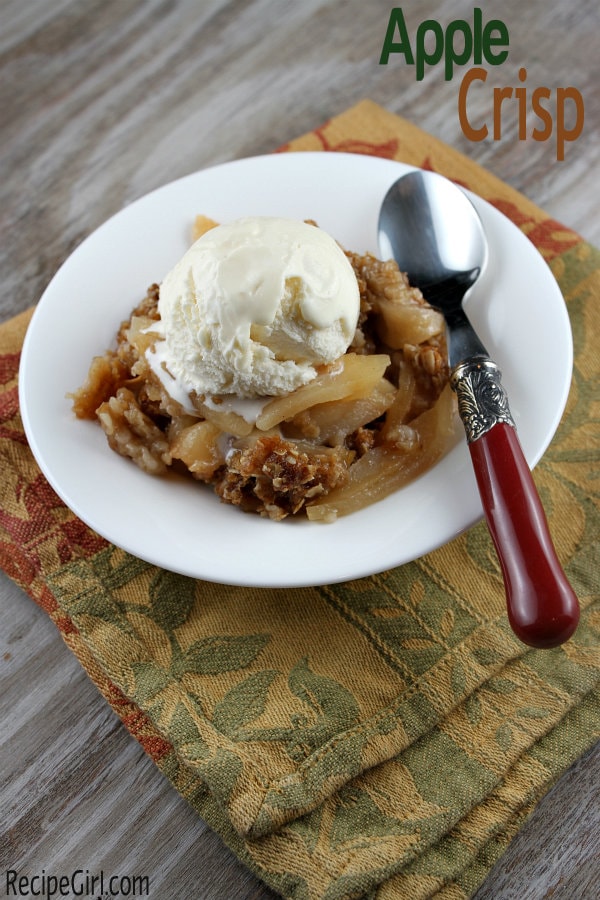 It's best served warm- and that's okay because there's no way you will be able to hold off on eating it as it comes out of the oven.  But it's also very easy to warm up later.  And don't even think about serving it without vanilla ice cream.
P.S. I'm really not bashing San Diego because I absolutely DO love living in this glorious city.  We have dream weather here year-round.  But I do get visions of how nice it would be to live in Seattle or New England and really experience what seasons are all about year after year.  I suppose I might think differently if I were there in the dead of winter, right?!  I suppose for now I'll just have to satisfy the seasonal craving by baking with apples on cloudy days.
Is it fall yet where you live??  Do you get those crazy, colorful trees with leaves flying about and gathering on the streets?  Are you wearing plaid shirts and cute boots on cool evenings?  I'm totally jealous.
Apple Crisp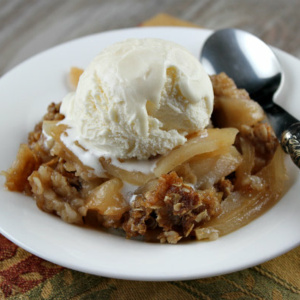 Yield:
8 servings (or 4 generous servings)
Prep Time:20 min
Cook Time:30 min
Ingredients:
4 to 5 cups apples (4 to 5 medium), peeled and thinly sliced
1 tablespoon freshly squeezed lemon juice
1 cup quick cooking oats
1 cup light brown sugar, firmly packed
1/3 cup Gold Medal® All-Purpose Flour
1/2 teaspoon ground cinnamon
1/2 teaspoon salt
1/2 cup unsalted butter, melted
Directions:
1. Preheat oven to 375 degrees F. Lightly spray 8x10-inch baking dish with nonstick spray.
2. Spread apples in the bottom of the baking dish. Sprinkle with lemon juice.
3. In a medium bowl, mix together the oats, brown sugar, flour, cinnamon, and salt. Pour in the melted butter and use a fork to combine. Use your fingers to sprinkle the crumb mixture over the apples.
4. Bake, uncovered, for 30 minutes- or until bubbly and hot.
Tips:
*Great served warm with vanilla ice cream.
*Cover and refrigerate leftovers. Reheat leftovers to serve.