These Apple Pie Pancakes are a new favorite pancake recipe in our house.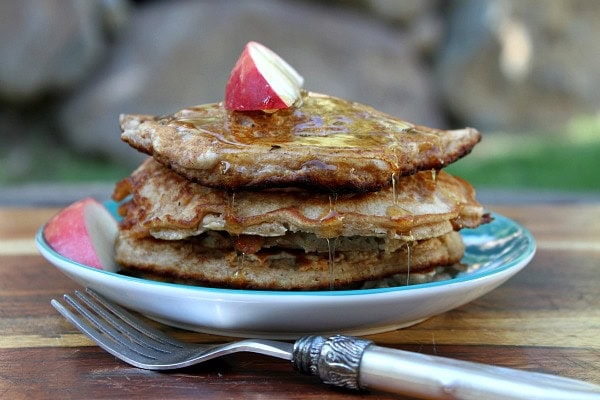 We are 100%, without a doubt, with absolute certainty, enthusiastically… a pancake family.  We like our pancakes every which way.  We like them Cinnamon-Rolled, we like them Pumpkin'd, we like them with Greek yogurt, we like them apple-puffed, we like them double berried, and we even like them with only 2 ingredients.  But my boys have informed me, that this is now their favorite pancake recipe:  Apple Pie Pancakes!  They're light and fluffy, and every bite has apple hidden inside of it.

This recipe comes from a new cookbook called, "Pancakes: 72 Sweet and Savory Recipes for the Perfect Stack," by Adrianna Adarme (author of the blog, A Cozy Kitchen).  Adrianna and I met on a wine tasting trip in Napa Valley a couple of years ago, and we gossiped and giggled over cocktails about writing our cookbooks.  It's so fun to see them both out in stores now!  There are delicious recipes featured in Adrianna's book like: Banana Bread Pancakes, Blueberry- Ricotta Pancakes, Lemon Cloud Pancakes and Maple- Bacon Pancakes.  Some more unique choices include Goat Cheese Quinoa Cakes, Fried Mac 'n Cheese Cakes, Gruyere and Ham Dutch Baby and Spinach Pancakes.   I know that my family will be begging me to try recipes from this book!

Since the school bus comes at 6:30am in our neighborhood (seriously), we are all pretty exhausted by Saturday and take the opportunity to sleep in and do a minimal breakfast.  By Sunday we're tired of eating cold cereal, and everyone looks at me with sad eyes, hoping I'll whip up some sort of special family breakfast.  That usually means pancakes at our house.  I made these Apple Pie Pancakes for my boys last weekend, and they were very well received… so well received, in fact, that I really wish I had doubled the recipe (they were that good).  If you like a light and fluffy pancake, and you like a pancake with a little fruit hidden inside of it (grated apple), then this is the pancake recipe for you!  Thanks to Adrianna, for such a delicious recipe!
Apple Pie Pancakes
Yield:
Makes about eight 4-inch pancakes
Prep Time: 25 min
Cook Time: 4 min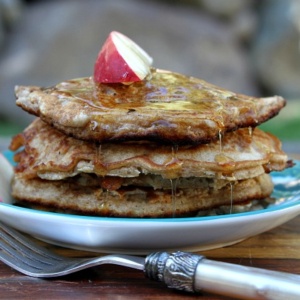 Ingredients:

DRY MIX:
1 cup All Purpose Gold Medal® Flour
2 tablespoons light brown sugar
1 teaspoon baking powder
1 teaspoon ground cinnamon
1/8 teaspoon salt
1/8 teaspoon freshly grated nutmeg

WET MIX:
1 cup whole milk
1 large egg
1 tablespoon unsalted butter, melted and cooled
1 teaspoon vanilla extract

MIX IN:
1 cup peeled and grated apple (about 1 medium apple)

Butter or vegetable oil, for the skillet
maple syrup, for serving.

Instructions:

1. In a medium bowl, mix together the flour, sugar, baking powder, cinnamon, salt and nutmeg.

2. In a small bowl, whisk together the milk, egg, butter and vanilla.

3. Add the wet ingredients to the dry ingredients and mix just until combined. You'll have some lumps in the batter. Fold in the grated apple.

4. Preheat your skillet or griddle to medium and brush with butter or oil. Using a 1/4 cup measure (or ice cream scoop), scoop the batter onto the skillet. Cook 1 to 2 minutes until small bubbles form on the surface of the pancakes, and then flip. Reduce the heat to medium-low and cook on the other side for about 1 minute, or until golden brown.

5. Transfer the cooked pancakes to a baking sheet and place in a pre-heated oven (200 degrees F.) to keep warm. Repeat with remaining batter. Serve pancakes with warmed maple syrup.

Source: RecipeGirl.com (shared with permission from St. Martin's Griffin- Pancakes by Adrianna Adarme (copy 2013)
Disclosure:  This post contains Amazon affiliate links.  I was given a copy of "Pancakes" for review.  All opinions shared are my own.