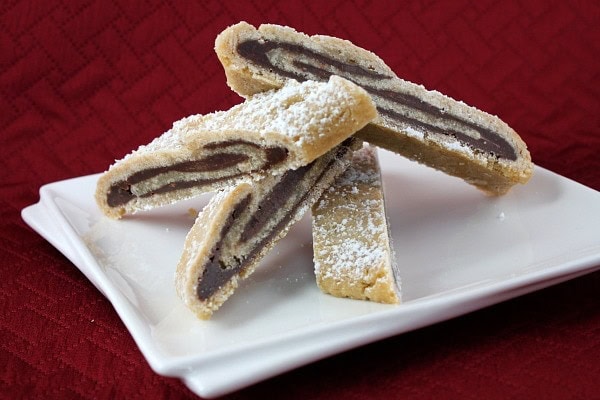 Bake & Slice Chocolate Swirls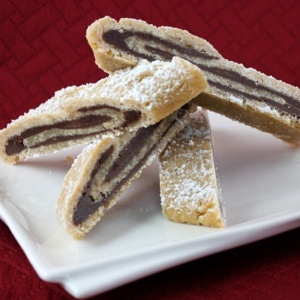 This recipe has been a RecipeGirl family favorite for over 40 years
Yield:
6 dozen sliced cookies
Prep Time:30 min
Cook Time:35 min
Ingredients:
1 cup semi-sweet chocolate chips
1/2 cup sweetened condensed milk
1 Tablespoon shortening
3/4 cup butter, at room temperature
1/2 teaspoon salt
1 teaspoon vanilla extract
3/4 cup brown sugar, packed
2 cups all-purpose flour, measured then sifted
milk
3/4 cup walnuts or almonds, chopped (optional)
Directions:
1. Preheat oven to 350 degrees F.
2. In top of double boiler, melt chocolate, sweetened milk and shortening. Stir until combined, and set aside to cool slightly.
3. In large bowl, cream together butter, salt, vanilla and sugar with an electric mixer. Blend in flour and mix well. Add a few drops of milk to help the batter hold together. It should come together as a blob of dough (not sticky though).
4. Divide dough into thirds. Roll out each on floured surface to a 10x6-inch rectangle. Spread each with chocolate filling; sprinkle with nuts if desired.
5. Roll up, starting with the 10-inch side. Carefully transfer the roll to an ungreased cookie sheet.
6. Bake 20-25 minutes, or until light golden brown. Cool slightly before removing from cookie sheet. Sprinkle with powdered sugar. Cool and wrap in saran wrap.
7. To serve, cut into slices about 1/4-inch thick. These can be frozen in the whole rolls, then defrosted and sliced later.
Tips:
*When finished mixing the dough, if it appears too dry- try placing it inside a large zip baggie and kneading it together to get it nice and held together and ready to roll out.
*For a floured surface, try using a flour sack dish towel. This will make it easier to roll as you can lift up the towel and easily help guide the rolling.
*For the Christmas holidays, I always mix some red/green sprinkles with the powdered sugar.
Source: RecipeGirl.com (Adapted from an old Pillsbury cookbook)