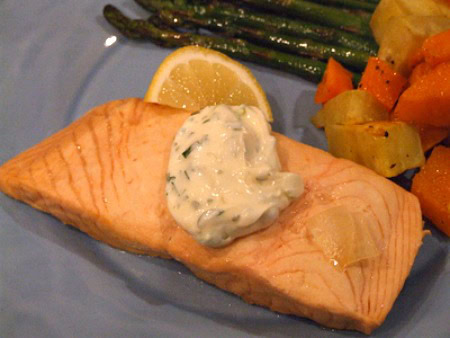 Beer- Poached Salmon w/ Tarragon Mayonnaise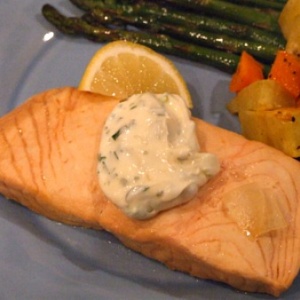 Yield:
4 servings
Prep Time:20 min
Cook Time:25 min
Ingredients:
MAYO:
1/2 cup reduced-fat mayonnaise
1/4 teaspoon dried tarragon
1 teaspoon minced chives
1 teaspoon chopped green onions
1/4 teaspoon tabasco sauce
1 teaspoon minced parsley
SALMON:
12 ounces beer
2 tablespoons freshly squeezed lemon juice
1 medium onion, chopped
1 stalk celery, chopped
1 teaspoon salt
1 bay leaf
4 whole peppercorns
Four 6-ounce salmon steaks (1-inch-thick)
Directions:
1. Prepare mayo: Combine mayonnaise ingredients in a small bowl. Chill until ready to serve.
2. Prepare salmon: In a large skillet, combine all ingredients (except salmon). Bring to a boil and simmer for 10 minutes. Add salmon steaks, cover, and simmer for 15 minutes.
3. Serve warm with a dollop of tarragon mayonnaise.
Tips:
*You may also refrigerate and serve cold.
Nutrition:
Nutritional Information per serving:
Serving size: 1 salmon fillet + 2 tablespoons mayo
Calories per serving: 406
Fat per serving: 22.75g
Saturated Fat per serving: 3.5g
Sugar per serving: 1.75g
Fiber per serving: .75g
Protein per serving: 37g
Cholesterol per serving: 115.5mg
Carbohydrates per serving: 8g
WW POINTS per serving:
Points Plus Program: 10 Old Points Program: 10