This recipe has been featured in a post on The Recipe Girl blog: Superbowl Party Recipes.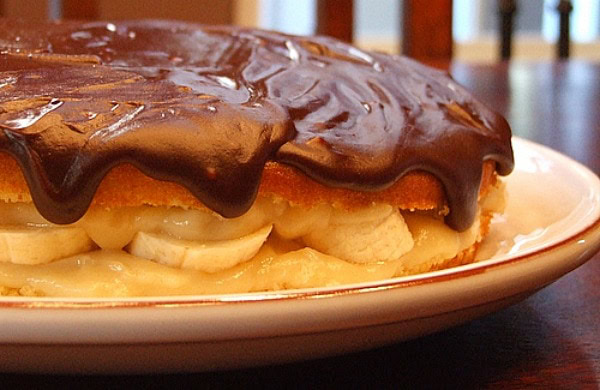 Boston Banana Cream Pie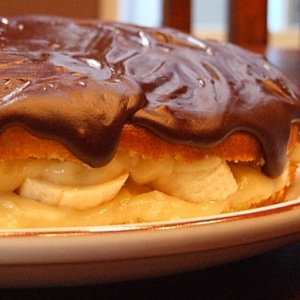 Terrific pie (that's really a cake). We made this for a New England Patriot playoff game to represent New England. It was devoured by the end of the game!
Yield:
10 servings
Prep Time: 40 min
Cook Time: 45 min
Ingredients:
CAKE:
1 1/4 cups all-purpose flour
3/4 cup granulated white sugar
2 teaspoons baking powder
1/4 teaspoon salt
2/3 cup milk
1/4 cup shortening
1 teaspoon vanilla extract
1 large egg
FILLING:
1/2 cup granulated white sugar
3 Tablespoons all-purpose flour
1/8 teaspoon salt
1 1/3 cups milk
1 large egg, slightly beaten
1 Tablespoon butter, melted
1 teaspoon vanilla extract
2 large bananas, cut into 1/4-inch slices
GLAZE:
1 ounce unsweetened chocolate, chopped
2 Tablespoons butter
1 cup powdered sugar (sifted)
dash of salt
1/4 teaspoon vanilla extract
3 Tablespoons milk (more or less depending on how thick you'd like the glaze)
Directions:
1. Preheat oven to 350 degrees F. Grease bottom of 9-inch round pan, and then line with round piece of parchment and spray with cooking spray.
2. In a large bowl, blend all cake ingredients until moist; beating 2 minutes on medium. Pour batter into prepared pan and bake for 20 to 30 minutes until a toothpick comes out clean. Cool 5 minutes, then invert onto wire rack. Remove parchment carefully and cool completely. When cake is completely cooled, split cake carefully into two layers (horizontally) with a long, thin knife.
3. Meanwhile, make filling: Combine sugar, flour and salt in a saucepan. Slowly stir in milk. Cook on medium; stirring constantly. Bring to a boil for 1 minute, then temper the egg by adding about 1/4 cup of the hot filling into the egg. Add another 1/4 cup of the hot filling, mixing well. If the egg mixture has warmed up, go ahead and add the egg mixture back into the hot pan; cook until bubbly, stirring constantly. (Be careful- if you add the egg without warming it up first, you'll end up with scrambled eggs in your cream filling!) Remove from heat and stir in butter and vanilla. Cool, stirring occasionally.
4. Spread half of the filling onto the bottom layer of the cake. Arrange banana slices on the filling, taking care to put some near the edges so that they will be seen in a decorative way from the outside. Then cover bananas with remaining filling. Carefully top the filling with the second layer, cut side down.
5. For glaze: In a small saucepan, cook chocolate and butter on low heat until melted. Stir in sugar, vanilla, salt and milk for spreading consistency. Be sure not to leave it too thick or the chocolate layer will be thick and harden, making it difficult to slice the cake neatly. Spread on top of cake, letting some drizzle down sides. Refrigerate.
Tips:
*To move the cake layers around with ease, use a flexible cutting board. You can easily slide a flexible cutting board in between the layers and then move them wherever they need to go.
Source: RecipeGirl.com (Adapted from Pillsbury)