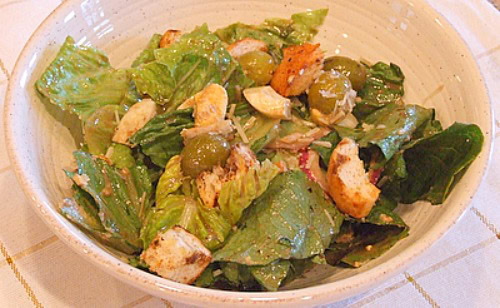 Caesar Salad w/ Balsamic Dressing & Parmesan Croutons
Wow! My husband, who doesn't normally love my salads, had three servings of this one, and requested that I put this recipe into our regular rotation.
Prep Time: 25 min
Cook Time: 10 min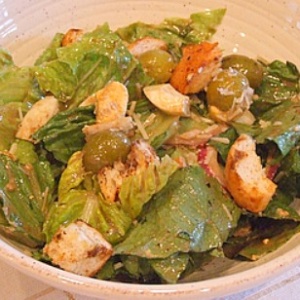 Ingredients:

BALSAMIC ITALIAN DRESSING:
1/2 cup balsamic vinegar
3/4 cup olive oil
2 teaspoons Dijon mustard
1 teaspoon worcestershire sauce
2 Tablespoons finely chopped fresh basil
1 Tablespoon minced garlic

CROUTONS:
2 cups seasoned Italian bread cubes (focaccia works great)
3 Tablespoons balsamic Italian dressing (above)
2 Tablespoons grated Parmesan cheese

SALAD:
4 cups torn romaine lettuce
2 cups iceberg lettuce chunks
1 cup thinly sliced red onion
1/2 cup pitted black olives
2 large hard-boiled eggs, finely chopped
1/2 teaspoon salt
1/8 teaspoon pepper, or to taste
1/3 cup grated Parmesan cheese

Instructions:

1. Prepare dressing: Combine vinegar, olive oil, dijon mustard, worcestershire sauce, basil and garlic in a jar with a tight fitting lid. Shake until mixed well.

2. Prepare croutons: Preheat oven to 400°F. Place bread cubes in a bowl. Add the Italian dressing and Parmesan cheese and toss to coat. Spread bread cubes in a single layer in a shallow baking pan. Bake for 8 to 10 minutes or until lightly browned. Stir occasionally while baking.

3. Assemble salad: Combine all the lettuce, onion, olives and eggs in a large bowl. Add about 1/2 cup Balsamic dressing (or to taste), salt and pepper and toss to coat. Add the Parmesan cheese and croutons and toss gently.

Tips:

*Green olives are also good in this salad.