This Caramel Apple Manhattan is one of my favorite cocktails during fall. It's classy and easy to make, and has one of the best little cocktail garnishes!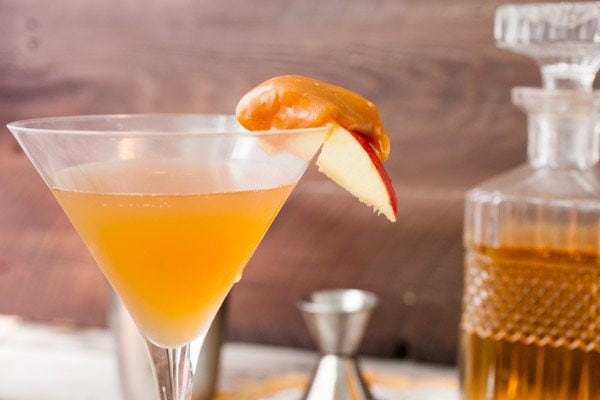 In my early twenties, I paid off some of my students loans by bartending at night a few nights a week. I loved the job. It was so great to interact with customers, but my favorite part of the job was coming up with drinks. Luckily, the bar manager gave me a long leash when it came to creating cocktails once he realized I could pair flavors okay.
One of my favorite things to do is pair a really classic cocktail, like a manhattan, with a fun flavor profile. That's what I tried to do here with this delicious drink!
To make the garnishes, I just microwave a few soft caramel candies in 30 second bursts until they are melted and smooth. Then I dip in my apples!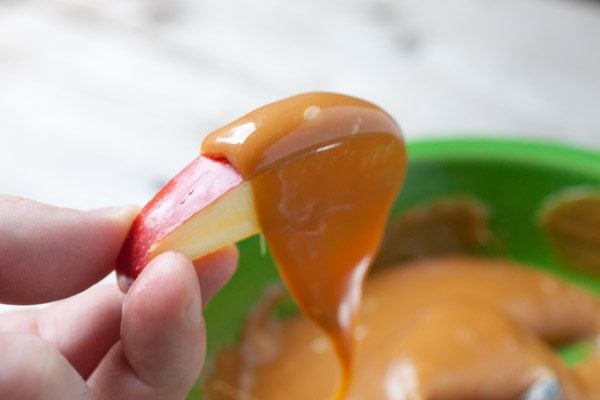 The apples will work best if you let them set up in the fridge for a few minutes on parchment paper (or wax paper).
The cocktail is a classic mix of bourbon and sweet vermouth, but spiked with apple cider and Calvados (a classic apple liquor).
If you're a cocktail fan, put this one on your list!
Caramel Apple Manhattan
Yield:
1 cocktail
Prep Time: 10 minutes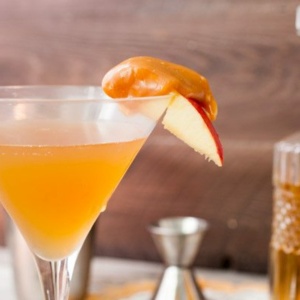 Ingredients:

2 ounces bourbon
2 ounces apple cider
1/2 ounce Calvados apple liquor
1/2 ounce sweet vermouth

Caramel Apple Garnish

15 to 20 soft caramel candies
apple slices

Instructions:

For garnish, unwrap candies and place in a microwave-safe bowl. Microwave candies on high in 30 second bursts, stirring in between, until caramel is melted and smooth.
Dip apple slices in caramel and place dipped apples on a plate with parchment or wax paper. Let apples chill in the fridge.  You'll have enough garnishes for about 10 cocktails.  If you don't wish to make that many cocktails, the garnishes make awesome snacks too!
To make a cocktail, combine ingredients in a shaker with lots of ice. Top and shake vigorously.
Strain into a chilled cocktail glass and garnish with caramel apple slice.

Tips:

You can serve this cocktail on the rocks, but strain it into a glass with fresh ice. I like to use larger ice cubes for a manhattan like this.
SOURCE: Recipegirl.com
Here are a few more delicious cocktails you might enjoy: