Cheesecake lovers will appreciate these Cheesecake Pops.  They're served on a stick, and they are dipped in chocolate.  Cheesecake pops are fun for so many occasions!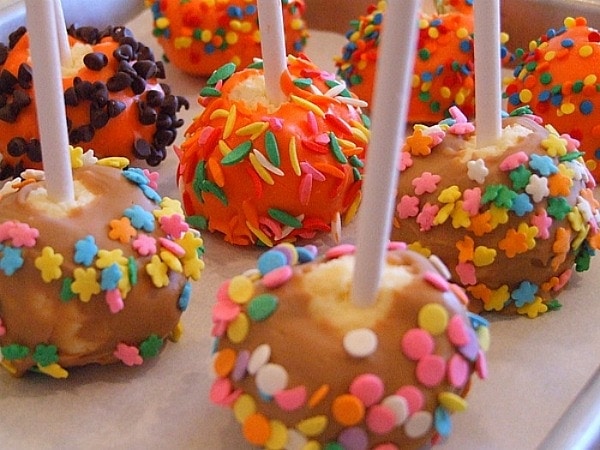 The pops are created in several steps- Make the cheesecake in a regular cake pan, firm it up in the fridge, scoop it out and place a lollipop stick inside each ball, freeze until firm, and then dip and decorate.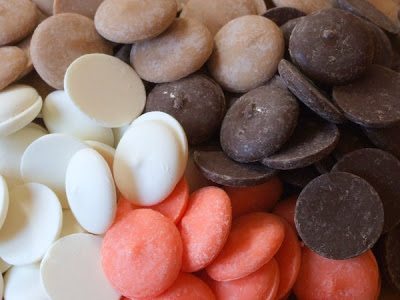 At our local cake decorating supply store, I pick up 4 flavors of Guittard Chocolate Company's A'Peels, lollipop sticks and sprinkles galor. The A'Peels are the little wafer-shaped pieces that melt easily. They don't need to be tempered and they come in a whole bunch of different flavors and colors. They're fun for dipping!!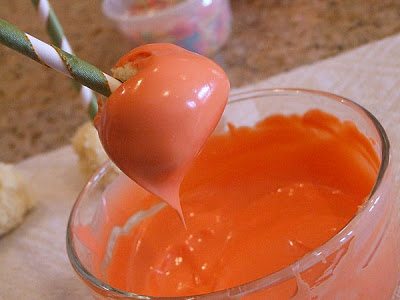 Guittard's orange variety has a pretty color. It's actually very flavorful too.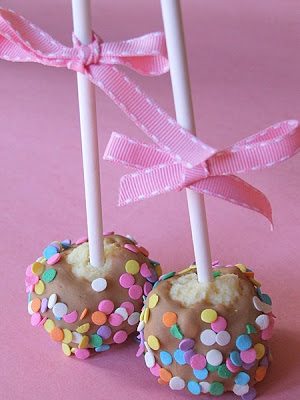 The butterscotch disks are our favorite flavor. They pair nicely with pastel sprinkles, and I tied on pink bows for added cute factor. I thought these might be fun for a baby shower.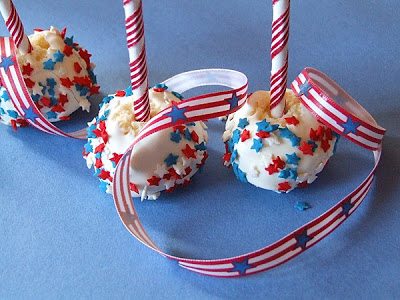 The white chocolate disks provide the most flexibility for added decor. Wouldn't these be perfect for the 4th of July?
These pops are almost as good as a slice of my favorite cheesecake. I keep mine in the freezer for several days- they are quite good when eaten frozen solid. If they're left at room temperature for too long, you might need a fork to eat them as they tend to soften up some.
The best part about the pops is that they're as delicious as they are adorable.
Cheesecake Pops
I made these in a baker's challenge, and I was extremely happy with the results. They are delicious, and they would be so cute for so many different occasions.
Yield:
30 to 40 pops
Prep Time: 60 minutes + freezing time
Cook Time: 35 minutes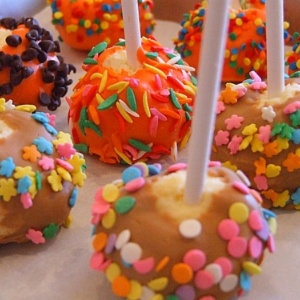 Ingredients:

5 8-ounce packages of cream cheese, at room temperature
2 cups granulated white sugar
1/4 cup all-purpose flour
1/4 teaspoon salt
5 large eggs
2 large egg yolks
2 teaspoons pure vanilla extract
1/4 cup heavy whipping cream
boiling water, as needed
30 to 40 (8-inch) lollipop sticks
1 pound semisweet flavored, milk chocolate flavored, or brightly colored confectionery coating (also known as summer coating or wafer chocolate)

Instructions:

Position an oven rack in the middle of the oven and preheat to 325°F. Lightly grease a 10-inch cake pan or a 9 or 10-inch square pan (don't use a springform pan.)
In a large bowl, with an electric mixer set at low speed, beat together the cream cheese, sugar, flour and salt until smooth. Add the whole eggs and the egg yolks, one at a time, beating well (but still at low speed) after each addition. Beat in the vanilla and cream.
Pour the cheesecake batter into the cake pan and place in a larger roasting pan. Fill the roasting pan with boiling water until it reaches halfway up the sides of the cake pan. Bake until the cheesecake is firm and slightly golden on top, 35 to 40 minutes.
Remove cheesecake from water bath and cool to room temperature. Cover the cheesecake with plastic wrap and refrigerate until very cold, at least 3 hours or up to overnight.
When cold and very firm, scoop the cheesecake into 2-ounce balls and place on a parchment paper-lined baking sheet. Carefully insert a lollipop stick into each cheesecake ball. Freeze the pops, uncovered, until very hard, at least 1 to 2 hours (overnight is best.)
When the cheesecake pops are frozen and ready for dipping, prepare the chocolate coating. Place half of the chocolate wafers in a microwave- safe bowl. Microwave on high for 30 seconds. Remove from the microwave and stir. If the chocolate is not completely melted, microwave for 30-second intervals, stirring until smooth.
Quickly dip a frozen cheesecake pop in the melted chocolate, swirling quickly to coat it completely. It's best to dip it all the way up to the stick. Hold the pop over the melted chocolate and shake off any excess. Place the pop on a clean parchment paper-lined baking sheet to set. Repeat with remaining pops, melting more chocolate wafers as needed.
Refrigerate (or freeze) pops for up to 24 hours, until ready to serve.

Tips:

We've actually kept these in the freezer for a few days with success. They still taste delicious.
Wafer chocolate can be found in baking supply or cake decorating stores and they're available in dark, milk, and white chocolate varieties, as well as a rainbow of colors. It doesn't need to be tempered and makes for easier dipping.
I would suggest that you dip into the chocolate deep enough to allow some of the chocolate attach to the wooden stick. That will alleviate any potential problems of cheesecake falling off the stick when people are eating them.
To dress up the pops, you can roll them in crushed nuts, coarse sanding sugar, colorful jimmies, toffee bits, or mini chocolate chips, or drizzle them with a contrasting color of melted chocolate.