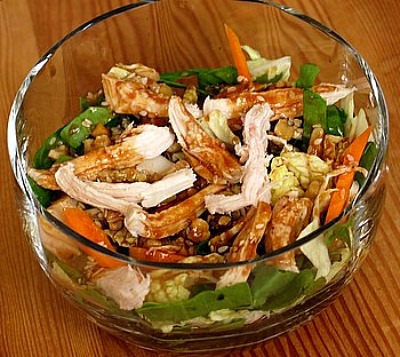 Chinese Chicken & Walnut Salad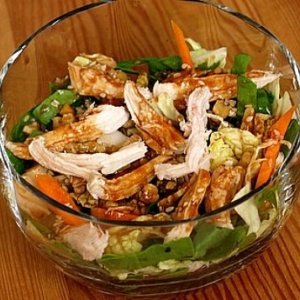 A great dressing and big chunks of chicken make this main-dish salad a keeper...
Yield:
8 servings
Prep Time:30 min
Ingredients:
1 cup corn oil (or walnut oil)
1/2 cup Hoisin sauce
1/2 cup soy sauce
1/2 cup red wine vinegar
1 Tablespoon finely chopped garlic
1 Tablespoon finely grated fresh ginger
1/2 cup sesame seeds
1 bunch spinach
1/2 bunch Napa or Chinese cabbage
4 medium carrots, julienned
4 scallions, thinly sliced
2 cups cooked chicken, shredded
Directions:
1. Combine oil, Hoisin sauce, soy sauce, vinegar, garlic, ginger root, and sesame seeds. Blend well and refrigerate.
2. Wash spinach thoroughly and remove stems. Slice into 1/2-inch strips.
3. Wash and core cabbage. Slice into 1/2-inch pieces. Dry and crisp in the refrigerator.
4. In a large bowl, combine greens, carrots, walnuts, bell pepper, scallions, and chicken. Toss well. Add dressing a little at a time (to taste) and toss again. You may wish to not use all of the dressing.
Tips:
*Try substituting beef and toasted almonds, or shrimp and toasted pine nuts for the chicken and walnuts.
*Extra dressing may be stored in a covered glass container in the refrigerator.