This recipe for Chocolate Baklava is the perfect dessert recipe for a Greek Dinner Party.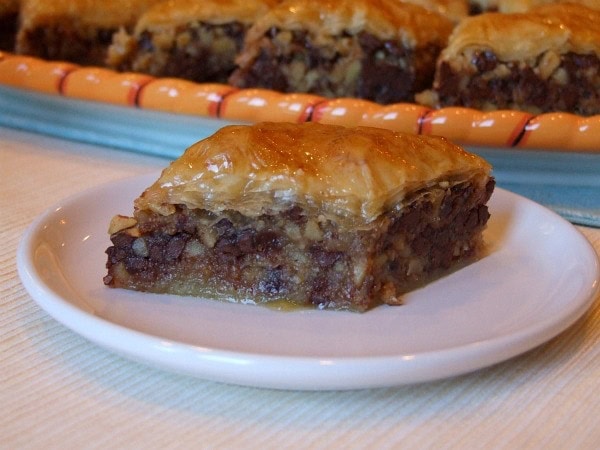 This was a great dessert for our Greek dinner party. I used the melted butter to brush onto the phyllo sheets.  My advice is to spread it on as thin as you can.  Don't be generous with the butter or it will be too buttery!  It was my first time making baklava, and I was very happy with the outcome. Yum!
This recipe has been featured in a post on The Recipe Girl blog: Greek Dinner Party- The Desserts.
Chocolate Baklava
Yield:
30 to 40 pieces
Prep Time: 30 minutes
Cook Time: 60 minutes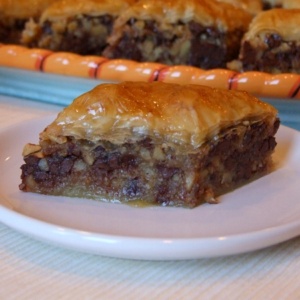 Ingredients:

BAKLAVA:

One (16 ounce) package frozen phyllo dough, thawed
1 1/4 cups butter (no substitutes), melted
1 pound finely chopped walnuts
1 (12 ounce) package miniature semisweet chocolate chips
3/4 cup granulated white sugar
1 1/2 teaspoons ground cinnamon
1 teaspoon grated lemon zest

SYRUP:

3/4 cup freshly squeezed orange juice
1/2 cup granulated white sugar
1/2 cup water
1/2 cup honey
2 tablespoons freshly squeezed lemon juice

Instructions:

Preheat oven to 350 degrees F. Butter a 15-in. x 10-in. x 1-in. baking pan.
Layer eight sheets of phyllo dough (one at a time) in pan, brushing each with butter before adding the next sheet. In a bowl, combine nuts, chocolate chips, sugar, cinnamon and lemon peel. Sprinkle 2 cups over top layer of phyllo.
Add four more sheets of phyllo dough (one at a time), brushing each with butter before adding the next. Top with 2 more cups nut mixture. Layer and brush four more sheets of dough with butter; top with remaining nut mixture. Top with the remaining dough, brushing each sheet with butter. Drizzle any remaining butter over top.
Using a sharp knife, cut baklava into 1-1/2-in. diamonds. Bake for 40 to 50 minutes or until golden brown. While baklava is baking, combine the syrup ingredients in a saucepan; bring to a boil over medium heat, stirring occasionally. Reduce heat; simmer, uncovered, for 20 minutes. Pour over warm baklava. Cool completely in pan on a wire rack before you remove the pieces of baklava from the pan.

Tips:

Tip for working with phyllo dough- you don't want it to dry out. If you get some paper towels wet and wring them dry as much as possible, you can lay them on top of the phyllo to keep it damp. You don't want to get the phyllo 'wet,' but if you can keep it from drying out- that will help prevent tearing as you use it.
SOURCE: RecipeGirl.com (Adapted from Allrecipes)