Rancho La Puerta is a world-famous destination spa in Baja, California (Mexico)- about an hour's drive from San Diego. I've wanted to visit this spa for years, imagining the luxury of a week full of exercise, relaxation and healthy eating, and devoid of internet, TV and the real world. It sits on 3,000 sunny-all-the-time acres in the mountains between the sea and the desert. Luxury spa amenities, fabulous accommodations and cooking classes in the middle of their organic farm … sounds like heaven to me.
When I found out that the spa had a cookbook available, one that focused on using fresh, local, seasonal ingredients, I simply had to check it out:  Cooking with the Seasons at Rancho La Puerta.   Not only did I completely fall in love with the cookbook (full of color photographs and wonderful seasonal menus), but I also discovered that it had been nominated for a 2009 James Beard Award in the Book Awards (Healthy Focus) category. Ellie Krieger's book, The Food You Crave, won the award (have that one too!) but this one was certainly worthy of it as well.
The first recipe I made from this cookbook:  Chocolate Banana Bread.
This is a very chocolatey banana bread- more like a chocolate bread with banana accent. A small slice gives you a boost of energy and a load of healthy carbs… a good one to snack on after a long hike or a day at the park. The best news is… there's not an ounce of butter or oil in it.
Here's the How-To:
.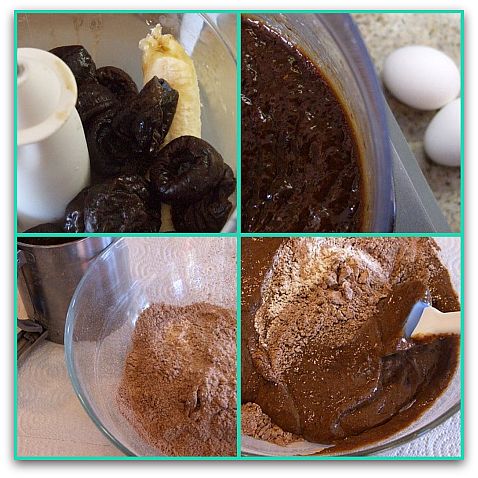 Prunes are used in place of the fat in this bread. Before I scare you away, let me tell you how much I hate prunes and how much I loved this bread. You cannot taste the prunes at all- I promise! They simply act as a fat-replacer and moistener in this loaf, and it really works! The prunes are boiled until soft and then pureed with ripe bananas. The pureed mixture is mixed with eggs, whole wheat pastry flour, cocoa, baking powder, cinnamon and baking soda.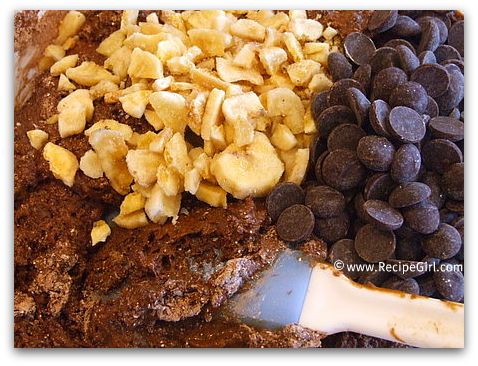 Banana chips and chocolate chips are mixed in. If you have a health food market with bulk bins available to you, that's the best place to pick up a handful of banana chips.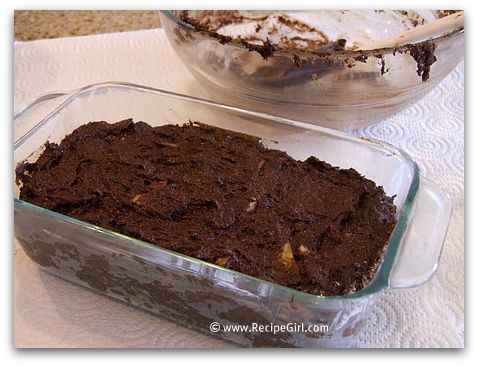 The resulting batter will be very thick.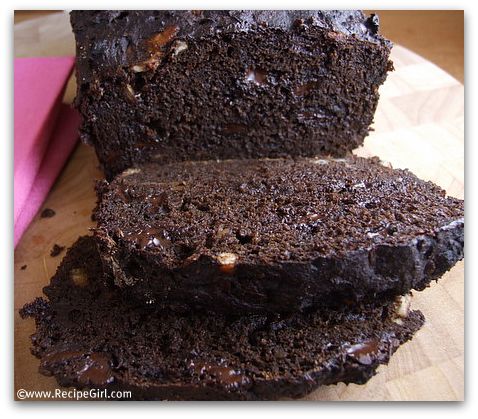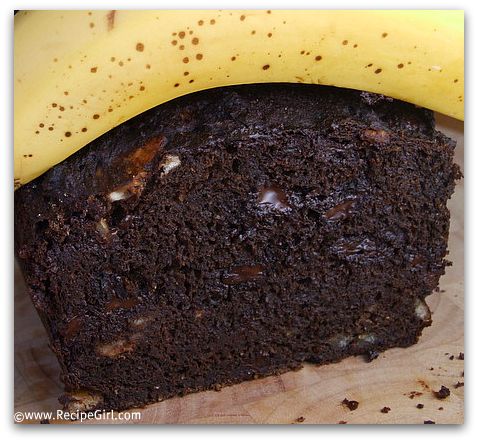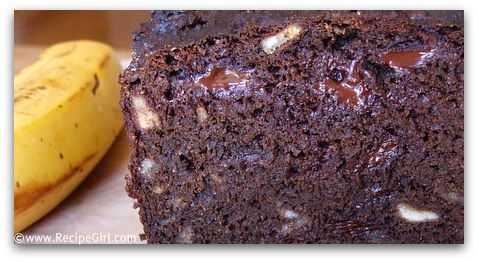 See how absolutely chocolatey this turns out? It looks evil, doesn't it? The loaf is cut into 8 thick slices and then cut in half to make 16 servings. You'd be surprised how big a serving size is. The bread is dense and filling (and definitely satisfies any chocolate craving that you might be having!) Each serving is 162 calories, 5.5 grams of fat  (& 4.5 Weight Watcher's points).   Not too bad, huh?
The bread was a big hit in our house… even with the ones who aren't so health conscious. My husband noted that he couldn't tell that there was anything different at all about the bread… didn't note the prunes or the whole wheat flour, or the missing fat. (Good to know).
I'm still hoping someday to visit Rancho La Puerta myself, but at $3 to $4 thousand per week, it's a luxury that might have to wait! I've heard they offer day trips too… and that might be a more likely scenario for me at this point!
This recipe can be found HERE.
Check out the cookbook too– it's a good one…