These homemade Corn Dogs are fast and easy to make at home, and they taste better than the ones at the ballgame or the State Fair!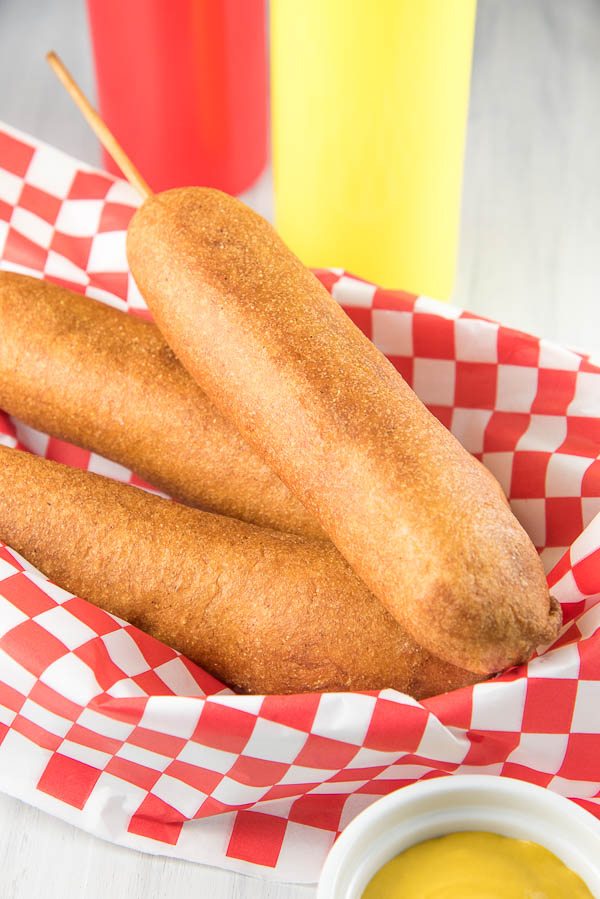 Corn Dogs for Summer!
With Major League Baseball season officially kicked off, I say we celebrate with ballpark food for the big game. Who's ready to rock a ponytail, wear a team baseball cap and head-out to the Ball Game with me? First stop, the concession stand to get a game-day Corn Dog!
I don't know about you, but there is something about a baseball game that has me heading straight to the concession stand for a piping hot Corn Dog. Same song, second verse, the same goes when I'm at the State Fair. 🙂 Notice a pattern? Truth = certain events call for Corn Dogs.
The good news is, with this recipe, you don't have to wait for a major sporting event or the State Fair to enjoy one. Not only can you make your own at home, homemade will taste much better, too!
But, before I share this easy make-at-home recipe, I have a question for you:
What's your go-to food when you go to the game?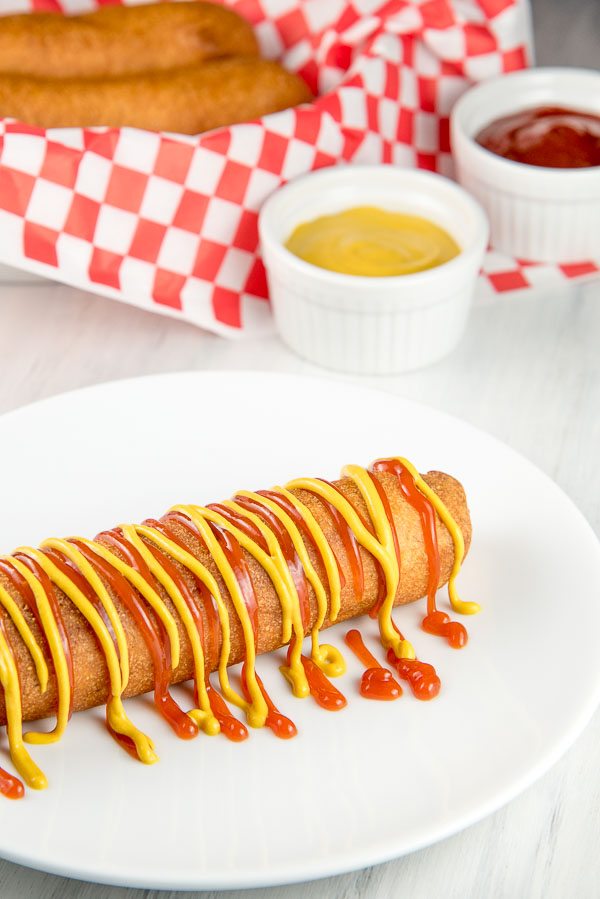 It's clear that mine is definitely a Corn Dog, and it must be slathered in yellow mustard. I just love the tangy bite that mustard brings when sinking my teeth into a crispy Corn Dog with a soft center.
How to make Corn Dogs:
To whip up a perfectly golden batch of Corn Dogs to munch on, while watching the game at home, couldn't be easier. In less than 15 to 20 minutes, you can mix the batter, dip and coat the Corn Dogs and gently drop them into hot oil until golden brown. With just a few turns to cook all sides, they'll turn a nice golden brown. Then, remove them using tongs, and place on a paper towel-lined plate to drain. Then, they're ready to serve.
What you will also love about this recipe is, it makes a fast and easy weeknight meal.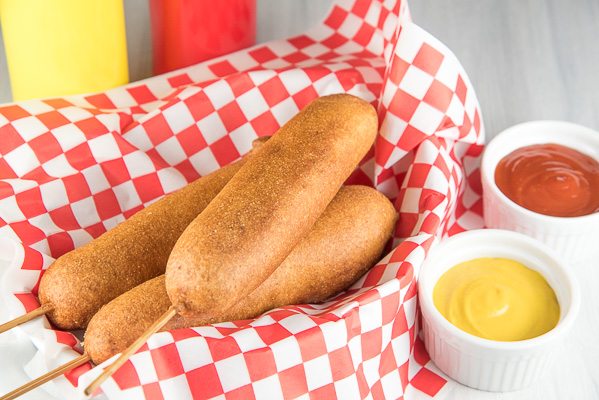 Tips for making corn dogs:
After removing hot dogs from the packaging, dry them with paper towels to remove any moisture; this will help the batter adhere to the hot dog.
The consistency of your batter should be relatively thick, but pourable. Once you've achieved the right consistency, pour the batter into a tall glass, like a Collins glass. This method makes the Corn Dogs really easy to dip and get an even coating on all sides.
Use 6-inch skewers, which is enough skewer to insert 3-inches into the hot dog and leave 3-inches for the handle.
Enjoy!

Here are a few more State Fair recipes you might enjoy:
Corn Dogs
DIY is so much better than frozen!
Recipe Details
Ingredients
1

cup

yellow cornmeal

1

cup

all purpose flour

2

tablespoons

granulated white sugar

1

tablespoon

baking powder

1/2

teaspoon

granulated garlic

1/2

teaspoon

salt

1/4

teaspoon

cayenne pepper

1/8

teaspoon

freshly ground black pepper

1

large

egg

1

cup

milk

(+ more, if needed)

1

quart

canola oil

Six

6-inch

wooden skewers

One

16-ounce package

smoked beef hot dogs
Instructions
In a large bowl, whisk together the cornmeal, flour, sugar, baking powder, garlic, salt, cayenne pepper and black pepper until thoroughly blended. Add the egg and milk, and stir until combined. Pour the batter into a tall glass until 1.5-inches from the rim of the glass.

Heat the oil in a deep skillet over medium heat until hot. Insert skewers 3-inches into the center of the hot dog, leaving 3-inches exposed for the handle. Dip the corn dog into the tall glass until thoroughly coated on all sides. Gently place 2 to 3 corn dogs into the hot oil, and turn using tongs, until golden brown on all sides. Remove the corn dogs from the oil and place on paper towels to drain. Repeat with the remaining hot dogs. Serve.
Notes
Add 1 to 2 tablespoons of milk, if needed, to keep the batter thick, but pourable.
No nutritional information is provided for this recipe because it's impossible to determine how much of the frying oil will be absorbed by the corn dogs.