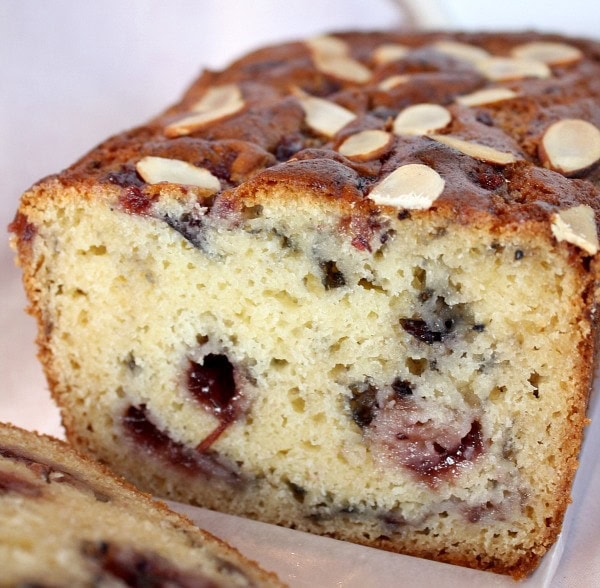 Cranberry - Almond Swirl Bread
Yield:
1 loaf
Prep Time: 20 min
Cook Time: 1 hr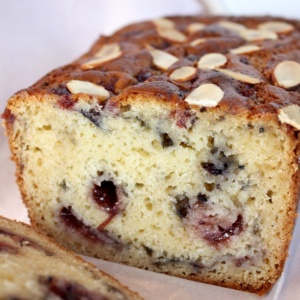 Ingredients:

2 cups all-purpose flour
1 teaspoon baking soda
1/2 teaspoon salt
1/4 cup salted butter, at room temperature
1 cup granulated white sugar
2 large eggs
1 teaspoon almond extract
1 cup plain nonfat yogurt
One 8-ounce can whole cranberry sauce
1/2 cup chopped almonds

Instructions:

1. Preheat oven to 350 degrees F. Grease and flour 9x5-inch loaf pan.

2. In a medium bowl, sift together flour, baking soda and salt.

3. In a second bowl, use an electric mixer to cream butter, sugar and eggs. Add almond extract to creamed mixture. Stir flour mixture and yogurt alternately into creamed mixture, stirring just until combined.

4. Pour 1/2 of batter into prepared pan. Add 1/2 of the cranberry sauce and nuts to batter in pan and swirl gently. Pour remaining batter on top. Spoon the rest of the cranberry sauce on top and sprinkle with nuts. Swirl into batter.

5. Bake for 1 hour, or until toothpick inserted in center comes out clean.

6. Cool for 15 minutes in pan, then turn out onto wire rack to cool completely.