This recipe has been featured in a post on The Recipe Girl blog: Leftover Turkey Recipes.
This recipe is gluten-free adaptable– please see *tips below the recipe.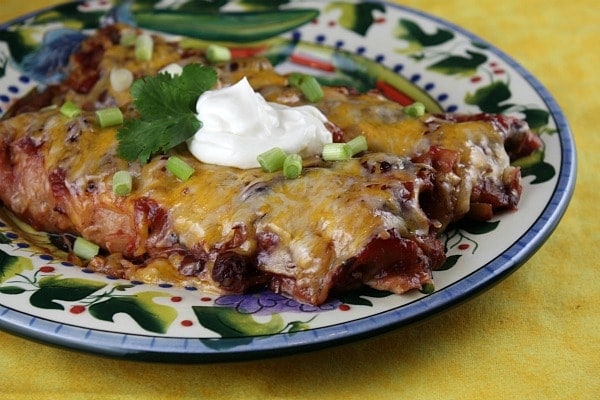 Cranberry- Turkey Enchiladas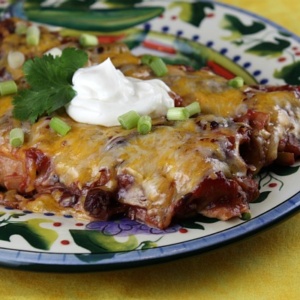 These are very tasty and different from your average Mexican fair. A great recipe for after-holiday leftovers!
Yield:
6 to 8 enchiladas
Prep Time: 25 min
Cook Time: 50 min
Ingredients:
2 to 2½ cups shredded cooked turkey
1 (16 ounce) can whole berry cranberry sauce
1 (15 ounce) can black beans, rinsed & drained
1 1/2 cups bottled salsa
1 cup shredded Colby and Monterey Jack cheese (4 ounces), or more, if desired
1/2 cup sour cream
3 whole green onions, sliced
1/4 cup snipped fresh cilantro
1 teaspoon ground cumin
1/2 teaspoon salt
1/2 teaspoon ground black pepper
8 (7 to 8-inch) whole-wheat or regular flour tortillas
1 teaspoon bottled hot pepper sauce
cilantro, green onions and sour cream for garnish, optional
Directions:
1. Preheat oven to 350°F. Lightly coat a 13x9-inch baking dish with cooking spray; set aside.
2. For filling, in a large bowl stir together turkey, half of the cranberry sauce, beans, 1/2 cup of the salsa, 3/4 cup of the cheese, sour cream, green onions, cilantro, cumin, salt and pepper. Spoon about 2/3 cup filling on each tortilla. Roll up tortillas around filling. Place, seam sides down, in prepared dish; set aside.
3. For sauce, in bowl stir together remaining cranberry sauce, remaining salsa and hot pepper sauce. Spoon over filled tortillas. Cover with foil. Bake for 45 minutes. Uncover; top with remaining cheese. Bake 5-10 minutes more or until heated through and cheese is melted.
4. Sprinkle with additional cilantro and green onions.
Tips:
*If you are preparing this recipe as gluten free, there are several things to make note of:
-these ingredients need to be verified as GF: turkey, cranberry sauce, black beans, and salsa
-use GF corn tortillas