This recipe has been featured in a post on The Recipe Girl blog (with many more pictures): Cream Cheese Lemon Bars with Kit Kat Crust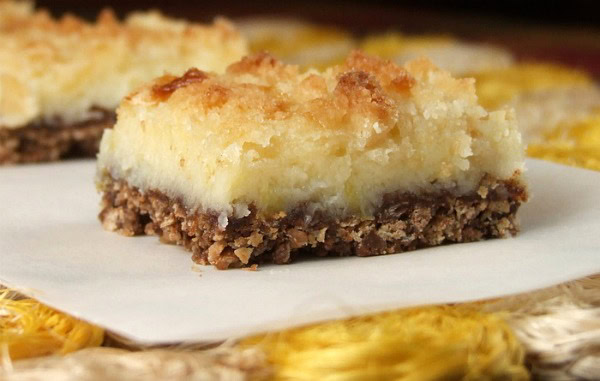 Cream Cheese Lemon Bars w/ Kit Kat Crust
Really great recipe to use leftover Halloween candy! The Kit Kats make a yummy crust for these lemon bars.
Yield:
16 to 20 bars
Prep Time: 20 min
Cook Time: 20 min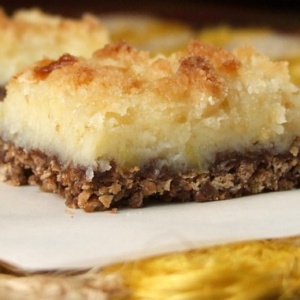 Ingredients:

CRUST:
5 (1.5 ounce) Kit Kat Candy Bars (or about 14 mini-sized Kit Kat Bars)

FILLING:
8 ounces cream cheese, at room temperature
2 cups powdered sugar, measure then sift
1 large egg
2 Tablespoons fresh lemon juice
1 teaspoon lemon extract
1 1/2 teaspoons finely grated lemon zest

TOPPING:
1/3 cup all-purpose flour
1/3 cup granulated white sugar
1/2 teaspoon additional lemon extract
2 Tablespoons butter, softened

Instructions:

1. Preheat oven to 400°F.

2. Prepare the crust: In the food processor, finely chop the Kit Kat Bars. Spread evenly in the bottom of an 8x8-inch square pan. Bake for 5 minutes. Set aside.

3. Prepare filling: In a large bowl with electric mixer, blend cream cheese on high. Add powdered sugar and egg and beat until smooth, scraping down the sides of the bowl. Add lemon juice, lemon extract and lemon zest, and mix well. Pour filling evenly over Kit Kat crust.

4. Prepare topping: In a medium bowl, combine flour, sugar, lemon extract, and softened butter, and blend with a fork until crumbly. Sprinkle topping evenly over lemon bar filling.

5. Bake 18 to 20 minutes, or until topping is lightly browned. Let cool completely; cut into bars.

Tips:

*Lemon extract can be found at Whole Foods and other specialty markets. The imitation stuff they sell in the regular grocery stores isn't so great.