Here's an easy, healthy recipe using grilled chicken-  Crunchy BBQ Ranch Grilled Chicken Wraps– and they're Weight Watchers friendly!  Click below to watch a short video showing you how to make this recipe, then scroll to the bottom of this post to print out the complete recipe.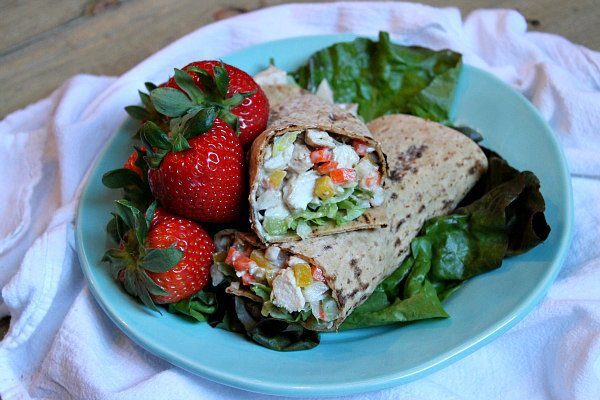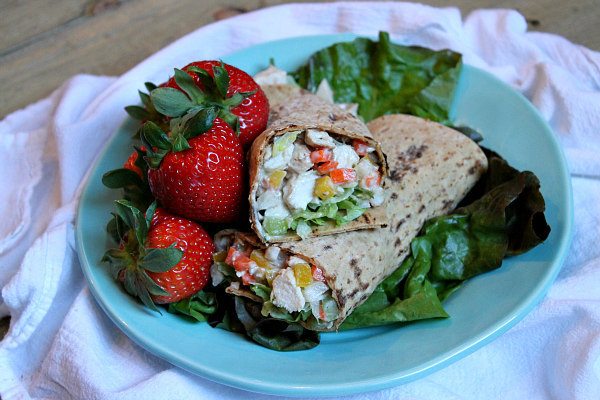 I've been working very hard at shedding some pounds lately.  I've been devoting an hour to my treadmill at 6am every single morning, And I've been choosing products at the store that are helping me to limit my calories!  Summer will be here before you know it, so making more Weight Watchers- friendly recipes are going to help make wearing swimsuits and shorts a more pleasant experience!
I'm currently partnering with Flatout Flatbread's line of healthy bread to create a few recipes.  And since Flatout Flatbread is the only flatbread endorsed by Weight Watchers, all of the recipes I create for them will have a Weight Watchers Smartpoints® total included.  Flatout Flatbreads are located in the deli/bakery section of most major grocery stores, and they are all 2 to 4 SmartPoints® each.
Even if you're not following Weight Watchers and are just trying to lighten things up, Flatout Flatbreads are a simple solution to creating simple meals.  You shouldn't have to deprive yourself of the foods you love if you are trying to lose weight.  Just make good choices and smart substitutions, and you can still enjoy the food that you #FlatoutLove.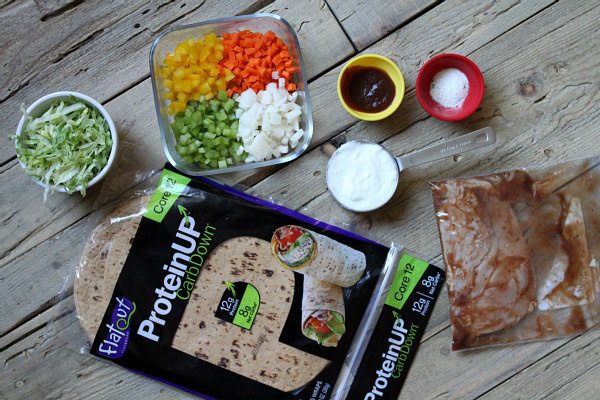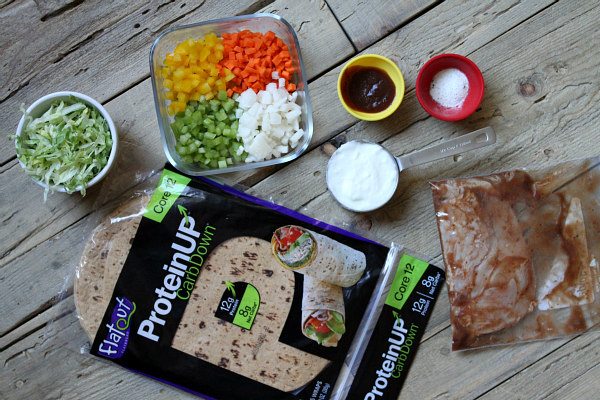 To celebrate the kick-off of grilling season, I wanted to create a recipe that was filling, delicious and included some time on the grill.  I created a sandwich wrap full of lovely, crunchy goodies- one that will keep you full and satisfied.
I used the Flatout ProteinUp CarbDown flatbread for this wrap.  It has 3 Weight Watchers Smartpoints and an impressive 12 grams of protein per flatbread.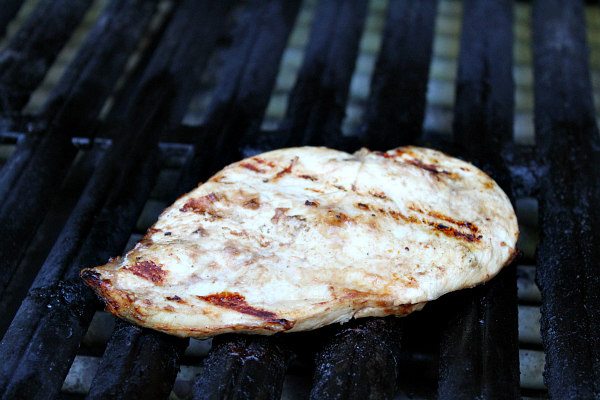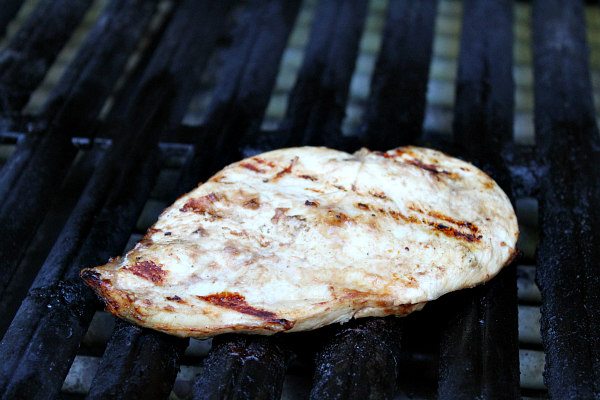 The recipe begins with just 6 ounces of chicken that has been marinated in a little bit of sugar-free BBQ sauce.  I used the really thin-cut sliced chicken so it would cook quickly on the grill.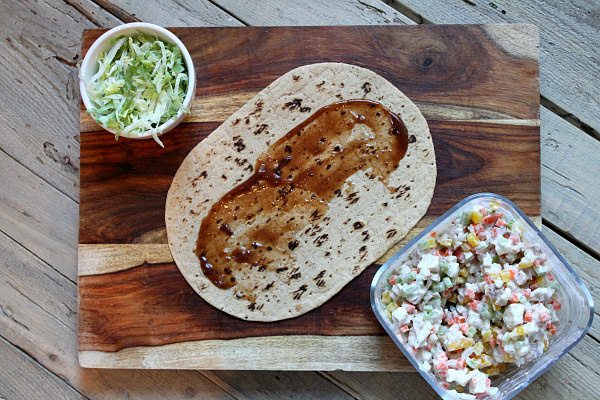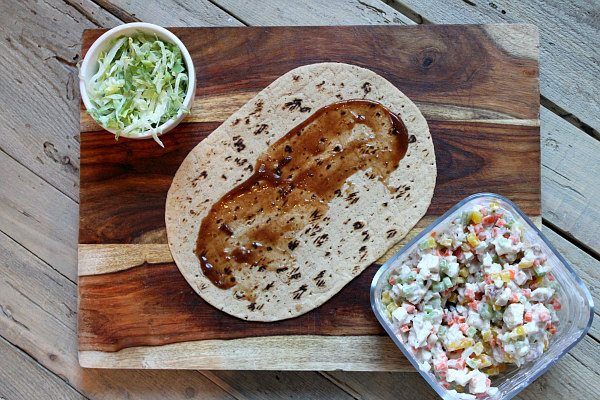 To give the wrap a little more of that BBQ flavor, the Flatbread is spread with another tablespoon of the sauce.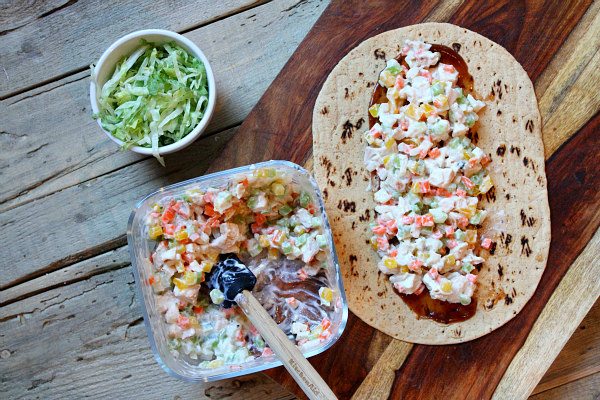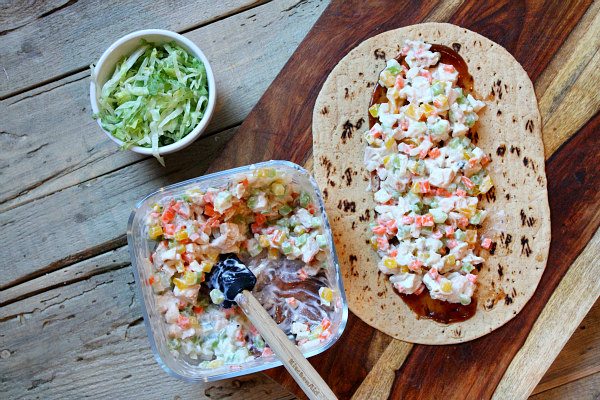 The crunchy filling is a mix of chopped carrot, celery, bell pepper, jicama and the grilled chicken.  All of that is mixed with a creamy yogurt- ranch dressing.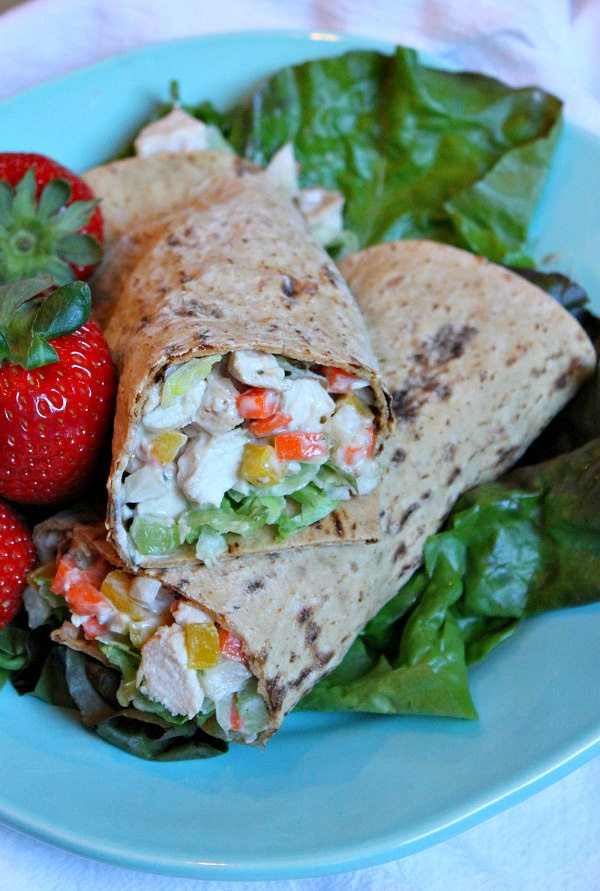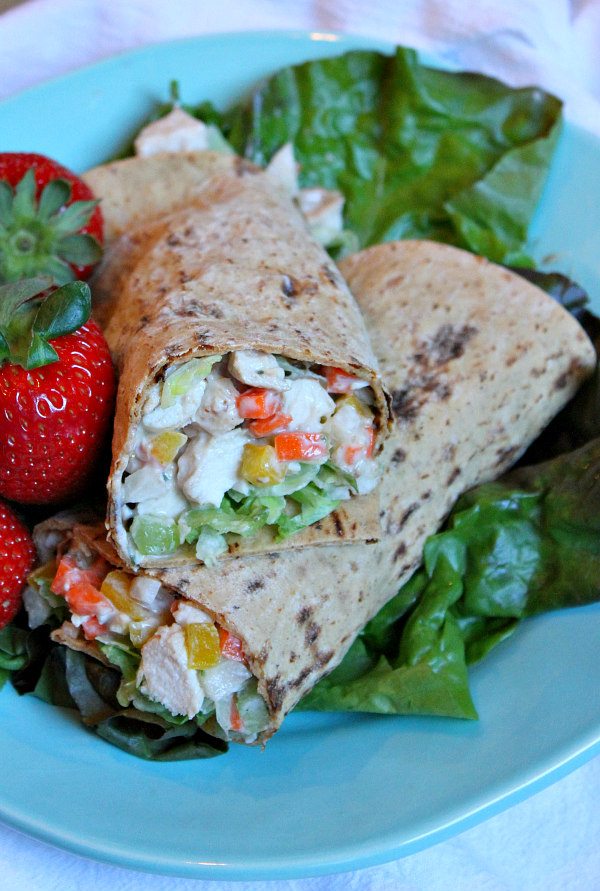 The addition of iceberg lettuce gives these wraps even more crunch.  The entire wrap is only a total of 4 Weight Watchers Freestyle SmartPoints and 6 Weight Watchers Original Smartpoints®.  This recipe makes enough for two wraps!
Crunchy BBQ Ranch Chicken Wraps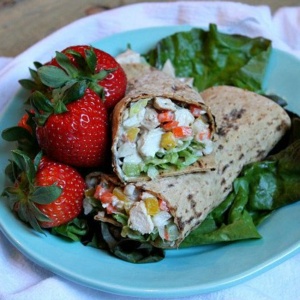 Yield:
2 wraps
Prep Time:25 minutes
Cook Time:5 minutes
Ingredients:
6 ounces thin-cut boneless, skinless chicken breast
4 tablespoons sugar free BBQ sauce, divided
1/2 cup fat free plain yogurt
1 teaspoon dry ranch dressing mix
1/3 cup finely chopped jicama
1/3 cup finely chopped yellow bell pepper
1/3 cup finely chopped carrot
1/3 cup finely chopped celery
2 Flatout Protein-Up Carb-Down Core 12 Flatbread
2/3 cup finely shredded iceberg lettuce
Directions:
Combine the chicken and 2 tablespoons BBQ sauce in a plastic baggie and marinate for at least one hour.  Preheat your grill and grill the chicken on both sides until cooked through.  Finely chop the chicken and set aside to cool.

Combine the yogurt and ranch dressing mix in a medium bowl.  Add the jicama, bell pepper, carrot, celery and chopped chicken.

Assemble the wraps:  Lay out a piece of flatbread.  Spread 1 tablespoon of BBQ sauce down the middle.  Spoon half of the chicken mixture down the middle.  Top with 1/3 cup of lettuce.  Roll up tightly, and slice in half.  Repeat with remaining flatbread.
Nutrition:
4 Weight Watchers Freestyle SmartPoints per serving (1 wrap)
or 6 Weight Watchers Original SmartPoints per serving
SOURCE:  RecipeGirl.com
Here are a few more wrap recipes you might enjoy:
Disclosure:  This recipe was made in partnership with Flatout Flatbread.  This is a product that I know and use in my kitchen.  All opinions shared are my own.