If you're planning for an Easter brunch, this Easter Brunch Menu I've put together might be of some help.  I've included a few easy decorating ideas too.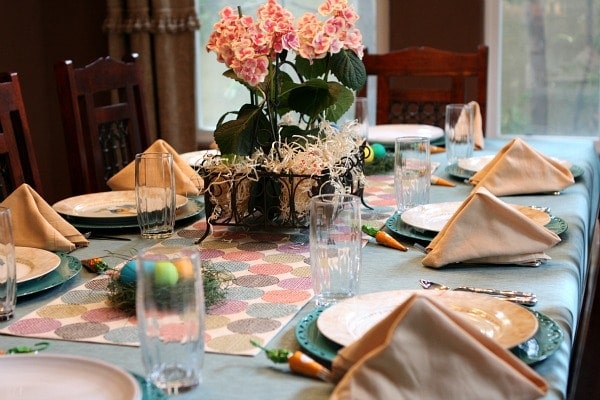 I always go as simple as possible with decor.  Some nice pastels are utilized for the table.  I purchased the baby blue tablecloth and Easter egg table runner at HomeGoods.  The centerpiece is just a purchased plant tucked into a basket with Easter grass.  When brunch is over, I can send the plant home with one of my guests.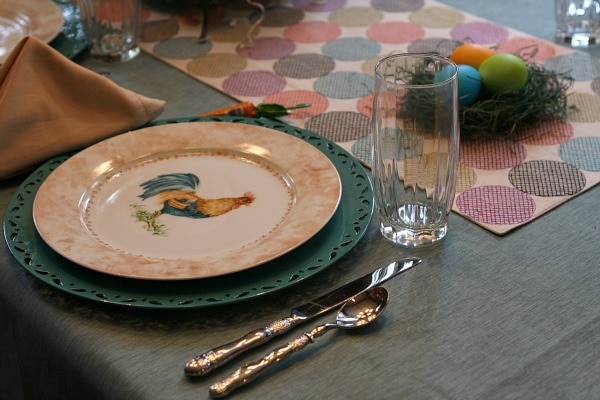 I'm kind of crazy about collecting dishes.  Every time I see some on clearance (usually at my favorite place- HomeGoods), I pick them up.  I thought these rooster dishes would be cute for brunch, and was so happy I could pull them out for an Easter brunch!  The chargers were also on clearance!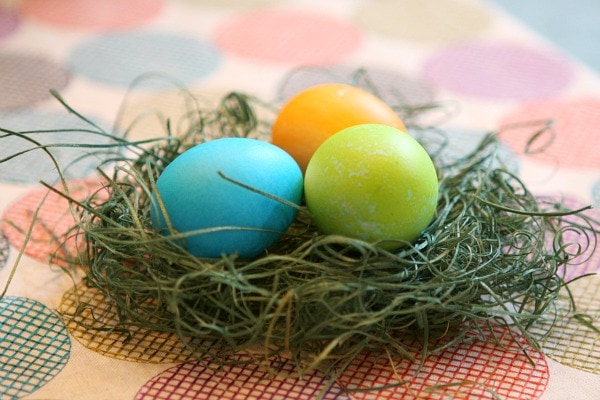 Hard-boiled eggs are devoured on a regular basis in my house, so these easy Easter grass nests with dyed hard-boiled eggs sitting on top serve two functions:  they're a cute, cheap decoration and we get to eat them too!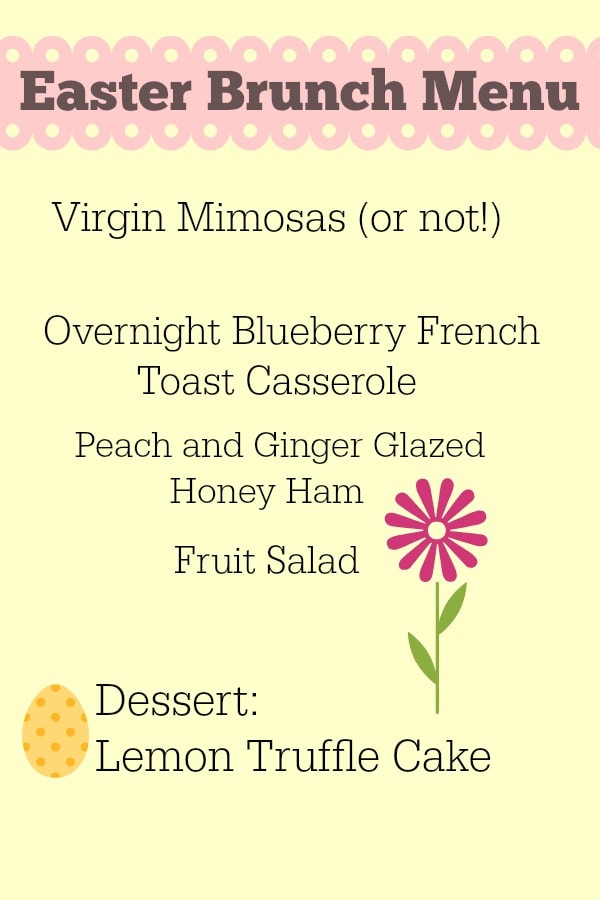 My Easter brunch menu is simple!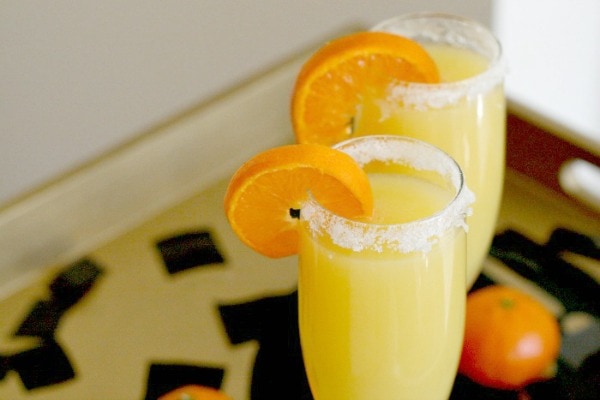 Start with these beautiful Virgin Mimosas (or add champagne if you prefer!)
Your Easter guests will rave over the Overnight Blueberry French Toast, Peach and Ginger Honey- Glazed Ham and a basic tossed fresh fruit salad.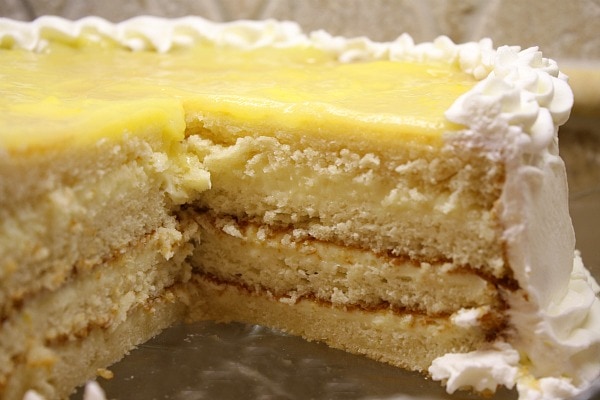 This is my favorite Easter dessert ever, so I have to recommend it for your Easter brunch:  Lemon Truffle Cake.  It's worth the effort, and it turns out to be a delicious and impressive treat to end a holiday meal.  I also really love my Strawberry and Brown Butter Shortcake if you are interested in an alternative idea.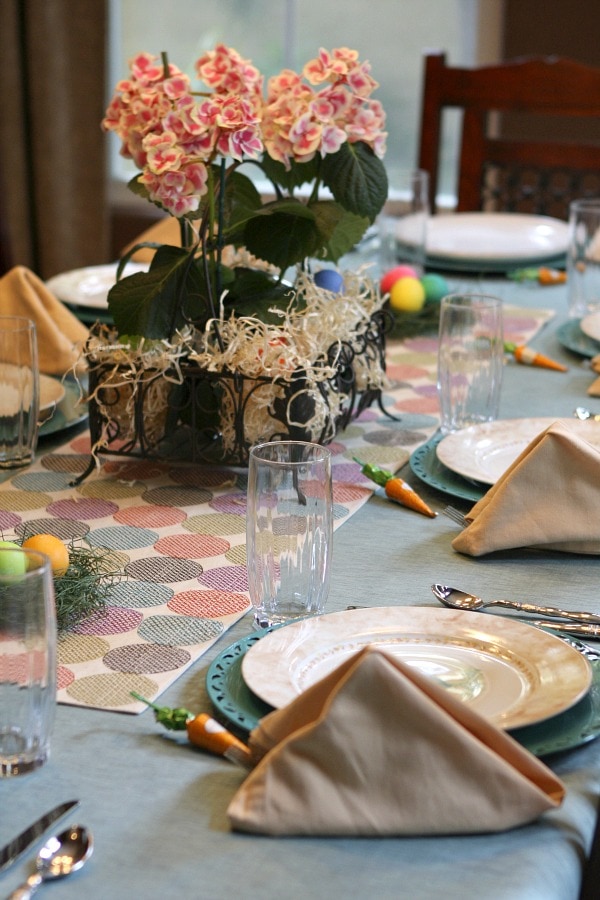 One more view of the table setting… see the little carrots at each place setting?  Those are some gourmet chocolates that are wrapped to look like baby carrots.  I thought they'd make a fun addition to the place setting since there are so many chocolate lovers in my family.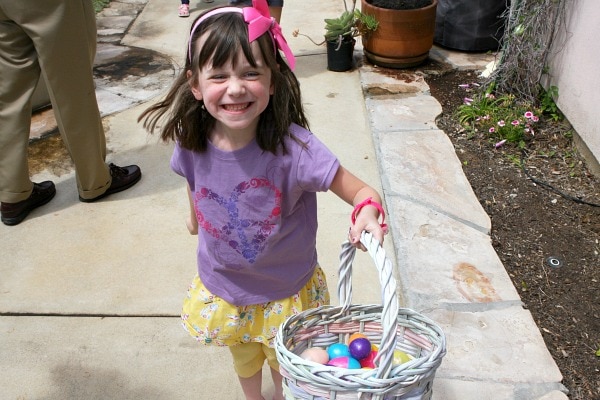 And of course if you have children at your Easter brunch, you must organize an Easter egg hunt in your backyard.  Kids love to hunt for eggs and open them up to find treats!  See that smile on my niece's face?  That's some pure joy right there 🙂