A nice recipe for serving to company: Easy Butternut Squash Ravioli with Rosemary Oil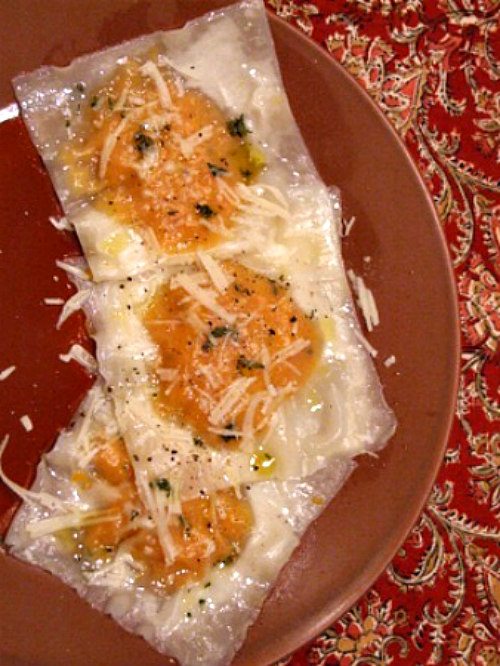 Easy Butternut Squash Ravioli with Rosemary Oil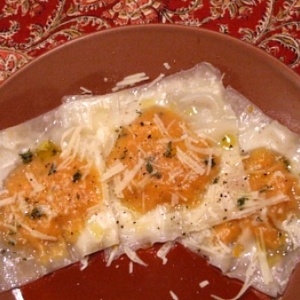 Yield:
4 as main course, or 8 as an appetizer
Prep Time: 50 minutes
Cook Time: 20 minutes
Ingredients:
RAVIOLI:
1 pound (1/2 medium) butternut squash, peeled, seeded, and cut into medium dice
1 tablespoon extra-virgin olive oil
salt
2 cloves garlic, minced
1/2 teaspoon minced fresh rosemary
1 ounce thinly sliced prosciutto, minced
1/4 cup freshly grated Parmesan cheese
48 square or round wonton wrappers
ROSEMARY OIL:
3 tablespoon extra-virgin olive oil
1 tablespoon minced fresh rosemary
freshly ground black pepper
freshly grated Parmesan cheese
Directions:
To make ravioli: Combine squash, 1/3 cup water, olive oil, and a scant 1/2 teaspoon salt in a Dutch oven or other pot and bring to a boil over high heat. Cover and cook until squash is just tender and water has evaporated, 5 to 6 minutes. Stir in garlic and rosemary and sauté until fragrant, about 1 minute. Turn mixture into a soup plate or shallow bowl and mash squash with a fork until mostly smooth. Stir in prosciutto and cheese.
Wash out pot and fill with a generous 2 quarts of water. Add 1 tablespoon salt and bring to a simmer.
Set out a large wire rack and a small bowl of water. Lay 6 wonton wrappers on a dry work surface. Brush edges with water, then drop 1 tablespoon filling onto each wrapper. Working with 1 at a time, top each wrapper with another wrapper; press to seal completely. Transfer to a wire rack. Repeat with remaining wrappers and filling, keeping work surface dry.
To make rosemary oil: Heat oil and rosemary in a small skillet over low heat until rosemary starts to sizzle. Remove from heat.
To cook ravioli: Drop 12 ravioli into simmering water. Cook until wrappers start to wrinkle and turn from opaque to translucent, 3 to 4 minutes. With a slotted spoon, remove ravioli and arrange 3 on each plate. Drizzle with 2 teaspoons cooking water and 1 teaspoon rosemary oil. Sprinkle with pepper and Parmesan cheese, and serve. Cook remaining 12 ravioli, and serve them as soon as they are ready.