Better than takeout, this Easy Shrimp Fried Rice recipe is ready in just 20 minutes. The perfect solution for a busy weekday dinner, my kids beg for this every single day.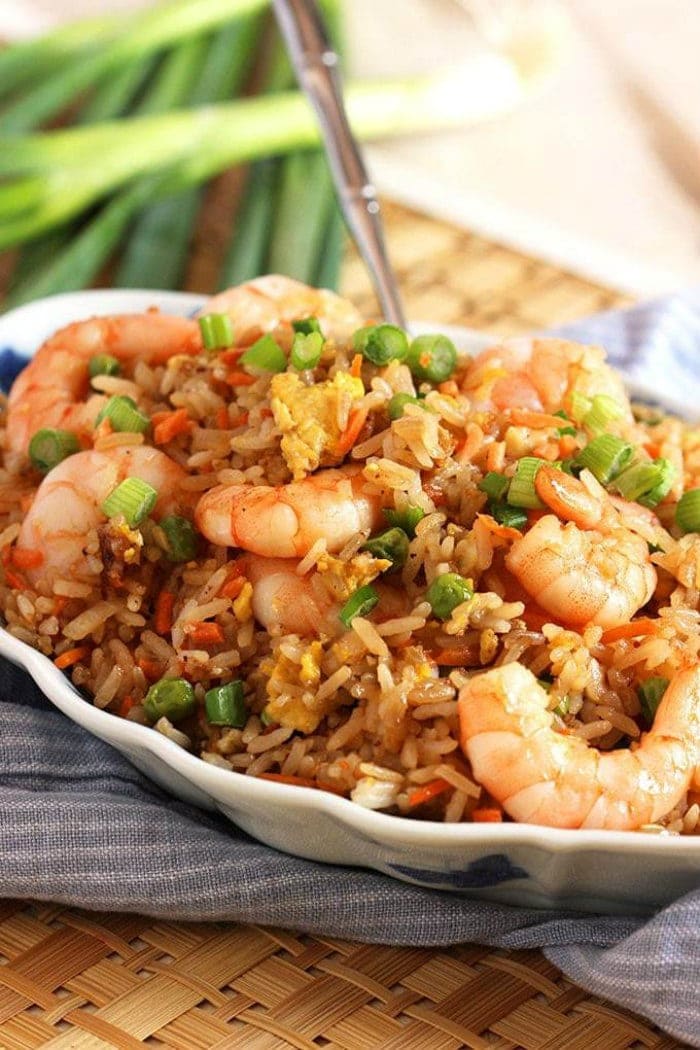 Can you believe how fast the year is flying by? I don't know about you but I'm looking forward to the end of school….and no more homework. I have a little guy in Kindergarten who has homework every single night and the frustration of getting it done in a reasonable amount of time is totally getting old. What should take us about 5 minutes to complete takes up to an hour some nights and then I'm always tempted to call my local Chinese restaurant to order take out. It IS the easy way out when you feel like getting dinner on the table is never going to happen.
But, would you believe, you can have this easy Shrimp Fried Rice on the table in less time that it would take for the delivery guy to show up?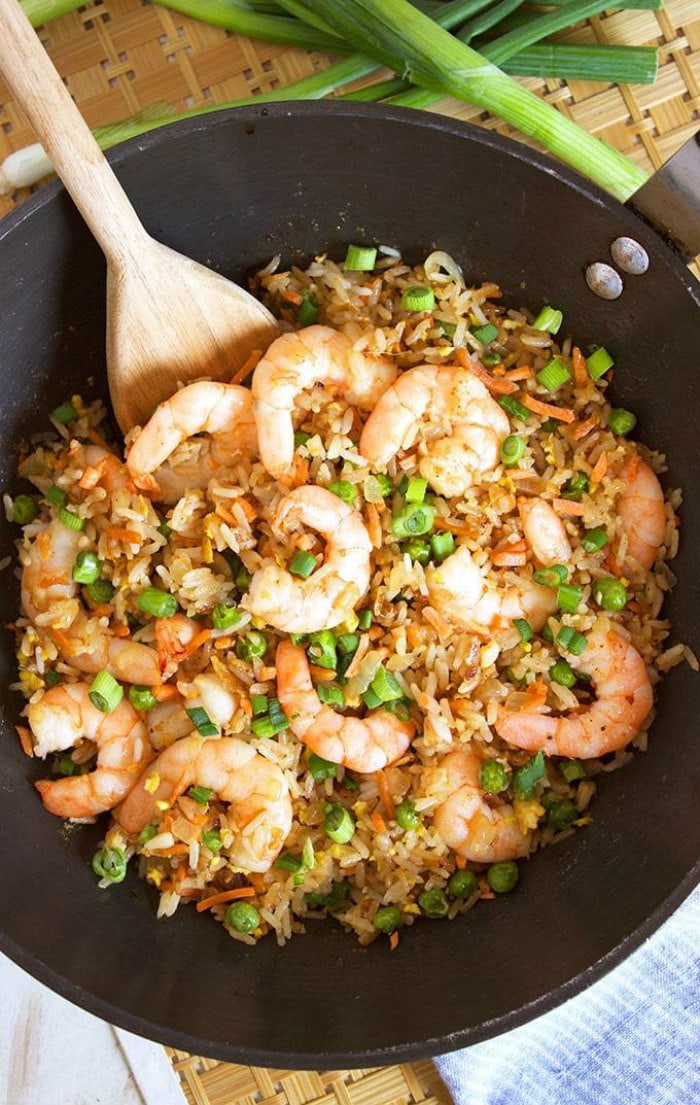 This Easy Shrimp Fried Rice recipe is a staple in our weekly meal plan. I always make sure I have some sort of quick cooking rice for those days when we don't have any leftover rice on hand.
This recipe is best when made with leftover rice because it's had time to dry out making it easier to crisp up….and those crispy bits are the best part. If you don't have leftover rice then simply allow your freshly cooked rice to cool enough where it's no longer steaming….this helps keep it from getting mushy when you mix everything together.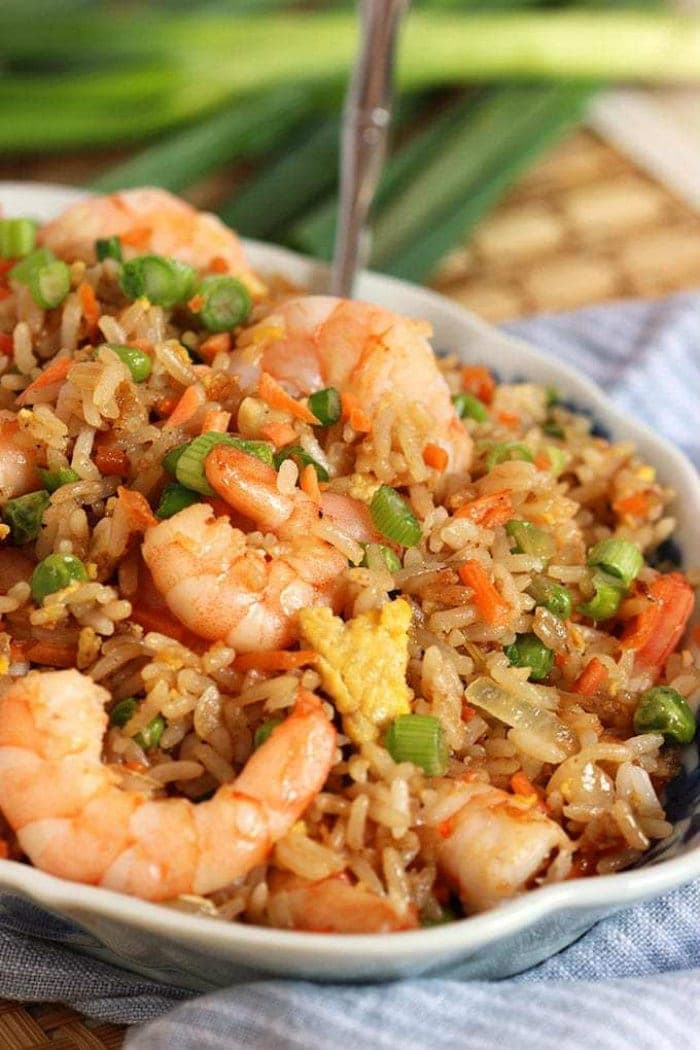 The rest of the dish can be modified to work with what you have on hand. We always have a bag of frozen peas, fresh matchstick cut carrots, green onions, frozen shrimp and onions. They're pretty much a staple in most fried rice recipes, as well, but you can really add whatever you'd like. Sometime we like to toss in some fresh pineapple right at the end, it's leaning more towards a Thai fried rice but it is REALLY quite amazing. Try it!
por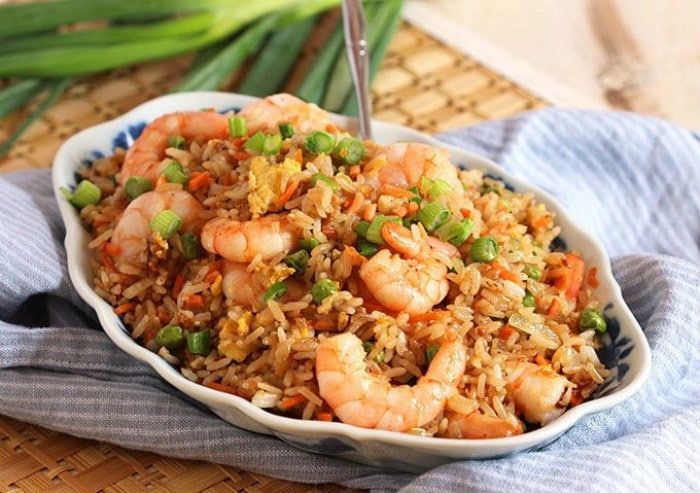 Can I turn this shrimp fried rice into another kind of fried rice?
Absolutely! Swap out the shrimp with beef, pork or chicken to create a new fried rice. Or simple add some fresh Asian vegetables to create a Vegetable Fried Rice.
Here are a few stir-fry recipes you may enjoy:
Easy Shrimp Fried Rice
The best classic recipe for Easy Shrimp Fried Rice!
Recipe Details
Ingredients
2

tablespoons

canola or vegetable oil,

divided

16

ounces

medium peeled and de-veined shrimp

1

cup

diced onion

1

cup

finely diced carrot

2

medium

garlic cloves,

minced

1

teaspoon

peeled and minced fresh ginger

3

cups

cooked white rice

1

large

egg

1/2

cup

frozen peas,

thawed

1/4

cup

low-sodium soy sauce

2

tablespoons

rice vinegar

1/2

tablespoon

sesame oil

chopped green onions,

for garnish (if desired)
Instructions
Heat 1 tablespoon of the oil in a large non-stick skillet or wok over high heat. Add the shrimp to the pan and season with salt and pepper. Cook the shrimp until pink and no longer translucent. Transfer the cooked shrimp to a plate and keep warm. Set aside.

Add the remaining oil to the pan and stir in the onions. Cook the onions until softened, approximately 3 minutes. Stir in the carrots and cook for an additional 3 minutes or until softened. Add the garlic and ginger, cooking until fragrant.

Stir in the white rice and cook for 2 to 3 minutes or until the rice is crisp.

Push the rice to the sided of the pan making a well in the middle. Crack the egg in the middle of the pan and stir to scramble. Cook the egg and then begin to stir into the rice mixture.

Add the peas, soy sauce, rice vinegar and sesame oil to the rice stirring to combine. Cook for an additional 1 to 2 minutes. Stir in the shrimp and cook for an additional minute to warm through.

Serve immediately topped with chopped green onions, if desired.
Notes
If you are preparing this recipe as GLUTEN FREE, just be sure to use a brand of soy sauce that is known to be GF.
Turn this into another kind of fried rice by swapping out the shrimp for another protein like chicken, pork or beef.
Nutrition
Serving:
1
serving
,
Calories:
211
kcal
,
Carbohydrates:
22
g
,
Protein:
15
g
,
Fat:
6
g
,
Saturated Fat:
1
g
,
Cholesterol:
169
mg
,
Sodium:
729
mg
,
Potassium:
193
mg
,
Fiber:
2
g
,
Sugar:
2
g
,
Vitamin A:
2780
IU
,
Vitamin C:
8.6
mg
,
Calcium:
107
mg
,
Iron:
1.8
mg