A traditional asado, or "asado criollo" is a specific way of grilling meat based on the customs of European descendants to Argentina. There is an entire method and system in place for cooking, serving, and eating the meat. In other words, an asado is not just "throwing meat on the grill," it is an elaborate and purposeful set of customs.
For this dinner party, we grilled Skirt Steak (simply, with just a sprinkle of salt on the meat). It was seared at a high heat, then moved to a lower heat & grilled slowly until done. Chimichurri sauce is all you need to complete the steak.  Flank steak can also be used.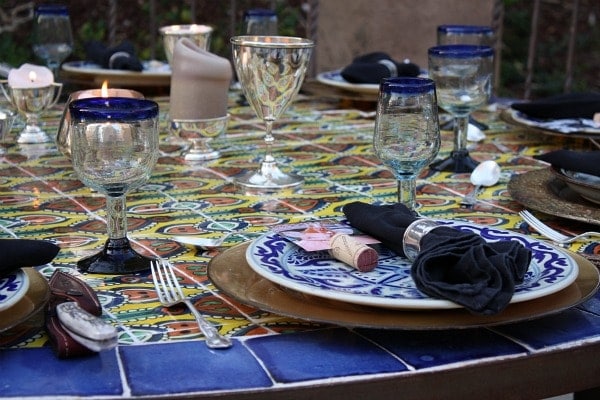 As starters for the meal, we grilled chorizos and had empanadas with lime wedges. Fine tequila and Argentine Malbec were flowing freely. An authentic Asado serves up a green salad and grilled vegetables with the main dish. We included bread too for soaking up the juices of the chimichurri. For dessert, consider fresh fruit or fruit tarts. We made individual dishes of Flan de Leche.
Here is the menu, which serves 12 (some of the recipes may need to be doubled). Click on the recipe title to find the recipe used for the menu.
Appetizers:
Grilled Chorizo
Beef Empanadas
Starter:
Hearts of Palm & Avocado Salad
Dinner:
Grilled Aubergines (Eggplant) with Peppers
Grilled Skirt Steak with Chimichurri Sauce
Rustic Bread
Dessert:
Flan de Leche
Click here for a printable .pdf copy of the Gourmet Argentine Asado Dinner Menu:
Argentine Asado Menu