Here's a recipe that is perfect for summer grilling:  Grilled Corn with Queso Fresco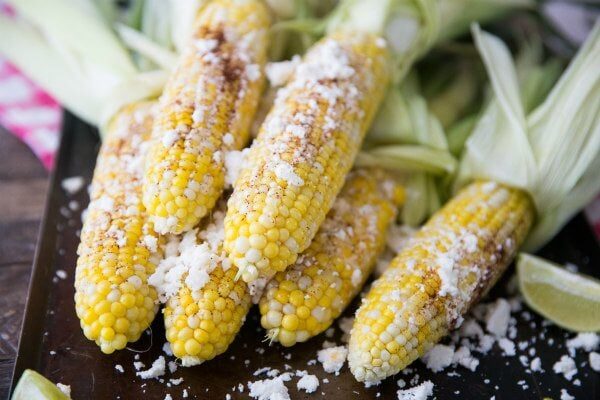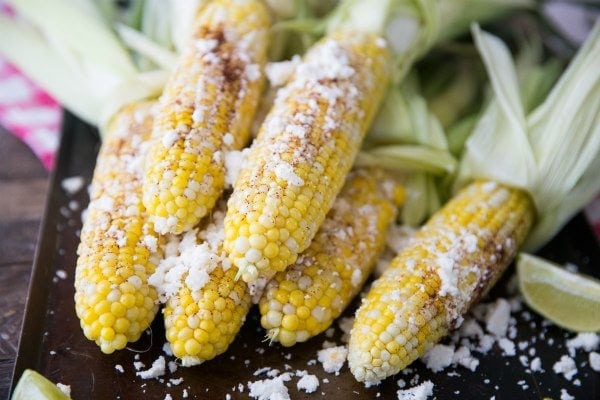 Fire up the grill this summer, grab some fresh corn and prepare to throw it on the grill.  Have you ever grilled corn?  It's the best… the absolute best!  Don't get rid of the husks because you're going to grill it IN the husks.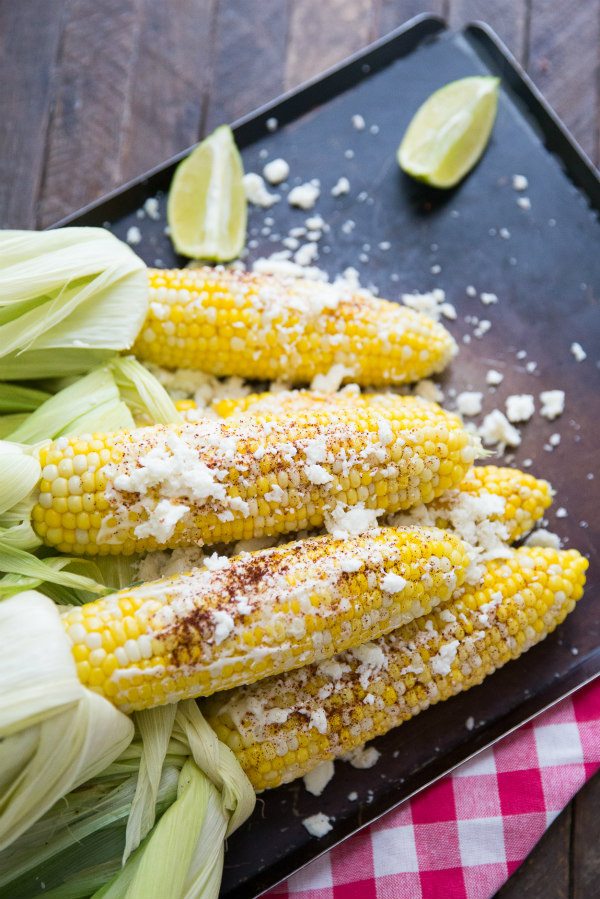 When it comes off the grill, the corn is slathered with a little bit of mayonnaise and a sprinkle of Queso Fresco cheese, lime and chili powder.  Regular corn on the cob with butter is darn good, but this is seriously the best tasting corn ever.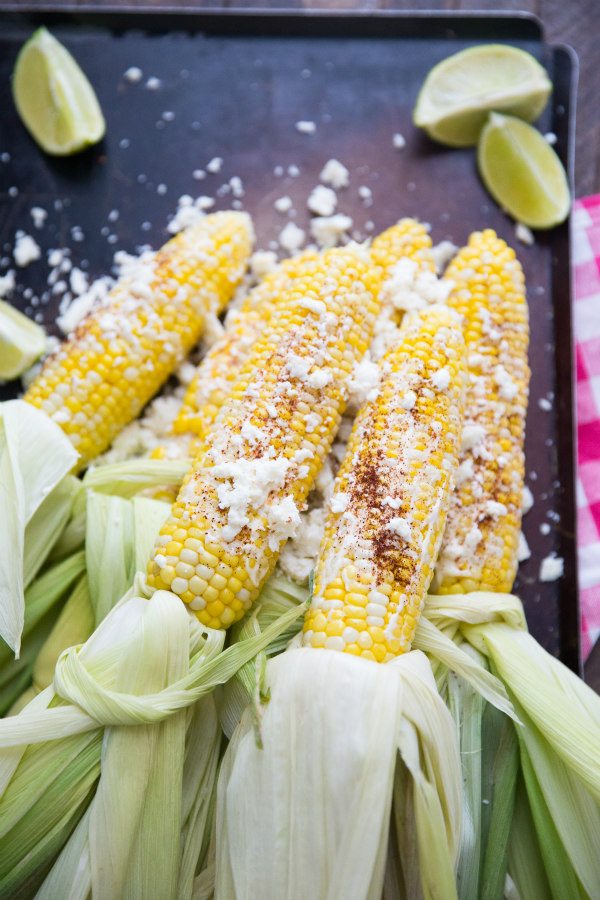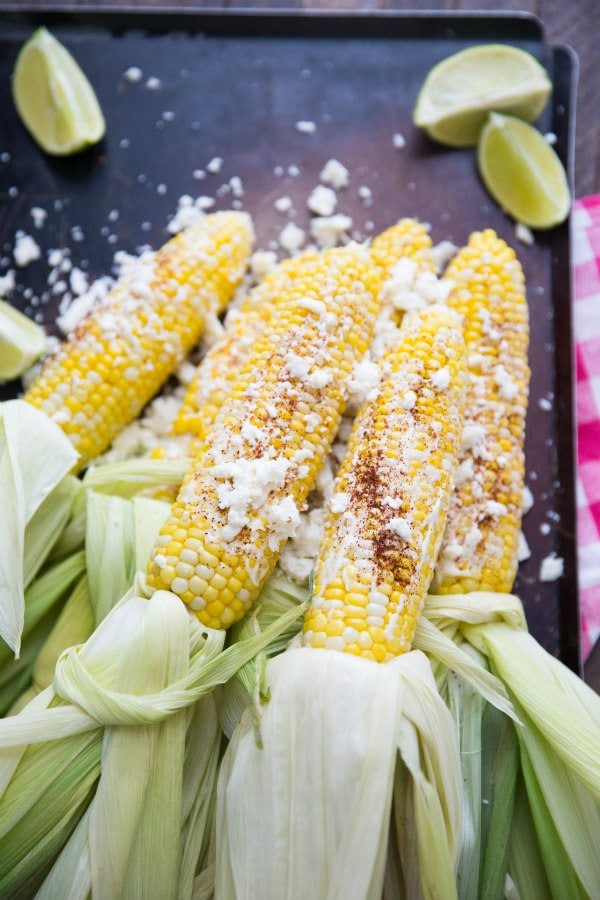 Look for Queso Fresco near the other firmer bulk cheeses in your market (near the Mozzarella or Mexican cheeses).  Ask someone at the market if you can't find it because they are sure to carry it.  I love this cheese so much- it has a salty flavor, and it is a perfect pairing with the corn.  If you can't find it, don't fret.  You can always use feta.
And PLEASE DON'T FREAK OUT ABOUT THE MAYONNAISE!  Think of it as a sub for butter.  It just works well in this recipe.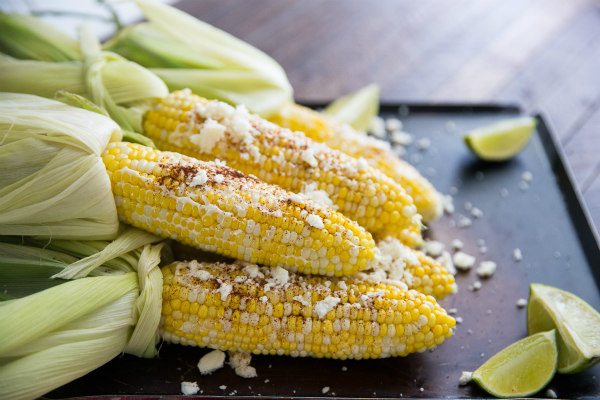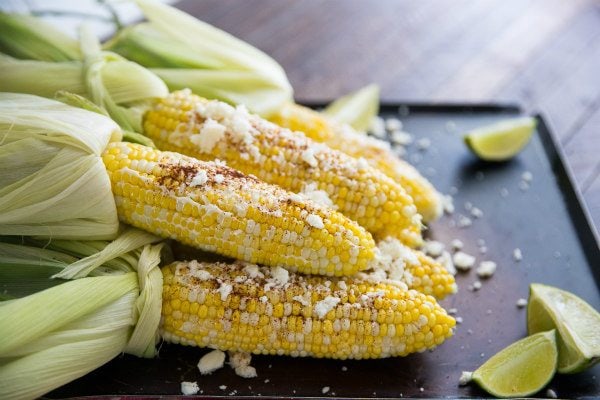 Thank you to Tanya from the LemonsForLulu.com blog for shooting these beautiful photos of this Grilled Corn with Queso for me.  I think Tanya certainly captured how delicious this corn is.
Grilled Corn with Queso Fresco
Yield:
6 servings
Prep Time:25 minutes + soaking time
Cook Time:8 minutes
Ingredients:
6 ears of corn with husks
1/2 cup mayonnaise (light or regular)
1 cup (about 6 ounces) finely crumbled queso fresco
chili powder
lime wedges
Directions:
Pull back husks on corn, remove silk, and fold husks back over corn. Soak corn in large pot of cold water for 30 minutes.
Prepare barbecue (medium-high heat). Drain corn. Grill corn until kernels are just tender, turning occasionally, about 8 minutes. Pull back husks. Spread corn with mayonnaise; sprinkle with cheese, chili powder, salt and pepper. Arrange corn on platter. Serve with lime wedges.
Tips:
Queso fresco can be found in the specialty cheese section of most markets (and in Latin markets). Feta may be substituted.
Nutrition:
If you use light mayonnaise in this recipe, each serving computes to 4 Weight Watchers Freestyle SmartPoints per serving.
SOURCE: RecipeGirl.com (via Bon Appetit)
Here are a few more corn on the cob recipes you might enjoy: