This post on How to Make Gravlax is going to be one you'll want to try. I've always been a lover of salmon… a big-time lover of salmon. I love it simply grilled, I love it baked in a light sauce, I love it in fish tacos, I love it smoked, and now I love it when it's cured to produce Gravlax. Today, I'm using sustainable salmon from Norway to show you a modern take on How to Make Norwegian Salmon Gravlax.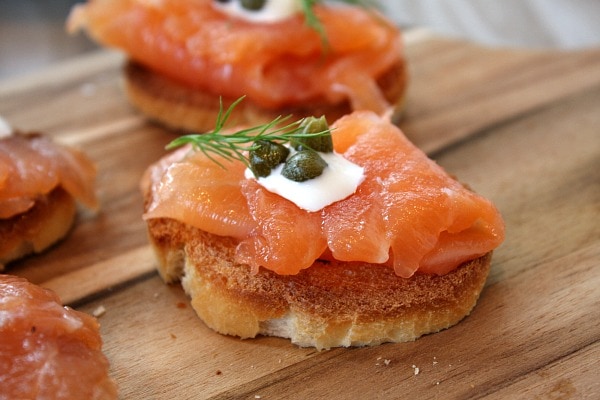 Norwegians and their salmon
For thousands of years, generations of Norwegians have been making a living as highly skilled salmon craftsmen. Their passion for the sea, deep respect for nature, dedication to responsible fishing and a cultural pride in being the best is what contributes to Norway's success as being one of the world's largest suppliers of both wild and farmed seafood.
Norwegian Salmon is farmed in the chilly, clear, arctic waters of Norway by people who have been doing this their entire lives. Norway is the origin of premium, ocean-farmed salmon, pioneering salmon farming way back in the 70's.
Norwegians take great care to do the right thing when it comes to farming, and there are all kinds of systems in place to make sure that things are safe and nature- friendly. The salmon are slowly grown in a fish hatchery on land for about a year before they are considered strong enough to be transferred to spacious and protected ocean pens.
Every aspect of the salmon development is watched closely. There are laws in Norway that prevent overcrowding of the farmed fish, they are fed an all-natural diet, and they have monitors in place that alert the farmers and veterinarians to when the salmon are full so that their feeding device can be shut down. Nice to know that they aren't fattening them up with anything and everything as quickly as possible, isn't it? And isn't it fun to think that there are salmon veterinarians? Who knew?!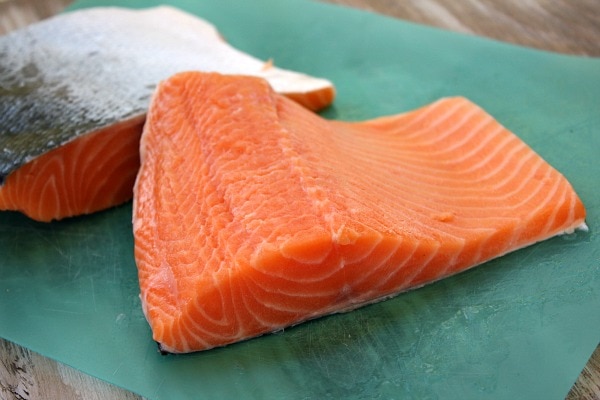 How to make Norwegian Salmon Gravlax:
Start with some fresh salmon. Rinse it well, remove any bones with some needlenose pliers, and then pat it dry.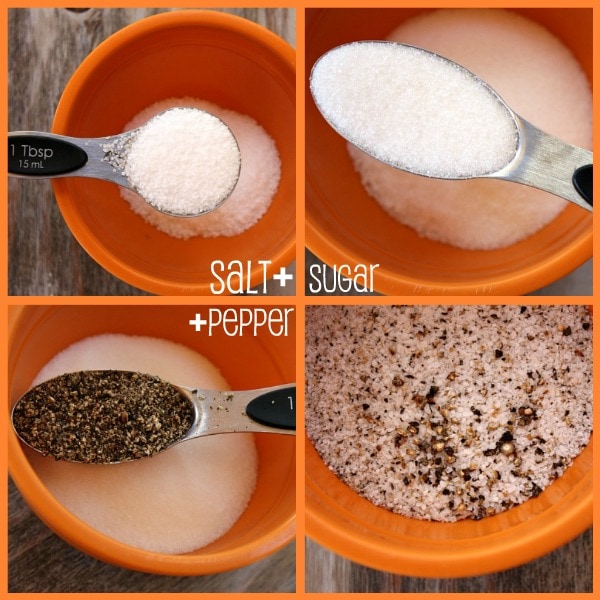 Prepare the curing mixture: salt + sugar + pepper. Mix it together in a little bowl.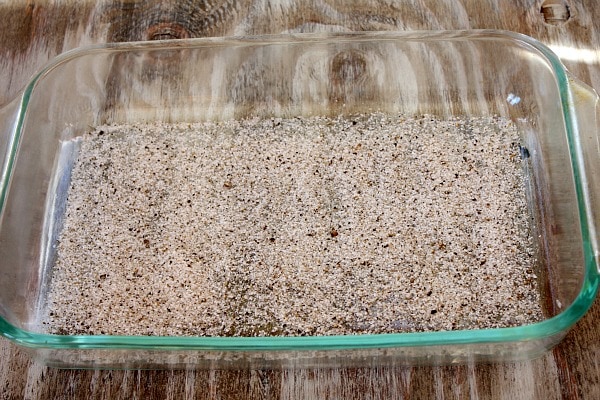 Sprinkle half of the curing mixture in a 9×12-inch glass pan.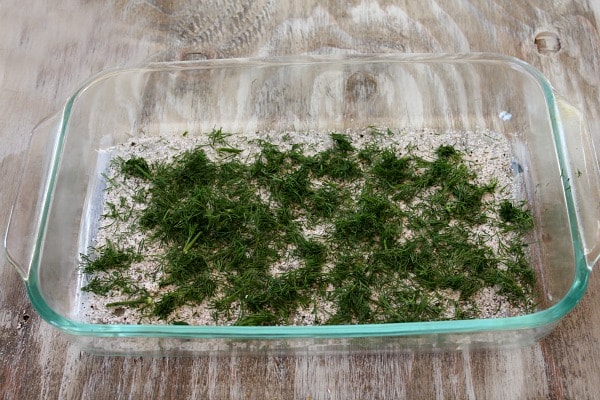 Top the salt mixture with fresh dill.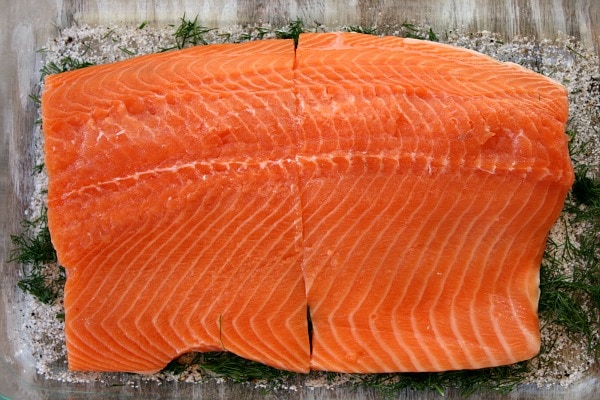 Place the fresh salmon on top- skin-side-down.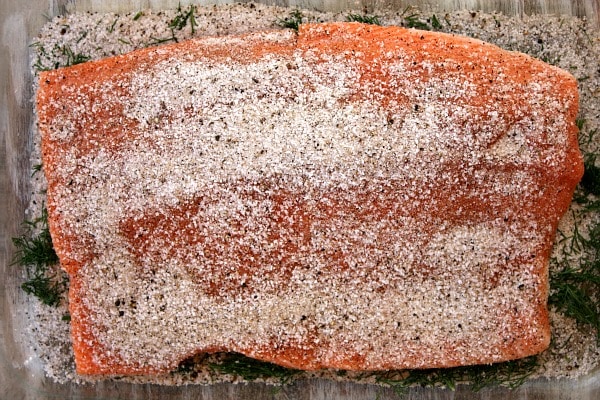 Rub the remaining salt mixture on the top part of the salmon.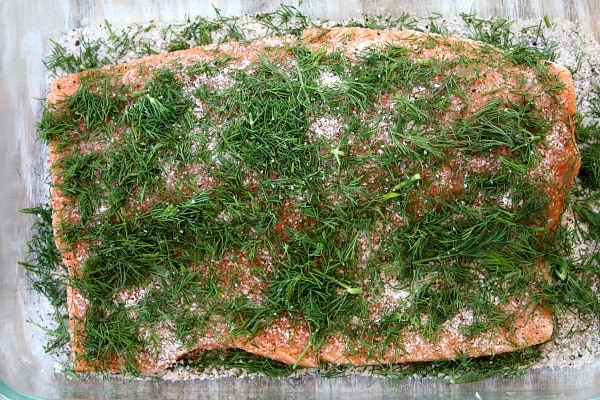 Top it with the rest of the dill. Use your hands to pat the dill and the salt mixture lightly into the salmon. Wrap the pan tightly with plastic wrap and refrigerate. Here's where the "curing" is going to take place. It will take your salmon 3 to 4 days to be completely cured. All you have to do during the curing process is peel back the plastic wrap and turn the salmon over once each day. I cured mine for 3 1/2 days.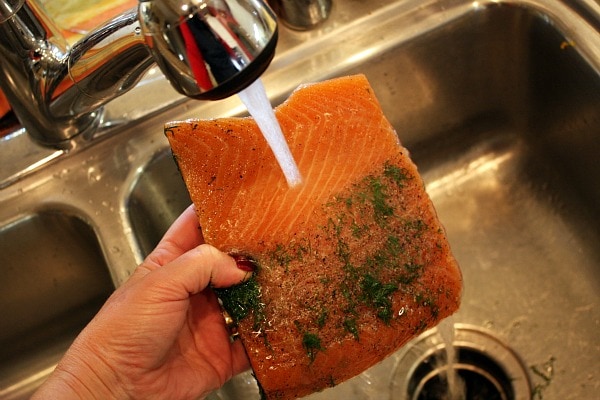 The classic recipe I'm sharing with you today from my Norwegian friends instructs you to scrape the curing mixture off of the salmon and then slice it. I preferred to rinse it. Just rinse it off and then pat it dry with paper towels. The flavors of the cure and the dill still come through beautifully.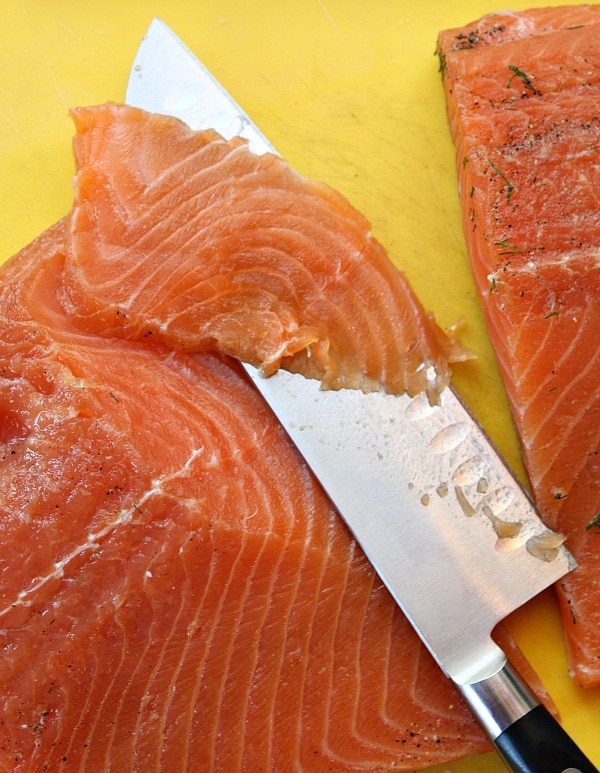 When you're ready to serve it, slice it as thinly as you can with a very sharp knife. Sample. And then sample again. You may not be able to stop sampling!! I love salmon in every way, shape and form. I fully expected this to taste exactly like smoked salmon, and this doesn't really taste anything like smoked salmon. It's quite unique. The flavors of salt and dill and just wonderful, and fresh fish too. Perfect.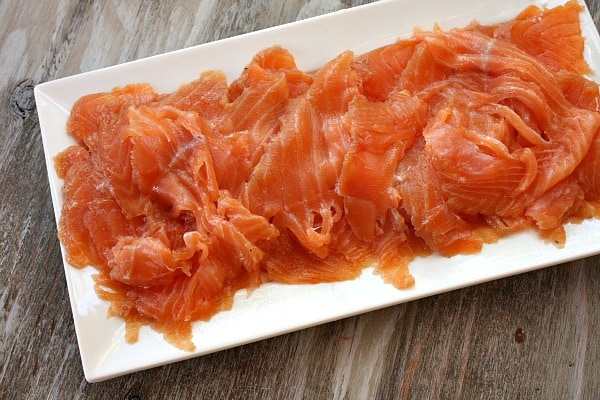 Fill up your whole platter with thinly sliced Gravlax (which you now know is "cured salmon.")
Norwegians traditionally eat Gravlax on open-faced sandwiches or with stewed potatoes and gravy (which I included a recipe for below). I chose to serve it up appetizer-style instead… on toasted baguette slices with a small dollop of creme fraiche, a sprinkle of capers and a garnish of dill.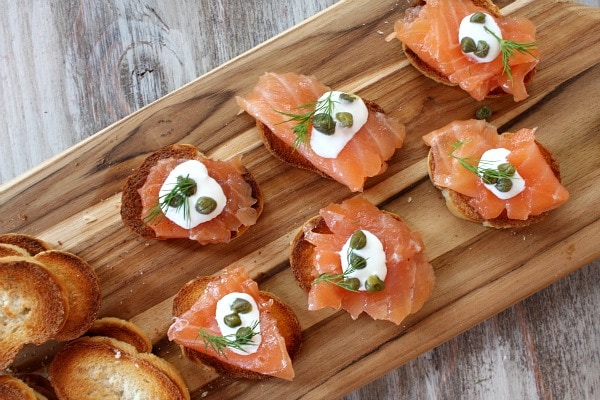 These were devoured at a holiday party I went to recently. Literally devoured. Folks enjoyed hearing the background behind the salmon and the Norwegian's passion for salmon-farming, and they were very interested in the process of curing the salmon.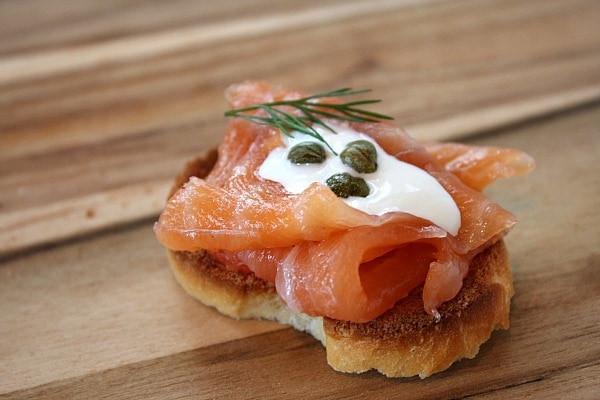 Such a simple and pretty appetizer, right? So even though this took four days to make, it really was effortless, and it actually worked out quite nicely. I started curing the salmon on Wednesday, my party was on Saturday, and it was so darn easy to assemble on the day of the party. Impressive little bites too!
Here are a few more salmon appetizer recipes you might like to try:
Norwegian Gravlax
One of Norway's distinctive dishes, Gravlax literally means "Grave Salmon, " and it refers to the medieval practice of curing the raw fish by burying it in the sand above the high tide level. Today it's dry-cured and traditionally eaten on open-faced sandwiches or with stewed potatoes. It's traditionally served with a sauce (recipe included here). It may also be served appetizer-style.
Recipe Details
Servings:
20
servings (appetizer portion- salmon and sauce)
Ingredients
SALMON:
One

2-pound

salmon filet

(skin-on)

3

tablespoons

salt

2

tablespoons

granulated white sugar

1

tablespoon

freshly ground black pepper

1

bunch

fresh dill

(chopped)
GRAVLAX SAUCE:
4

large

pasteurized egg yolks

½

teaspoon

salt

½

cup

vegetable oil or mild olive oil

1

tablespoon

granulated white sugar

1

tablespoon

white wine vinegar

1

tablespoon

mustard

½

teaspoon

ground white pepper

2 to 3

tablespoons

finely chopped dill
Instructions
PREPARE THE SALMON:
Trim the salmon fillets. Scrape the skin well and remove all bones with needle-nose pliers.

In a small bowl, mix the salt, sugar and pepper. Sprinkle half of the salt mixture in the bottom of a 9x12-inch glass pan, then sprinkle on half of the dill. Place the salmon fillet skin-side-down in the pan. Sprinkle the remaining salt mixture and dill on top and press it lightly into the salmon. Cover the pan with plastic wrap and place it in the refrigerator for three to four days. Turn the salmon over every day.

On the third or fourth day, rinse the salmon under cold water. Move to a cutting board and use a sharp knife to cut very thin slices.
PREPARE THE SAUCE:
In a medium bowl, stir the egg yolks with the salt until it reaches a thick consistency. Slowly pour in the oil while whisking quickly until the sauce is a consistency similar to mayonnaise (you may need to use a blender or an immersion blender to help this process along). Stir the sugar, vinegar, mustard and pepper into the sauce. Just before serving, add the dill.
SERVE:
As a main dish, serve the salmon with the gravlax sauce, stewed potatoes or bread and salad. There are 8 servings if used as a main course.

If you'd prefer to serve the gravlax as an appetizer (as shown), just toast up some thinly sliced baguette, place a piece of the cured salmon on top and garnish with a small dollop of creme fraiche, capers and dill. Alternately, you can serve it on top of cucumber slices.
Nutrition
Serving:
1
serving
,
Calories:
131
kcal
,
Carbohydrates:
2
g
,
Protein:
10
g
,
Fat:
9
g
,
Saturated Fat:
5
g
,
Cholesterol:
62
mg
,
Sodium:
1135
mg
,
Potassium:
230
mg
,
Fiber:
1
g
,
Sugar:
2
g
,
Vitamin A:
74
IU
,
Vitamin C:
1
mg
,
Calcium:
12
mg
,
Iron:
1
mg