Lemon- Poppyseed Scones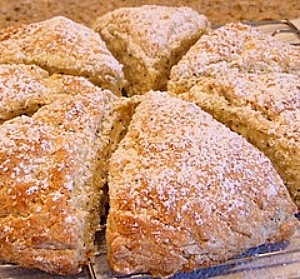 I was pleasantly surprised at how moist these were. They were best right out of the oven with a bit of powdered sugar sprinkled on top!
Yield:
8 scones
Prep Time: 20 min
Cook Time: 20 min
Ingredients:
2 cups all-purpose flour
2 1/2 tablespoons baking powder
1/4 teaspoon baking soda
1/4 teaspoon salt
1/3 cup granulated white sugar
3 1/2 tablespoons chilled salted butter, cut into small pieces
1 1/2 tablespoons poppy seeds
1 1/2 tablespoons grated lemon zest
1 large egg, lightly beaten
1/2 cup low fat buttermilk
2 teaspoons powdered sugar
Directions:
1. Preheat oven to 375°F. Coat baking sheet with cooking spray.
2. Whisk together the flour, baking powder and next 3 ingredients in a large bowl. Cut in the butter with a pastry blender or 2 knives until the mixture resembles fine crumbs. Add poppy seeds, lemon zest, egg and buttermilk; stir with a fork until dry ingredients are moistened.
3. Transfer to a lightly floured surface and pat into a 7-inch circle. Slide the dough onto the prepared baking sheet; cut into pie-shaped wedges, cutting to, but not through, bottom of dough. (Do not separate wedges).
4. Bake 20-23 minutes or until golden brown. Transfer to a wire rack; sift powdered sugar over top. Gently cut through wedges with a serrated knife to separate and serve.
Nutrition:
Nutritional Information per serving:
Serving size: 1 scone
Calories per serving: 222
Fat per serving: 6.75g
Saturated Fat per serving: 3.5g
Sugar per serving: 10.5g
Fiber per serving: 1g
Protein per serving: 5g
Cholesterol per serving: 40.5mg
Carbohydrates per serving: 36g
WW POINTS per serving:
Points Plus Program: 6 Old Points Program: 5