This recipe has been featured in a post on The Recipe Girl blog: Mojito- Marinated Grilled Chicken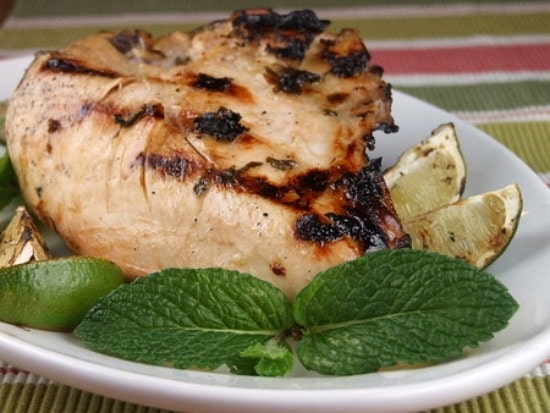 Mojito- Marinated Chicken Breasts
Definitely fun for summer grilling...
Yield:
6 servings
Prep Time: 15 min
Cook Time: 20 min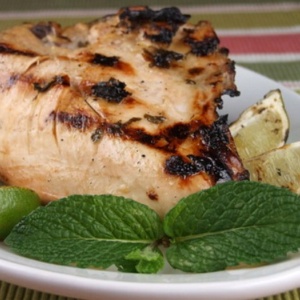 Ingredients:

MARINADE:
¾ cup fresh lime juice
1/2 cup light rum, divided
1/2 cup finely chopped fresh mint leaves
6 Tablespoons mint syrup (see cooking tips below)
1 Tablespoon vegetable or canola oil

6 whole chicken breast halves with skin & bones (about 5 pounds)
3 large limes, quartered lengthwise
2 Tablespoons light rum
fresh mint sprigs for garnish, optional

Instructions:

1. Marinate chicken: Whisk lime juice, rum, chopped mint, mint syrup and vegetable oil in a bowl. Place chicken in resealable plastic bag. Pour marinade over and seal bag. Turn bag to cover. Chill at least 4 hours, turning several times during the day to re-distribute marinade.

2. Prepare limes: Place lime quarters in a shallow bowl. Pour 2 Tablespoons of rum over, tossing to coat. Let stand at room temperature.

3. Prepare grill to medium heat. Grill chicken until cooked through, about 10 minutes per side (time will vary based on thickness of chicken). Transfer to a platter.

4. Grill limes until soft and slightly charred, about 5 minutes. Garnish platter with mint sprigs. Squeeze grilled limes over chicken and serve.

Tips:

*Mint syrup is often shelved with the coffee and tea at the supermarket. It's available anywhere that sells syrups for coffee. To make your own: Mix 1 cup of sugar and 1 cup of water and boil for one minute. Remove from heat and add a handful of mint leaves. Let sit until cooled. Strain out the mint and you'll have mint syrup remaining. Measure from that.
*The longer you marinate the chicken, the more flavorful it will be.
*You can use boneless chicken breasts for this, but they're just not as good as the bone-in for this recipe.
*To make grilling easier, you can bake the breasts for a short time and then finish them off on the grill. Bake at 350 for 30 minutes (covered) and then finish off on the grill about 5 min. per side.