I'm not really a cocktail kinda gal… but mojitos are my favorite.  If there's a good lookin' mojito on the Happy Hour menu, I'm all over it.  That's why this recipe title caught my eye, and I simply had to give it a go: Mojito Marinated Chicken. Yep, it's all of your favorite mojito ingredients (lime juice, rum, & mint) in a marinade.
The marinade ingredients are whisked together and poured over the chicken. The longer it's marinated the better… prepare in the morning and let marinate all day long in the refrigerator. I used bone-in chicken for this one.  You can try using boneless breasts, but they likely won't turn out quite as moist.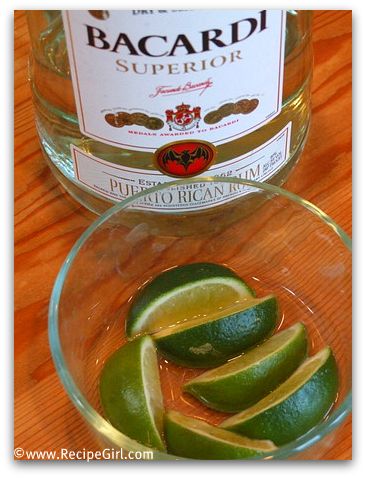 While the chicken is marinating, the lime wedges get drunk w/ a little bit of rum. Just let 'em soak it all up.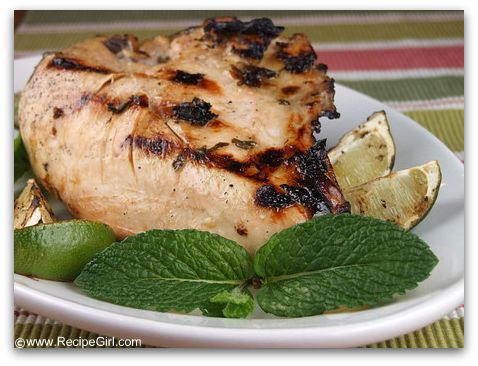 Back in my catering days, we always baked chicken first and then finished it off on the grill when we got to the party. It was always super moist when prepared this way, and that's the route I usually take at home. I baked these for about 30 minutes (covered) at 350, and then grilled for about 5 minutes per side. The limes are then thrown on the grill to soften up a bit. Serve the rum-soaked, grilled limes with the chicken. They add a little pizzazz when they're squeezed onto the chicken before eating.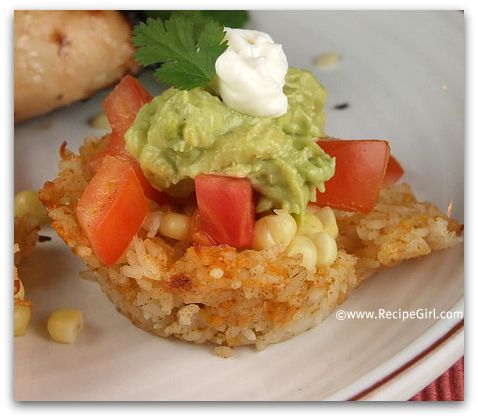 I served these Mexican Rice Cups with the chicken. I loved the flavors in them, but didn't care for the way they were prepared as cups. Next time I'd just make 3 cups of white rice, and mix in 1/2 cup shredded cheddar, 1/4 cup Parmesan, 1 tsp. ground cumin, 1/2 tsp. ground red pepper, & 1/2 tsp. salt. Top with a little corn, tomato, guacamole and sour cream and you've got an easy little side dish.
This chicken recipe was fabulous… absolutely moist and perfect. The mint flavor does not come through in a strong way. I'd say that the mojito flavor is just slightly imparted onto the chicken. It made for fantastic leftovers too- thrown into a salad with black beans and corn.
This recipe can be found here: Mojito- Marinated Chicken Breasts
If you're a fan of mojitos, you might like to to try some of the mojitos that I've made
(click to view recipe & picture):
Classic Mojitos
Cranberry Mojitos
Greek Mojitos
Orange-Basil Mojitos
Pomegranate Mojitos
Watermelon Mojitos