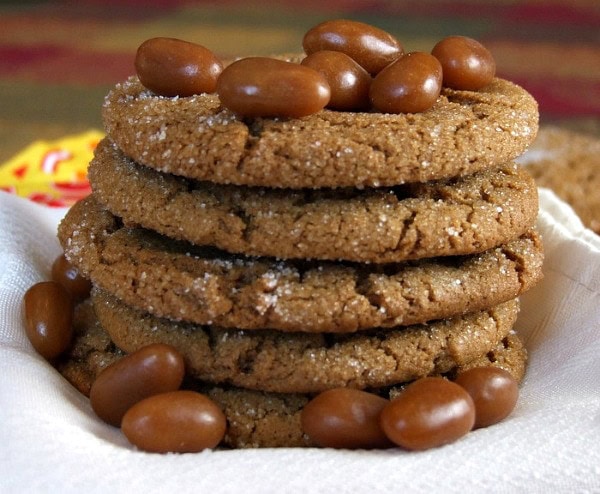 Molasses Cookies with Sugar Babies
Yield:
3 1/2 dozen cookies
Prep Time: 30 min
Cook Time: 10 min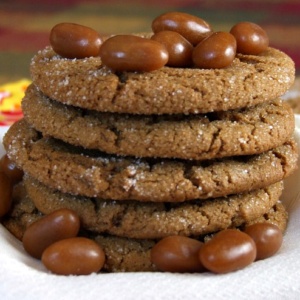 Ingredients:

3 cups all-purpose flour
1 teaspoon baking soda
1/2 teaspoon salt
1 teaspoon ground ginger
1/2 teaspoon ground cloves
1 1/2 teaspoons ground cinnamon
1/2 teaspoon ground nutmeg
1/2 teaspoon ground allspice
1/2 cup (1 stick) butter, at room temperature
1/4 cup granulated white sugar
3/4 cup brown sugar, packed
1 large egg
1/2 cup molasses
1 tablespoon corn syrup
Five 1.7-ounce bags Sugar Babies (or about 1 cup or so)
additional granulated white sugar

Instructions:

1. Preheat oven to 375°F. and spray a cookie sheet with nonstick spray (or line with parchment or silpat mats).

2. In a small bowl, whisk together the flour, baking soda, salt and spices. Set aside.

3. In a large bowl using the electric mixer, cream the butter, sugar and brown sugar. Beat in the egg, molasses and corn syrup. Mix until smooth.

4. Add the flour and spice mixture and mix thoroughly. Stir in the Sugar Babies.

5. Using a teaspoon, scoop 1-inch balls of cookie dough onto the prepared cookie sheet, placing them 2 inches apart.

6. Place 1/2 cup sugar in a small dish. Wet the bottom of a drinking glass. Dip the bottom of the glass into the sugar and use it to flatten cookies. Dip the glass in the sugar after flattening each cookie. Cookies should be about 1/2-inch thick.

7. Bake 10 to 12 minutes. Cool 5 minutes before removing from cookie sheet.