This recipe has been featured in a post on The Recipe Girl blog: Leftover Turkey Recipes
This soup is gluten-free adaptable– see *tips below the recipe.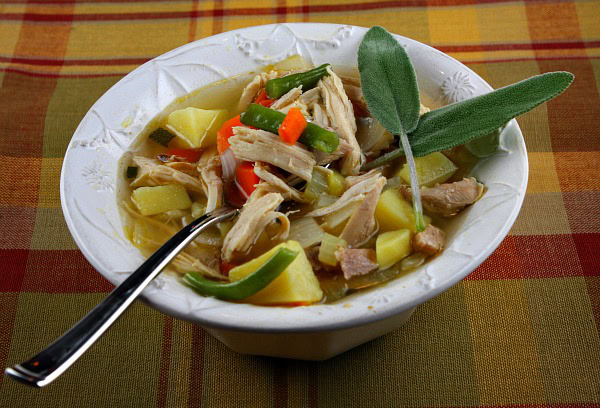 Next- Day Turkey Soup
Yield:
6 to 8 servings
Prep Time: 30 min
Cook Time: 2 hrs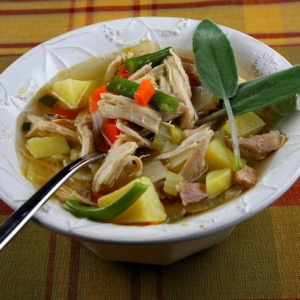 Ingredients:

FOR SIMMERING:
2 quarts chicken broth (or mixture of vegetable broth, chicken broth & water)
1 turkey carcass, all meat removed
1 onion, halved
1 carrot, halved lengthwise
1 whole stalk celery
1 bay leaf

FOR SOUP:
2 Tablespoons olive oil
2 garlic cloves, smashed
1 medium onion, minced
1 large carrot, peeled and minced
1 large stalk celery, minced
1 medium sweet potato, peeled and cubed
1 Tablespoon chopped fresh sage
1 bay leaf
1 cup trimmed green beans, cut into 1-inch pieces
3 cups shredded or cubed turkey meat

Instructions:

1. Prepare broth: Put chicken broth and other simmering ingredients into a large pot. Bring to a boil, then simmer about 1 1/2 hours. Remove turkey carcass from pot with tongs (and discard). Strain the broth through a fine sieve and discard the solids. Transfer the broth to a bowl; cover and set aside. You can also prepare the broth the night before and store it in the refrigerator until the next day.

2. Make the Soup: In a large soup pot, heat olive oil and heat garlic cloves until lightly browned. Add minced onion, carrot, celery and sweet potatoes. Saute over medium-low heat until softened, about 7 or 8 minutes.

3. Add chopped sage to the soup pot along with the turkey broth and the bay leaf. Bring to a simmer. When simmering, add green beans and turkey meat to the soup. Bring it back up to a simmer. Simmer for about 5 more minutes, until sweet potatoes are tender.

Tips:

*If you're preparing this recipe as gluten-free, just be sure to use chicken broth and turkey meat that are free of gluten.