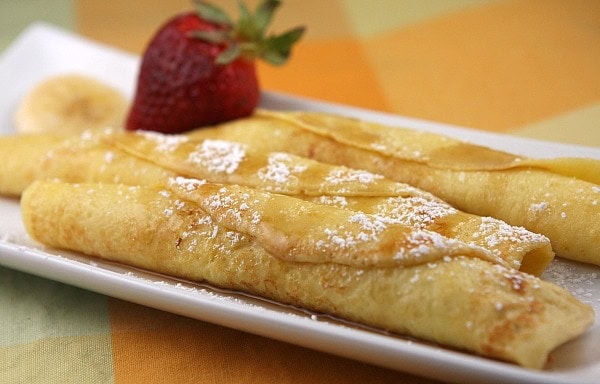 Norwegian Pancakes
These remind me of the Swedish pancakes that my grandmother used to make
Yield:
3 to 4 (about 3 rolled pancakes per person)
Prep Time: 10 min
Cook Time: 15 min
Ingredients:

3 large eggs
1 cup all-purpose flour
1/2 teaspoon salt
1 1/2 cups milk (nonfat milk is fine)
2 Tablespoons melted butter
more butter for frying up the pancakes

Instructions:

1. In large bowl, beat eggs well. Whisk in flour and salt- mixture will be thick. Add in melted butter. Gradually whisk in milk until the batter is smooth.

2. In hot nonstick skillet, fry 1/4 cup batter at a time in a little bit of butter. If shape is not a concern, fry several at a time on a large griddle. Flip when the top appears to be set.

3. To serve, roll with a fork and top with lingonberries, strawberry jam or syrup.

Tips:

*You can use maple syrup, but the fruit topping on these is much better- I suggest Llingonberry jam and a little powdered sugar.