Norwegian Pancakes are light and airy, delicious pancakes. They're served rolled up (usually in a set of three), and they're topped with jam.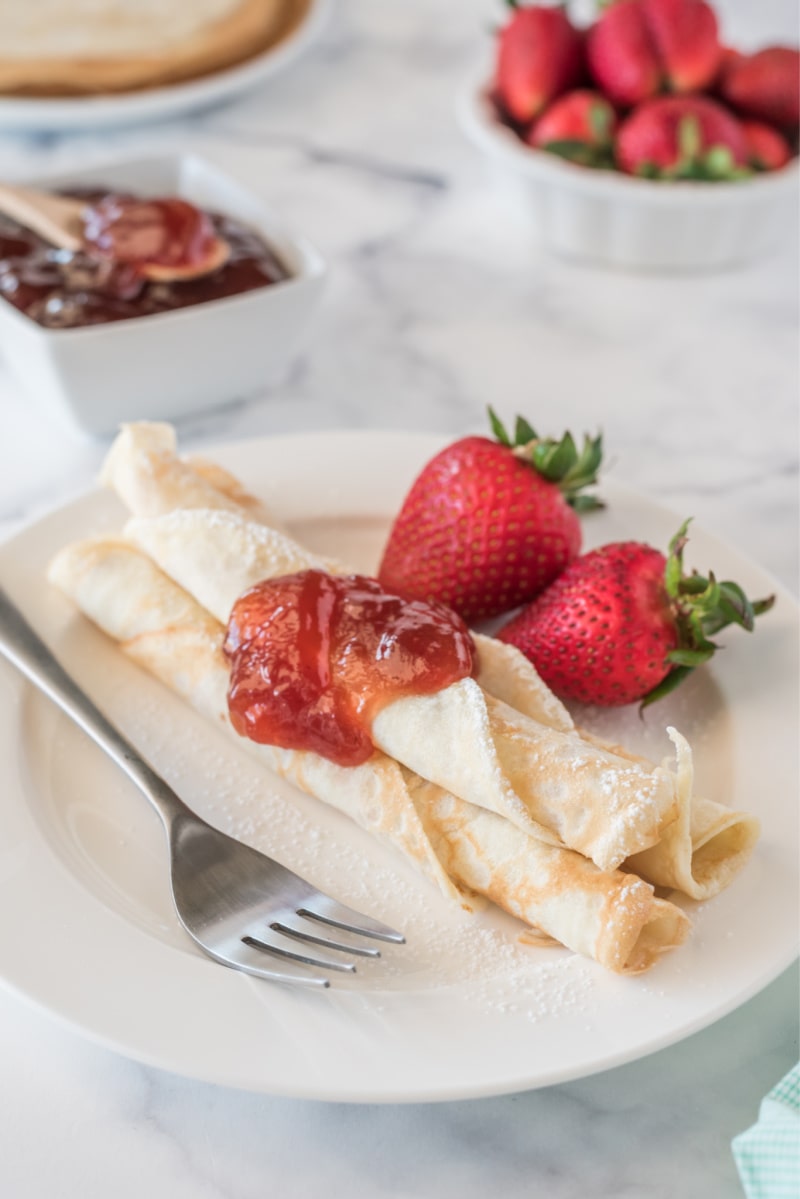 If you've never tried Norwegian pancakes, then you should know that they're not like the traditional stack of buttermilk pancakes that you're used to. A traditional pancake is usually thick and fluffy. Norwegian pancakes are very thin, delicate pancakes.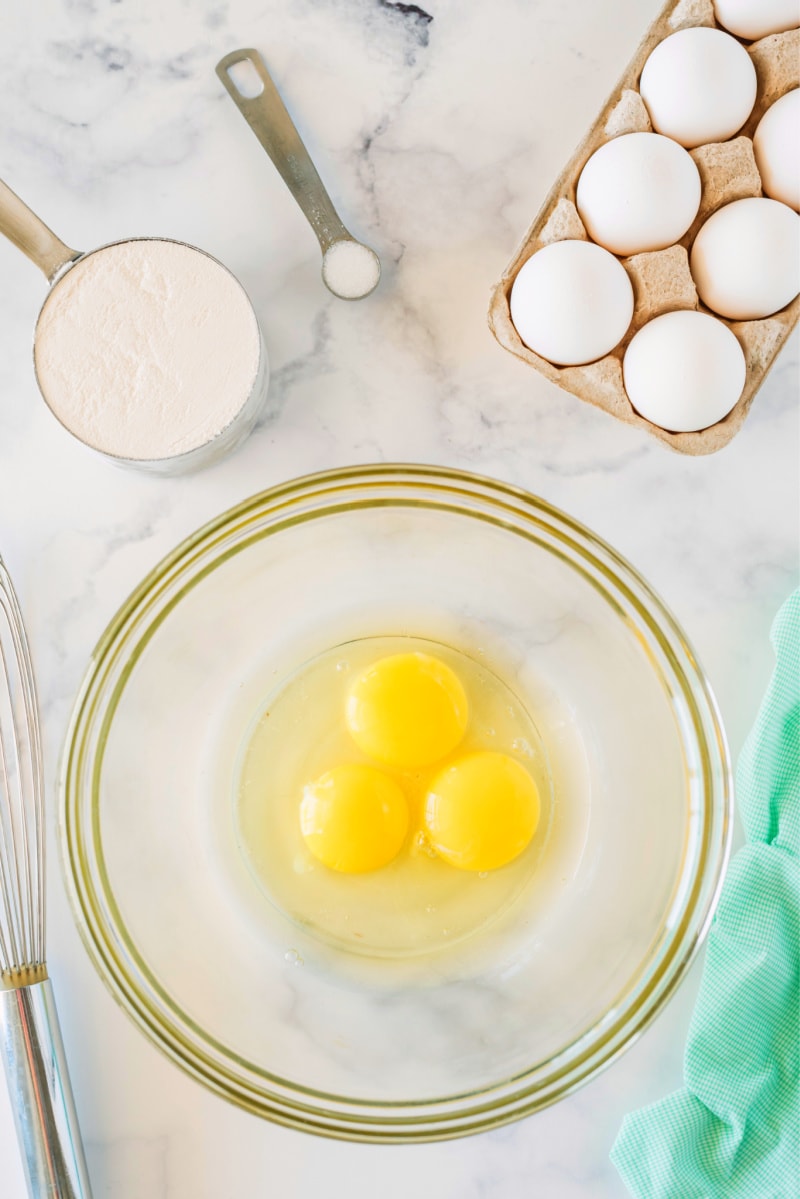 Ingredients needed:
eggs
all purpose flour
salt
milk
butter
jam, for serving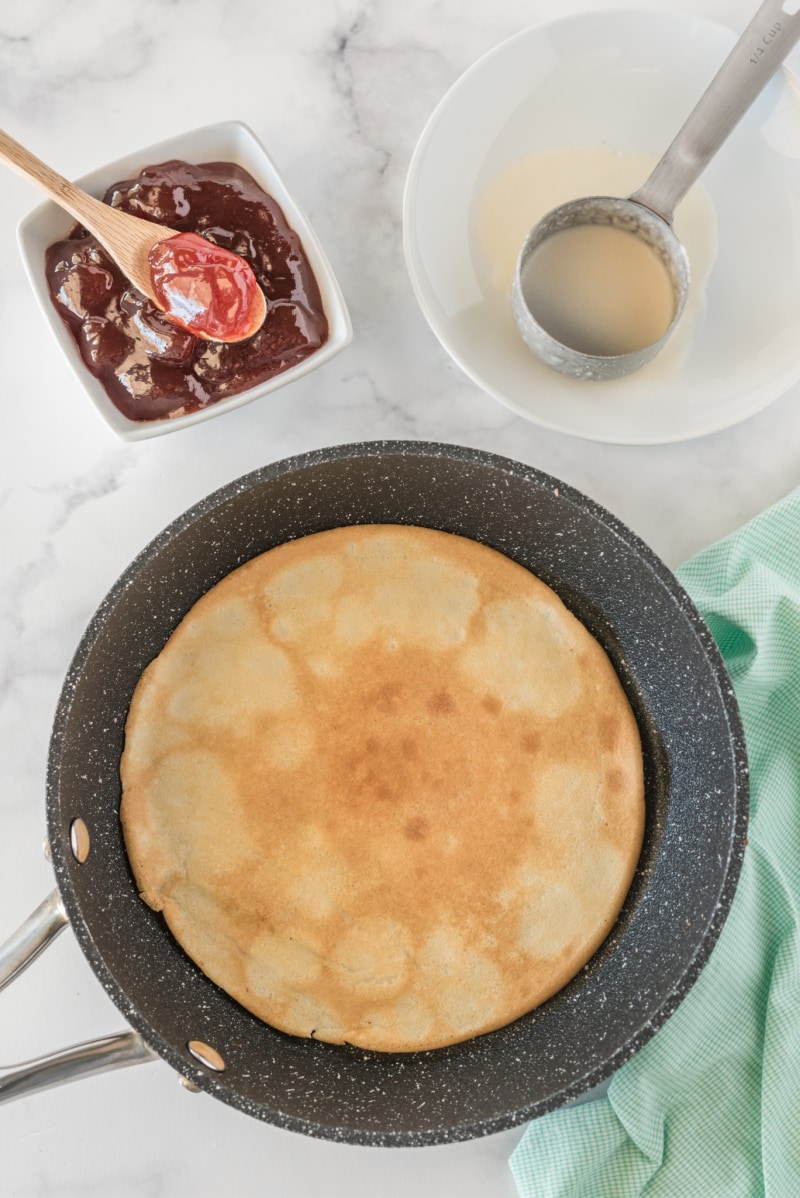 How to make Norwegian Pancakes:
Scroll to the end of this post to print out the complete recipe.
Beat three eggs together. Whisk in flour and salt. Stir in melted butter. And then whisk in milk. That makes the batter you need for making Norwegian Pancakes.
Heat a small skillet and melt a little bit of butter inside of it. Add 1/4 cup of the pancake batter, and swirl the pan to have it coat the bottom of the pan and make an even, round pancake. Flip it when the top seems set. It should be golden brown on both sides. Repeat with all of the batter. If you don't care so much about getting nice, round pancakes, then you can cook them on a griddle instead.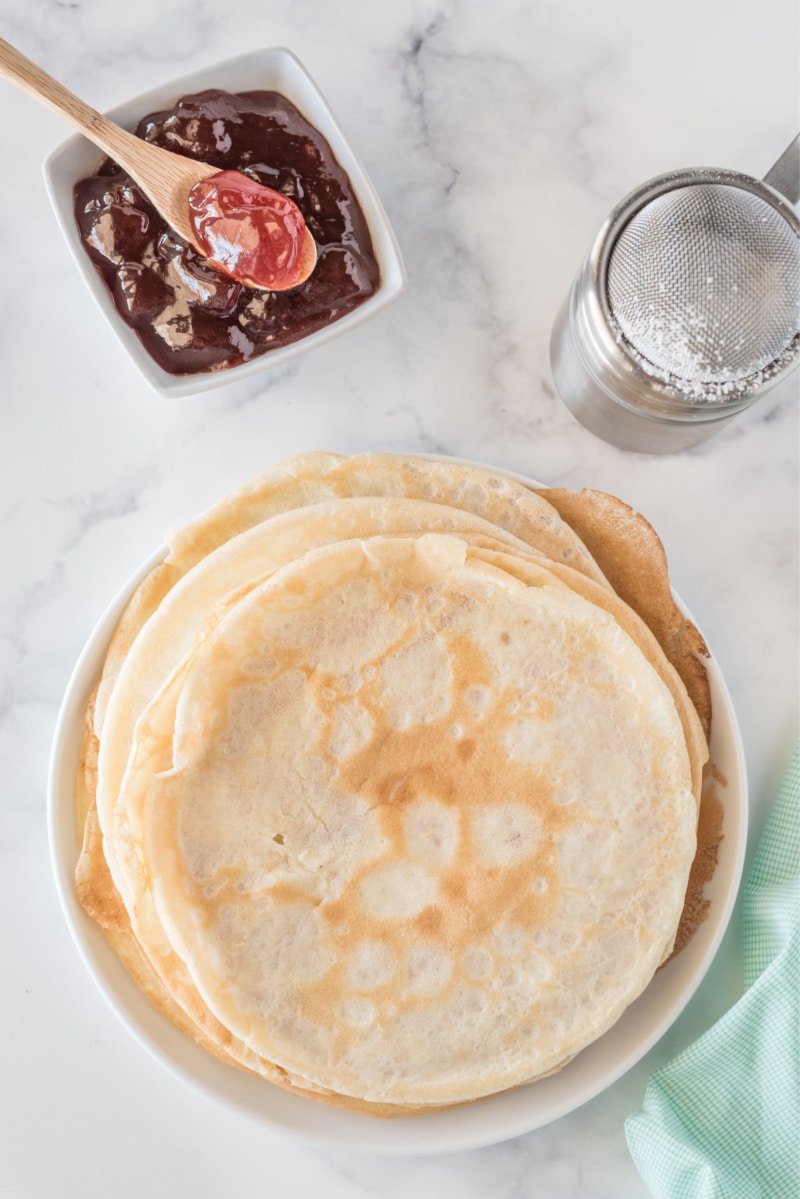 Stack the pancakes on a plate. Unlike traditional pancakes, Norwegian Pancakes are rolled up. This recipe makes three servings. Each serving is three rolled pancakes.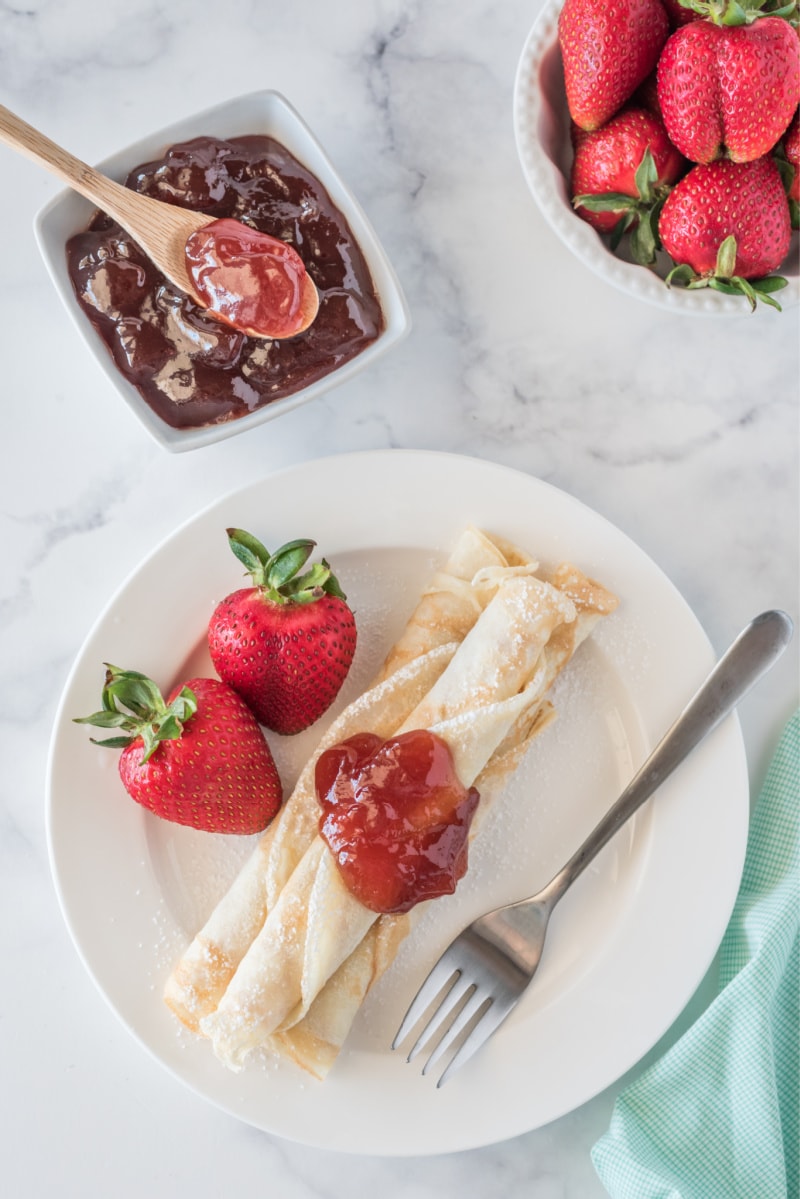 To serve, place 3 rolled pancakes onto a plate. You have some options for toppings. You can certainly drizzle warm maple syrup on top. But they are traditionally topped with either lingonberry or strawberry jam and a sprinkle of powdered sugar.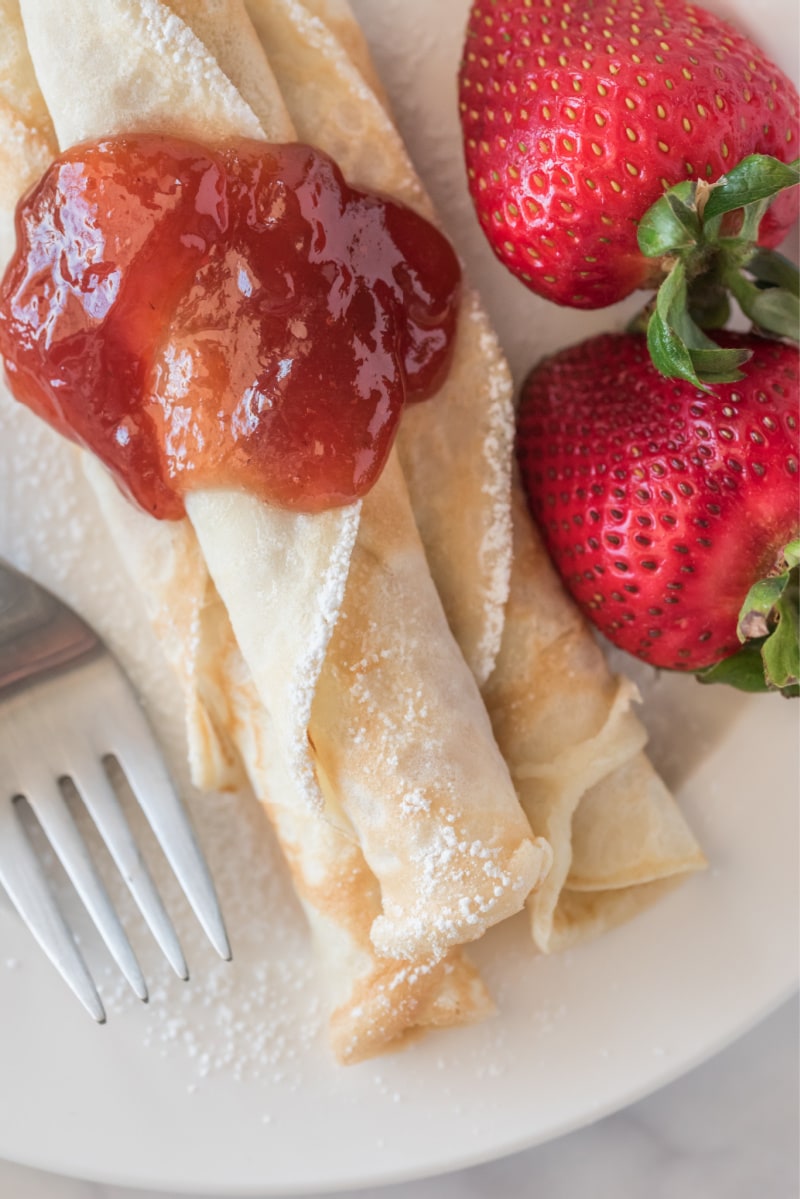 These are such delicious breakfast pancakes. They're the kind of specialty pancake that you'll find at a really good breakfast place or pancake house. They will be called either Norwegian Pancakes or Swedish Pancakes. They're pretty much the same thing.
Toppings for Norwegian Pancakes:
If you want to get creative, you can spread Norwegian Pancakes with Nutella, roll them up, spray some whipped cream on top and add sliced bananas. They'd also be good stuffed with sautéed apples and cinnamon or strawberries and cream.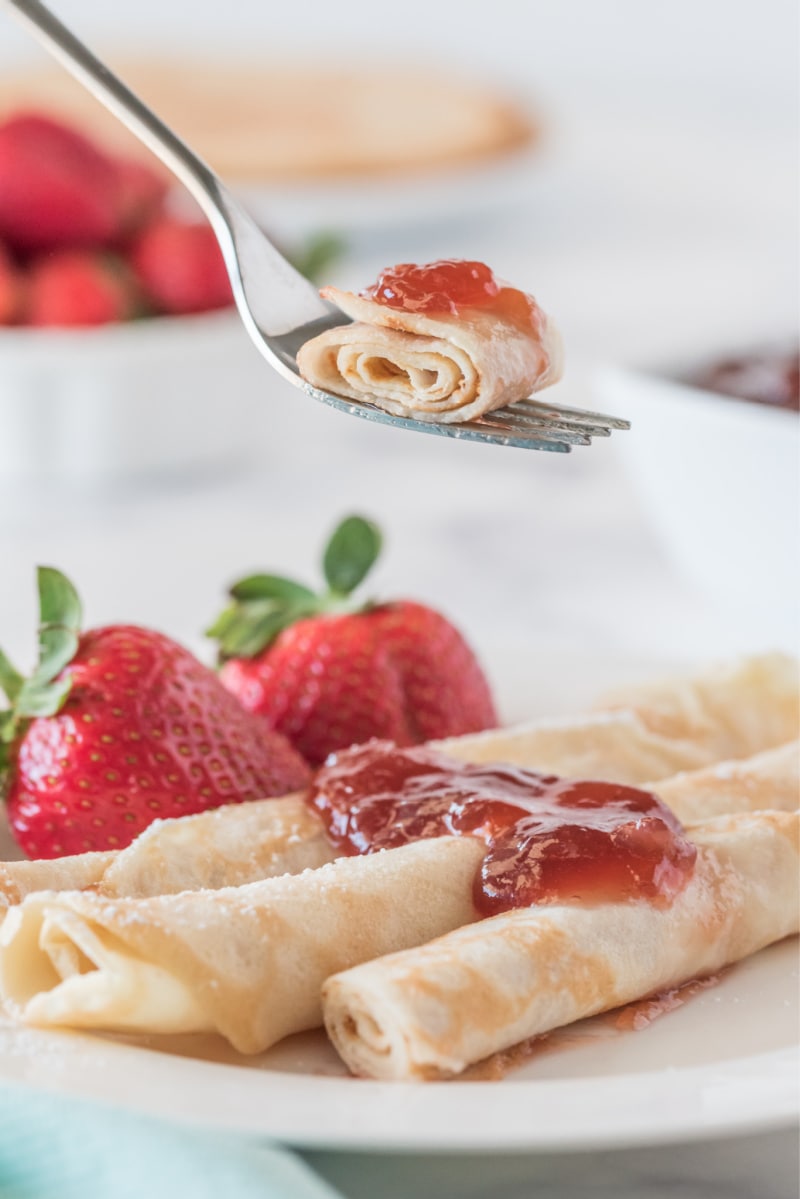 This forkful of rolled pancake gives you an idea of how thin the pancakes are. Norwegian pancakes can be compared to crepes. They're made in a similar way and have a similar consistency. The unique method of rolling them up to serve is what makes these pancakes special. Try this recipe for a weekend breakfast. They're so delicious. Enjoy!
Norwegian Pancakes
Love these light and airy pancakes rolled up and topped with jam.
Recipe Details
Servings:
4
servings (3 rolled pancakes per serving)
Ingredients
3

large

eggs

1

cup

all purpose flour

½

teaspoon

salt

2

tablespoons

melted butter

1½

cups

milk

additional butter for frying the pancakes

jam,

for serving
Instructions
In a large bowl, beat the eggs well. Whisk in the flour and salt- the mixture will be thick. Add in the melted butter. Gradually whisk in the milk until the batter is smooth.

In a hot nonstick skillet, fry ¼ cup of batter at a time in a little bit of butter. If shape is not a concern, fry several at a time on a large griddle. Flip when the top appears to be set.

To serve, roll with a fork and top with lingonberries, strawberry jam or syrup.
Notes
*You can use maple syrup, but the fruit topping on these is much better- I suggest Lingonberry jam (if you can find it) or strawberry jam and a little powdered sugar.
Nutrition
Serving:
1
serving
,
Calories:
249
kcal
,
Carbohydrates:
29
g
,
Protein:
11
g
,
Fat:
10
g
,
Saturated Fat:
5
g
,
Trans Fat:
1
g
,
Cholesterol:
156
mg
,
Sodium:
433
mg
,
Potassium:
230
mg
,
Fiber:
1
g
,
Sugar:
5
g
,
Vitamin A:
565
IU
,
Calcium:
140
mg
,
Iron:
2
mg