I haven't done so in quite some time, but I love to share the monthly dinner party menus from my neighborhood Gourmet Club. There are 18 of us (9 couples), and we all take turns hosting and planning themed menus. October was my month. I wanted an Oktoberfest theme, and since I'm self-proclaimed PINTEREST ADDICT… I used Pinterest as the inspiration for my Oktoberfest Dinner Party MENU. If you are a Pinterest fanatic (and you should be!), you can follow me for a frequent stream of recipe ideas and other assorted topics.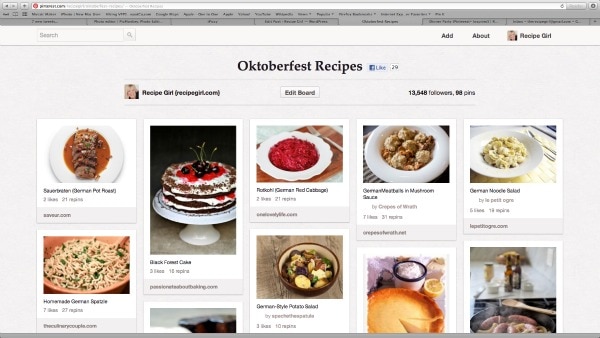 I collected Oktoberfest recipes on my Oktoberfest board for a few weeks (accumulating 98 recipes), then I used that board as inspiration to plan my menu.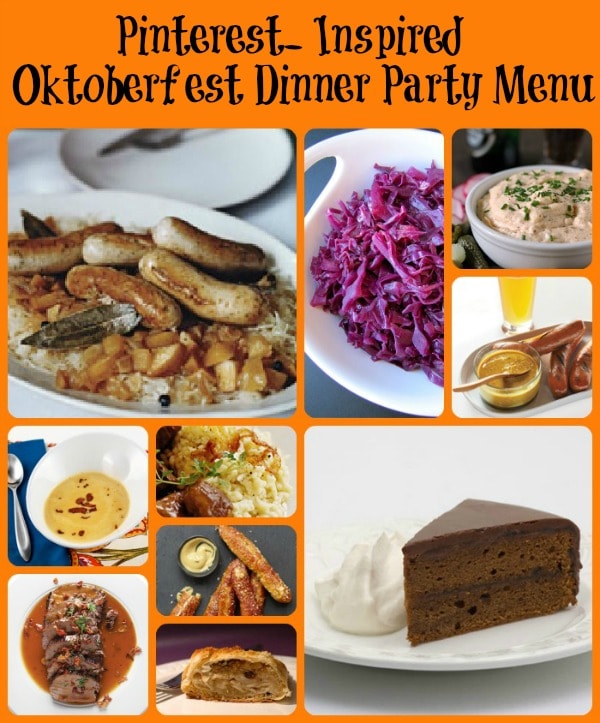 Here's a peek at the recipes I chose from my Pinterest board. The way our Gourmet Club works, the host plans the party menu, prepares the main dishes and provides the beverages, and then gives a recipe to each of the couples attending the party… for them to prepare and bring.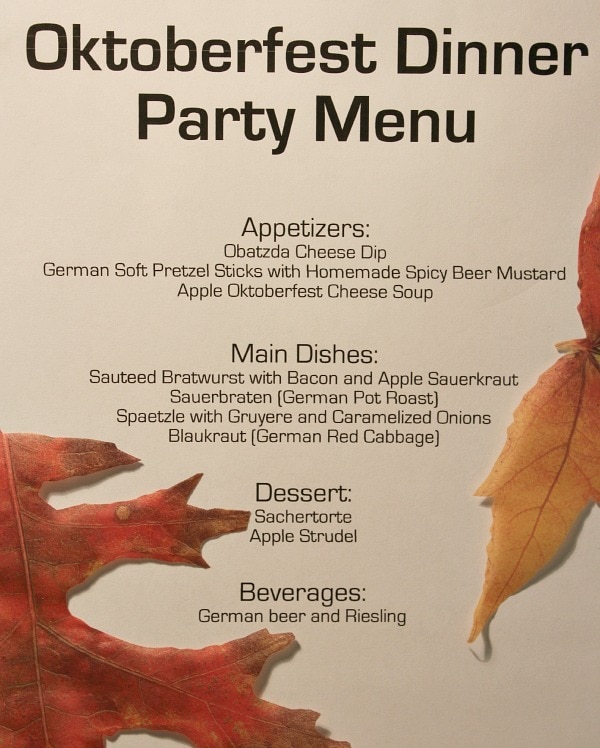 The official menu…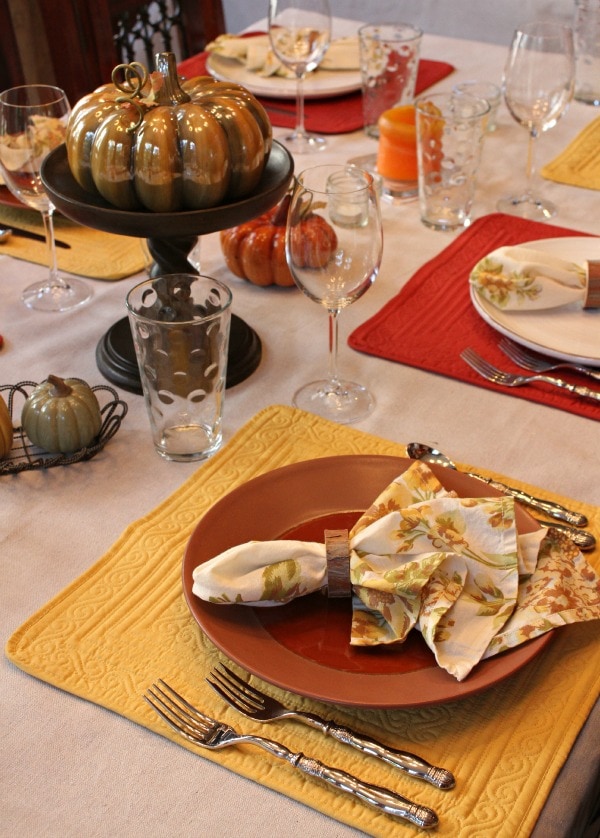 My table settings:  placemats and napkins from HomeGoods (napkins in their CLEARANCE aisle).  Drinking glasses, wine glasses and rust-colored dishes also from HomeGoods.  Silverware and Cake Stand from Willow House (formerly Southern Living).  Napkin rings are little wooden rings from trees that were chopped down.  Candle votives are small jam jars with tea lights stuck inside. Ceramic pumpkins from Rite Aid Pharmacy (50% off).  White dishes from World Market.  Tablecloths are canvas drop cloths from Home Depot ($10.99)- great idea from Reluctant Entertainer– they can be ironed, they absorb every spill without ruining your table, and if they get ruined then it's no big deal for such a low price.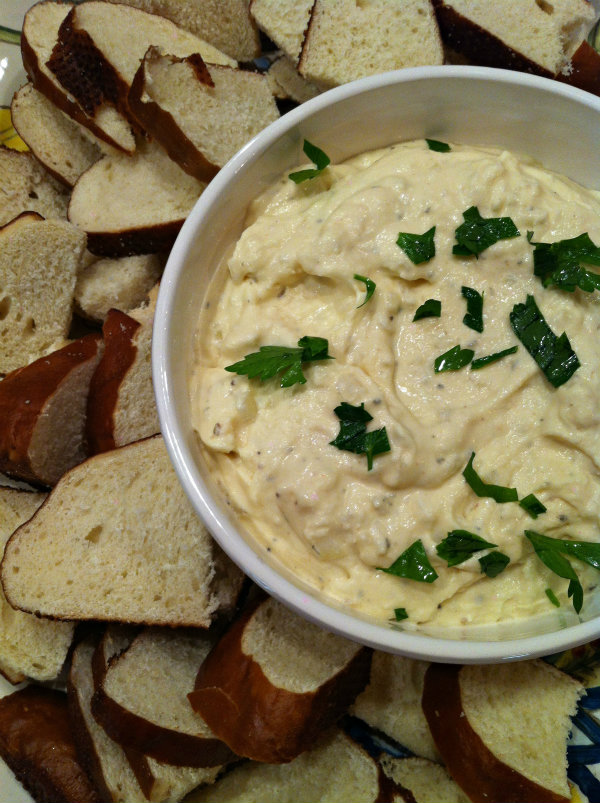 Obatzda Cheese Dip (seen on The Galley Gourmet):  My friend Jenn modified it by using a barbarian red rind triple cream cheese similar to Brie and Camembert. She also used thyme in place of caraway seeds. The recipe was very simple to prepare and turned out to be better than anticipated. It was served it with sliced pretzel rolls.  The cheese dip was a big hit.  It was one of my favorites.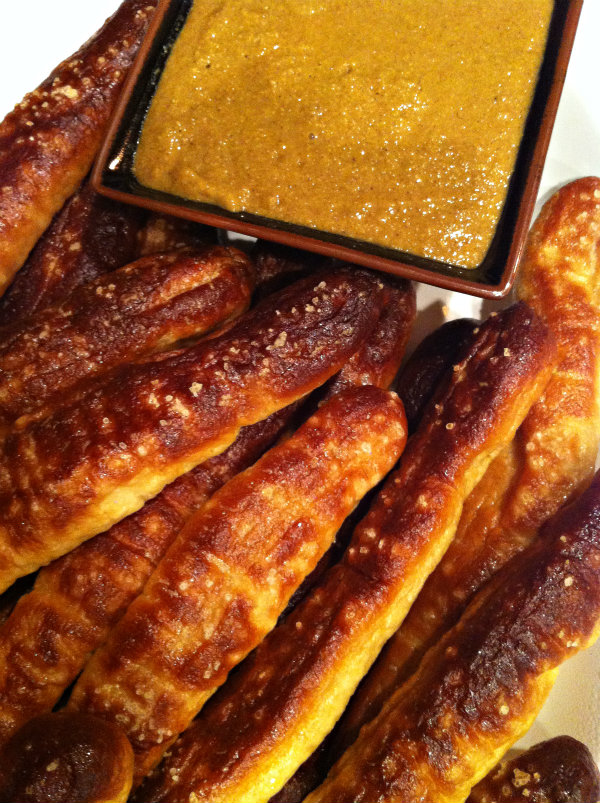 German Soft Pretzel Sticks and Homemade Spicy Beer Mustard (both from Food and Wine): My friend Tracy made the pretzels and the mustard.  She said they took 4 hours to make, with a coffee break of 45 minutes when the dough was rising! There were masses of washing up.  However, they were very good and the recipe was accurate, although way off on how long it took for the yeast to froth, it took about 15/20 minutes, pretty important I think.  The recipe calls for slotted spoons (long and thin) which Tracy felt were essential.  She used yellow seeds and halved the mustard recipe, and we had plenty.  Some thought the mustard was too spicy.  The pretzels were enjoyed by all.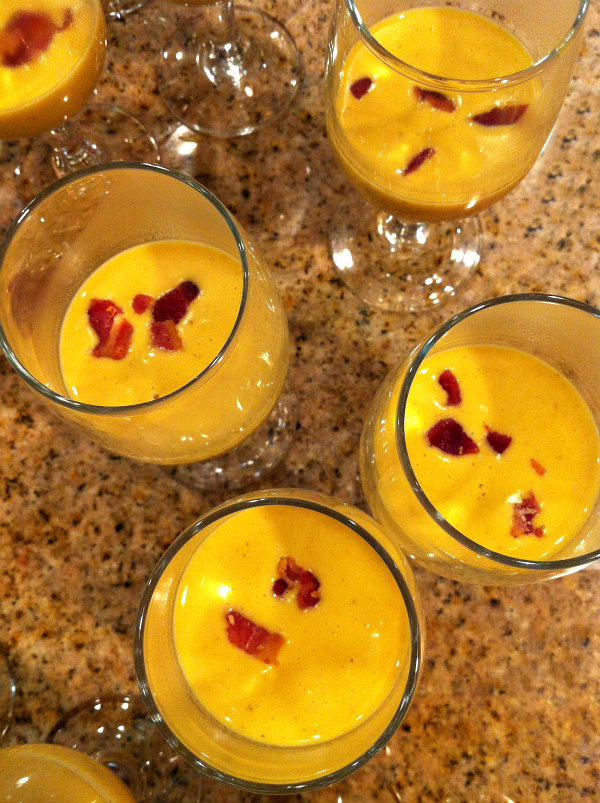 Apple Oktoberfest Cheese Soup (from Evil Shenanigans):  My friend Donna made the soup.  She said the soup recipe was very clear and easy to follow with simple ingredients.  The only difference that she found from the recipe directions and reality was the time that it took for the soup to thicken.  The recipe said it would take 5 minutes, but the reality was more like 20 to 30 minutes (she doubled the recipe).  Also, she found that the soup was spicy enough without adding any additional hot sauce, as the recipe suggested.  The soup was one of the favorite dishes of the evening.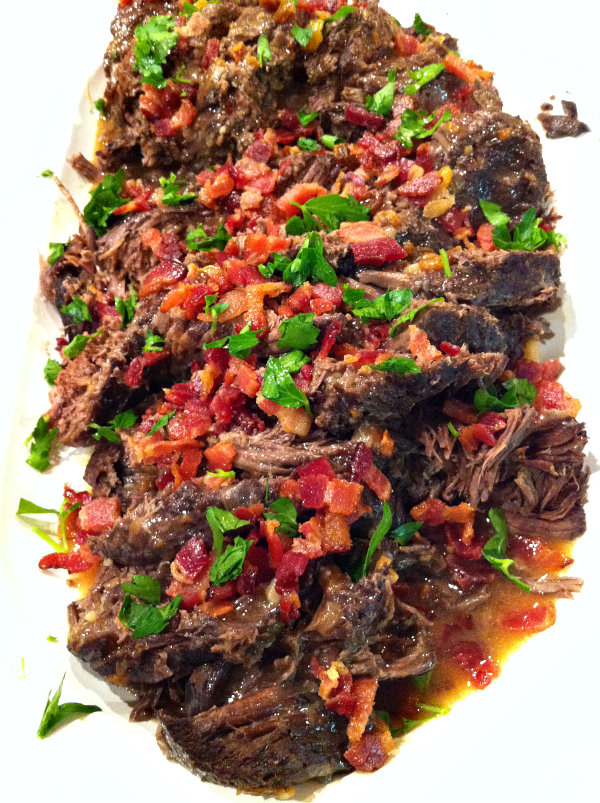 Sauerbraten (from Saveur Magazine): I made the Sauerbraten.  I was intrigued by Saveur's most recent issue, featuring 150 classic dishes, including this Sauerbraten… so I gave it a shot.  I visited a butcher and purchased the best meat (two large beef roasts with very little fat), and marinated the beef in red wine, vinegar and spices for FIVE DAYS!  The roast was then slow-cooked in a Dutch oven for three hours.  The beef was so tender that it fell apart pretty easily.  It wasn't totally sliceable as the photo in Saveur showed, but I probably cooked it longer than it should have been.  BUT… it was AMAZING!  So tender and delicious… and the sauce added wonderful flavors too.  This was the majority favorite dish of the dinner party.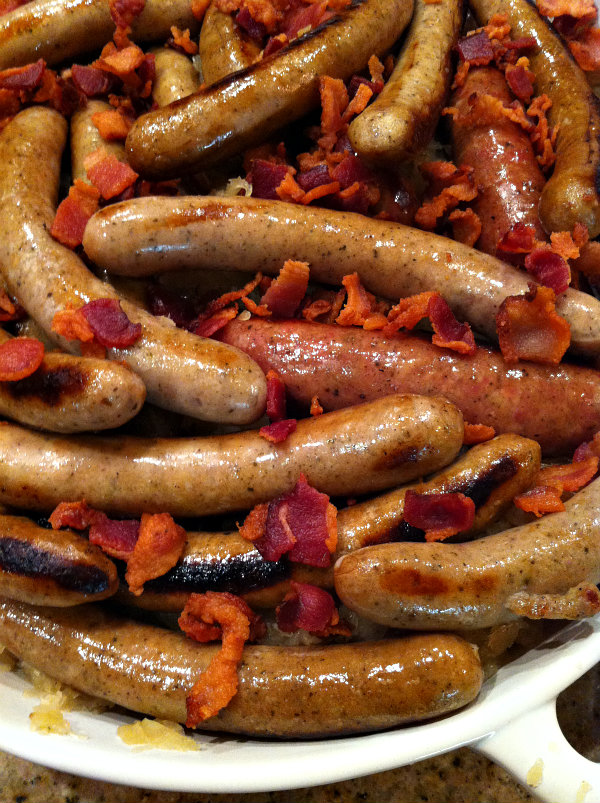 Sauteed German Sausages with Apple- Bacon Sauerkraut (from Food and Wine):  This was another dish made by me.  I ordered Bratwurst from Bavaria Sausage (who claims that their bratwurst has much less fat that store-bought brands- they were right… there was zero shrinkage in the bratwurst.  It was delicious).  The sauerkraut can be made ahead of time and re-warmed.  This dish was simple.  I'm sad that you cannot see the sauerkraut in the photo, but believe me it was there!  It was another favorite of the evening.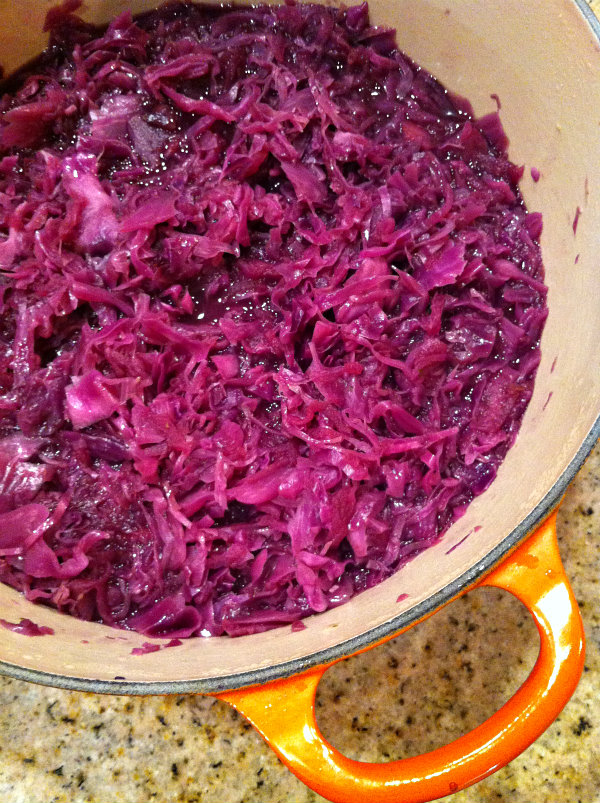 Blaukraut (from Susi's Kochen Und Backen Adventures): My friend Millie made this one.  This dish was one of my favorites and others enjoyed it too.  Millie cooked it only until it was just-tender and still had a bit of a bite to it.  Perfect.  This was one of my favorites of the evening, and others enjoyed it too.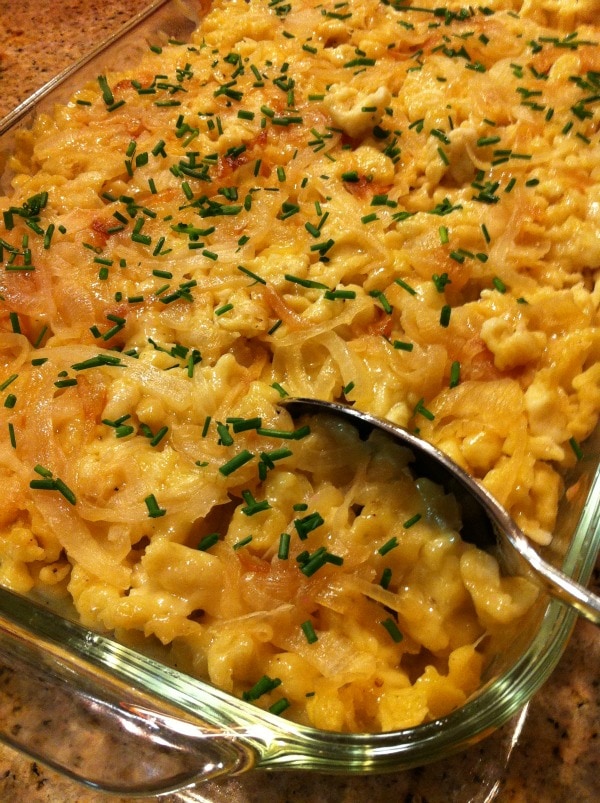 Spaetzle with Gruyere and Caramelized Onions (from Food and Wine):  My friend Libbie made the Spaetzle.  I kept telling her the week prior that if it was too tough to make, she could always go with German-Style Mashed Potatoes.  Libbie was determined to make these work though.  She borrowed a Spaetzle Makerfrom a friend and got to work (it can be made with a colander too, but Libbie felt that it was so much easier with the special tool… with a colander she would recommend one with large holes).  The recipe really was fairly simple.  Plus, you can make the batter the night before and the dish seems to hold well after being cooked.  No need to "serve immediately".  She would increase the onion to one and a half because once they caramelize down there isn't a lot and it provided so much flavor to the dish. The spaetzle was an interesting addition to our meal, and it was noted as a favorite by a couple of our dinner guests.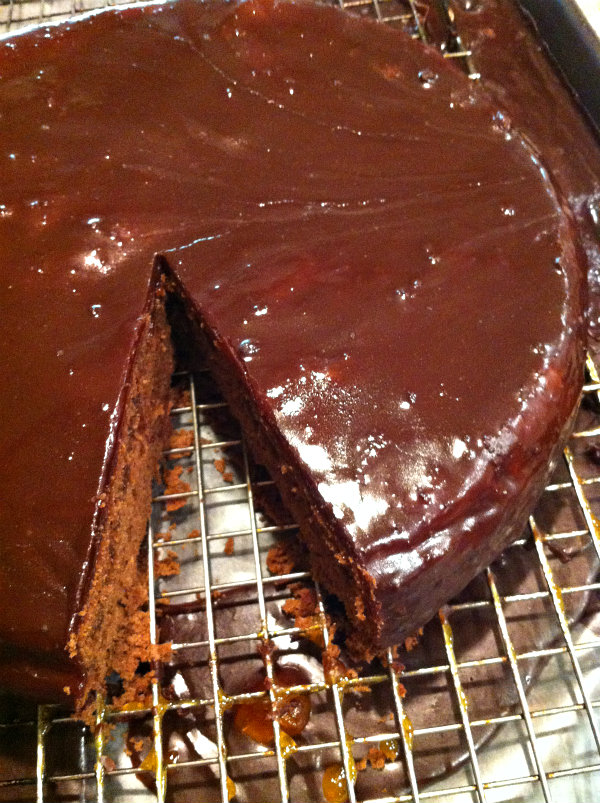 Sachertorte (from Epicurious):  My friend Sandy tackled this recipe.  The recipe's ingredients were very simple and may even be ingredients someone would have on hand.  It just took so long to make in that you had to melt chocolate, whip egg whites, make a glaze, melt more chocolate, make whipped cream.  And you had to wait for the choc to cool before you could add it, cake to cool before you could glaze it and then choc to cool before you could ultimately chocolate glaze the cake.  Lots of steps involved.  Sadly, it wasn't that big of a hit at the party.  It just wasn't a WOW cake.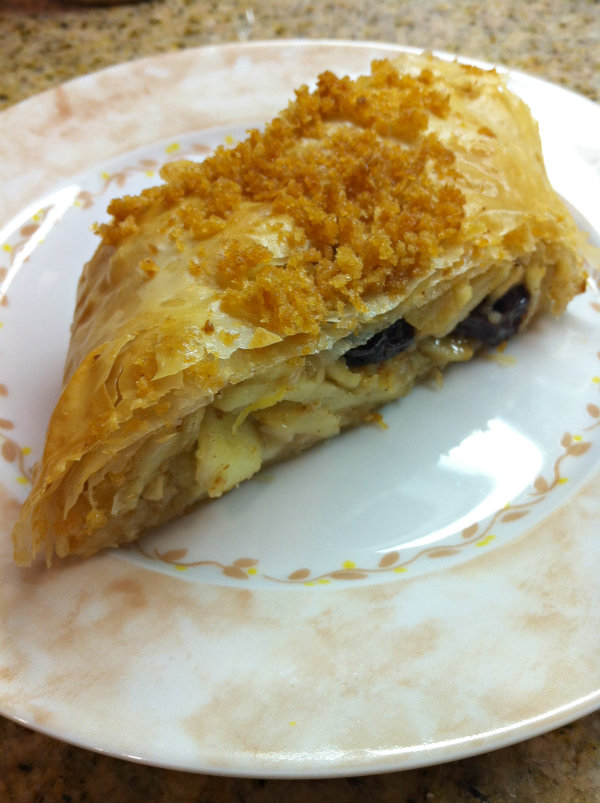 Apple Strudel (from Food.com):  After looking at a ton of recipes with homemade pastry, I chose this one for the ease of using phyllo dough. My friend Katie made it. She assembled it as home, and then popped it into the oven at our party while we were eating dinner.  Katie thought it was pretty easy to make, and everyone loved it (especially warm… with a big scoop of vanilla ice cream on top).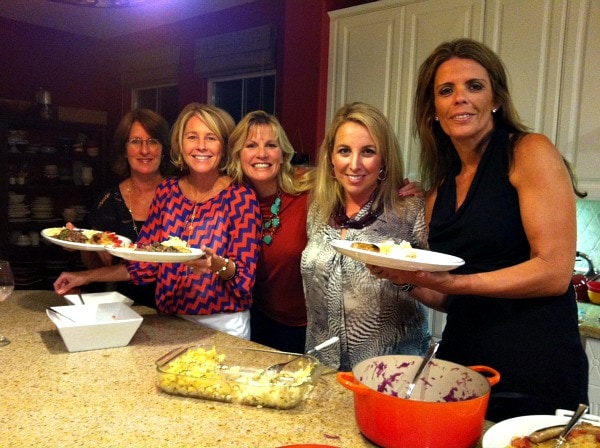 And here I am in the middle of a few of my Gourmet Club girlfriends helping to dish up the dinner.  We've been at this Gourmet Club dinner party stuff for FIVE YEARS now… it debuted in 2007!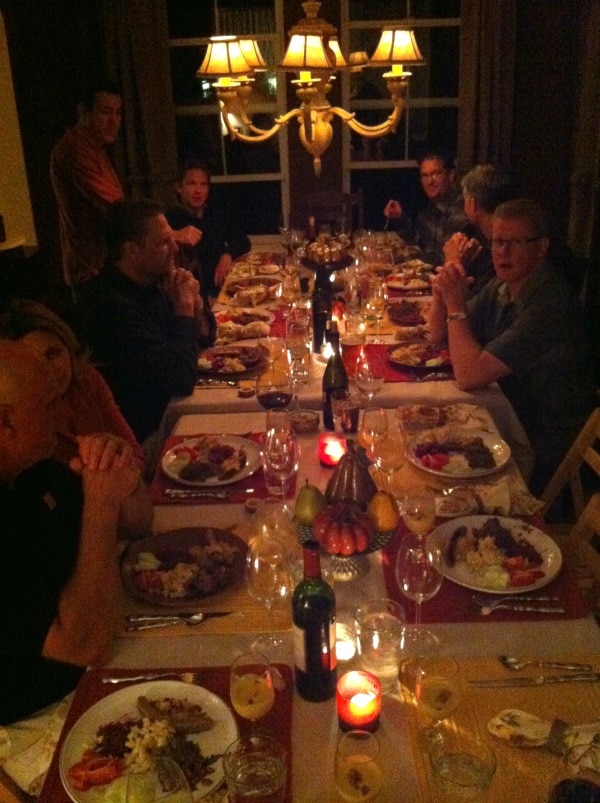 It's always a warm and friendly atmosphere.  And we do everything we can do stuff everyone into the same room so we can all enjoy the food and laugh together.  All of the recipes listed above can be found by clicking the recipe titles.
The key to putting together a good group for a Gourmet Club like this is finding people that:
A.  enjoy food and preparing it too
B.  like each other (husbands and wives are both fun to be around!)
C.  are fun!
So all-in-all I was very happy with how the party turned out.  The menu items were a success, and everyone was pleasantly stuffed.
Do you use Pinterest for recipe inspiration?  Have you ever wanted to be part of a group like this?  Do you have something similar going on in your own neighborhood?  Please share… we'd love to hear how you do things too!