Peanut Butter Chip Brownie Cupcakes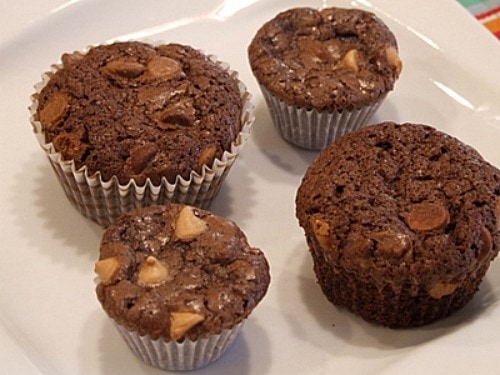 Yield: 1 1/2 dozen brownie cupcakes
Prep Time: 15 min
Cook Time: 25 min
Peanut Butter Chip Brownie Cupcakes
More yummy goodness for those peanut butter + chocolate lovers...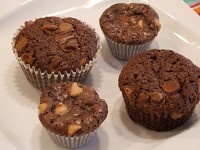 Ingredients:
1 cup (2 sticks) butter
2 cups granulated white sugar
2 teaspoons vanilla extract
4 large eggs
3/4 cup unsweetened cocoa powder
1 3/4 cups all-purpose flour
1/2 teaspoon baking powder
1/2 teaspoon salt
1 2/3 cups (10 ounce package) peanut butter chips, divided
Directions:
1. Preheat oven to 350°F. Line 18 muffin cups with paper or foil bake cups.
2. Place butter in large microwave-safe bowl. Microwave on HIGH 1 to 1 1/2 minutes or until melted. Stir in sugar and vanilla. Whisk in eggs and mix well. Add cocoa; whisk until well-blended. Add flour, baking powder and salt; mix well. Stir in 1 1/3 cups peanut butter chips. Divide batter evenly into muffin cups; sprinkle with remaining 1/3 cup peanut butter chips.
3. Bake 25-30 minutes or until surface is firm; cool completely in pan on wire rack.
Leave a Comment