I love this recipe on its own with a little sour cream and applesauce:  Potato Pancakes with Scallions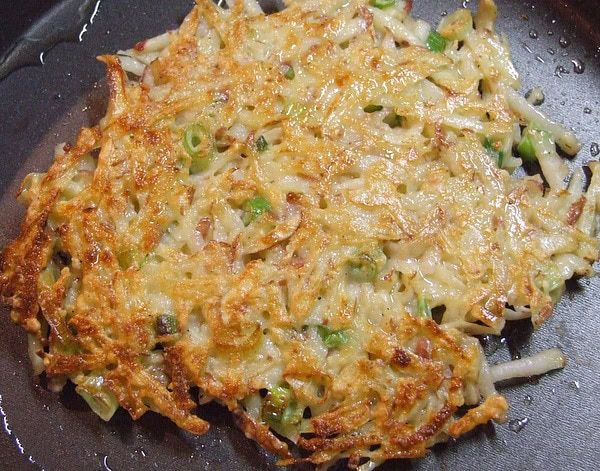 Potato Pancakes with Scallions
Yield:
4 servings
Prep Time: 30 min
Cook Time: 12 min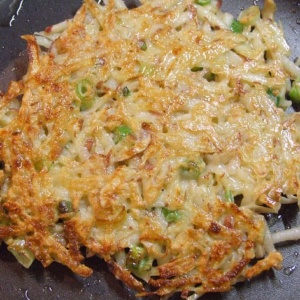 Ingredients:

1 1/2 pounds red potatoes, scrubbed
1 bunch scallions (green onions), cut into 1/4-inch slices
1/2 cup (or so) of all-purpose flour
2 large eggs
1 teaspoon salt
1/2 teaspoon white pepper
4 tablespoons canola or olive oil

Instructions:

1. Shred unpeeled potatoes in a food processor or with a box grater. Make sure to drain the shredded potatoes well. It's sometimes necessary to squeeze the shredded potatoes between two clean dishtowels to remove extra moisture. You want to start with dry potatoes.

2. In a large bowl, mix together shredded potatoes, scallions, flour, eggs, and seasonings until evenly blended. Do not overmix. Covering with plastic wrap right on the potato mix will help to avoid discoloration.

3. Heat 1 tablespoon oil in an 8-inch nonstick pan over medium-high heat. Place 1/4 of the mixture in the hot pan and allow to set for 2 to 3 minutes. Do not let it burn. Turn over and cook on the other side. The pancake should be golden brown. If you prefer smaller pancakes, reduce the amount of potato mixture.

4. Continue this procedure, adding more oil as necessary, until all the pancakes are cooked. Hold in a warm oven until ready to serve.